God's Little Creatures Rescue - DELLA CARROLL - 979-778-6976 OR 979-587-2667 - della@tconline.net
http://godslittlecreaturesrescue.com - Sponsered by: RallytoRescue www.facebook.com/rallytorescue
---
---
Come Visit Us!
We are at the PetCo in College Station, TX Saturday 10:00 a.m.-4:30.m..
---

The adoption process consists of the following:


The adoption process follows these steps:
Fill out an application (You can now fill out the application online)
Reference check - A GLC representative will contact your references
The home visit - A GLC representative will visit your home to confirm items on your application and attempt to make sure you know the challenges of adopting a dog
Meet the dog to make sure you are compatible
The adoption contract is signed and the adoption fee is paid. Donation fees range between $100 and $300 and are used to offset the expenses of medical and physical care for the animals.
You take your new friend home
Follow-up - A GLC representative will contact you to confirm that things are going well and both you and your new friend are happy
---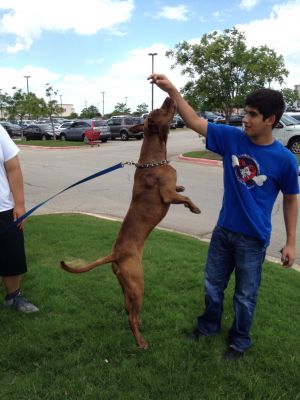 Largo
---

Sponsered by: RallytoRescue www.facebook.com/rallytorescue

---
Please Donate!
We can't do it without your support! Please click here and donate today!
We can always use:

*Dog food
*Dog biscuits
* Dog toys and bones
*Dog collars and leashes (Martingale collars work great)
*Stainless steel dog bowls
*Kiddie Pools (for hot summer days)
*Flea Preventative (CONFORTIS)
*5 gallon buckets
*Used/unneeded blankets
*Large dog houses
*VOLUNTEERS
*Fencing materials (& help fixing the fences)
---
Come volunteer with us! Please! The pups look forward to meeting new faces. We can alway use your help.
---
God's Little Creatures

4734 FM 2223
Bryan, TX 77808
979-778-6976 or 979-587-2667
Email: della@tconline.net
http://godslittlecreaturesrescue.com