The Haven Animal Care Shelter
A non-profit 501(c)3 no-kill animal shelter
governed by a community-based board of directors.
The Haven has been helping homeless pets in the Lubbock area since 1977.

---
Our Featured Pet...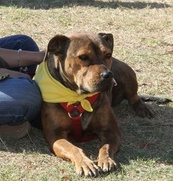 My name is Scrump. I am one of the sweetest, most outgoing dogs at the Haven. I have more personality than 3 dogs put together! I love to go for walks, and would make a great walking/running buddy. I play fetch with the best of them and really believe I'm a lap dog! I love to snuggle and would love nothing more than to have a doggie bed in your house to call my own (unless of course you'd let me share your bed!) I was born in approx. 2007 and weigh about 55 pounds. Come out and meet me soon! I am good with kids and other dogs, too! Check out my video playing fetch in the Haven Visitor's Center! I am a pit mix, but please don't hold that against me!


News
Visit our home page at www.havenacs.org for the latest events and news from the Haven. We keep our front page updated with our upcoming adoption events!





We are so grateful to all the animal lovers who come out every year to our various events, including those who volunteer their time to assist with walking Haven dogs, caring for Haven cats, and coming to our Work Days! For a list of workdays, please visit our website. To volunteer, please send us an email or call the shelter.




The Haven is Full
While we would love to take in every animal that comes our way, we must manage our animal numbers to ensure the best care for each and every dog or cat. It seems like each time we adopt a few animals, there are shortly more to follow and take their place. The Haven Animal Shelter is currently at capacity and we can only take in more animals if the animals already housed with us are adopted to new homes. Come out today and see if you can make one of our animals a treasured part of your family.
We are always in need of volunteers (especially 1st Saturday helpers, transportation helpers for Petsmart adoption days, and adoption option "virtual pet" people). And, as a non-profit organization, we always welcome donations. You can now make donations to the Haven via Paypal. Visit our website to make a Paypal donation.



Who We Are
The Haven is a no-kill shelter located east of Lubbock, Texas. We care for abandoned and homeless companion animals, providing a safe place for them to live while they are awaiting adoption. As with most shelters, we have many adoptable animals who live her a very long time, sometimes a lifetime, waiting for that forever home. We also care for many animals who are considered hard-to-place or unadoptable due to health or temperament issues.


Adopting a Furry Friend
If you want to adopt a Haven animal, come out and get acquainted. Take time to make the right decision for yourself, your family, and your animal. While you are deciding, go ahead and fill out an adoption application so that when you find that critter that's right for you, you'll be ready to take him or her home.

The adoption fee is $100. Your future pet is vaccinated for rabies and other communicable animal diseases, but will need to visit your vet once you have adopted him or her to be sure to keep the immunity up to date and to test for internal parasites, heartworm, and other conditions that need to be monitored throughout your pet's lifetime. Older animals may need baseline bloodwork as well. Consult your vet for advice about the care of your new animal friend.

We work very hard to be sure all Haven animals are spayed or neutered. Young animals are sent out with a spay/ neuter certificate paid for by the Haven to be sure your animal is spayed/ neutered. It is your contractual obligation to follow through on this needed procedure. There is no way any animal shelter can help with the problems of animal over-population if we adopt out one animal only to receive back dozens or more of its progeny, their progeny, etc. Your new friend will also be microchipped.

As you can imagine, your adoption fee covers only a small portion of the vet care, spay/ neuter fees, vaccines, food, caretaking, transporting, and maintenance of the animal prior to adoption. Please look for ways that you can help us make a difference for West Texas pets!






Cats adopted from the Haven are to be strictly indoor cats.

We prefer that dogs be indoor pets as well, but if necessary the pet can be outdoors if you provide adequate shelter from heat and cold and make sure the dog is included in your home life. All dog adopters must have a fenced-in yard. A yard check may be conducted to ensure applicants have a properly fenced backyard. Exceptions will be evaluated on a case-by-case basis.


Come Visit Us!

You can also visit us online at http://www.havenacs.org or find us on Facebook.

Click here to see our Happy Tails!
---
The Haven
4501 N C.R. 1729
Lubbock, TX 79403
Phone: (806)-763-0092

Email: havenACS@gmail.com
Click here for a list of pets at this shelter

---

[Home] [Information] [Shelters] [Search]