---
Our Featured Pet... HARLIE (Fostered in Augusta, ME)
HARLIE (Fostered in Augusta, ME)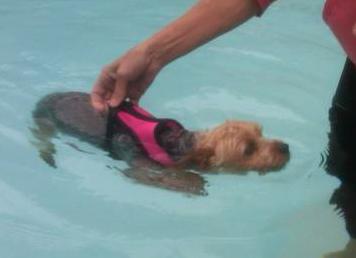 FOSTERED IN AUGUSTA, ME!!!
To apply to be Harley's forever family, fill out her Adoption Application here
Adoption fee to be determined

UPDATE 4/09/12: I am a special needs yorkie and I am a special yorkie indeed. I get around with my wheel cart and I get along just fine at home when I am not using it. I need a special home were the home is on one level and I need a fenced in yard. I do not have control over my bladder and bowels, but please don't hold that against me. You see I have been through a lot and I am just looking for a special home to call my very own.
My special home would provide me with lots of love and attention! I love to have my belly rubbed and to be patted. When you are watching tv, I can be your pal and cuddle up on the couch with you. Oh how I love my blankets.
Foster Mum gives me a lot of attention and love and I have learned that it is okay to trust people. I feel safe and relaxed, the best I have felt in a long time. I am a sweet girl and I am looking for a special home to call my very own.
UPDATE 3/18/12: Harlie here I wanted to stop by and say hello - I recently had a dental cleaning my teeth look so white and I did not loose any teeth. I got spayed at the same time. Foster Mum took the day off from work to care for me. I did really good after the procedure. I am looking forward to the nice weather so I can get out and go for walks in my wheel cart. Here is a couple of things to know about me , I am a special needs Yorkshire Terrier and I utilize a wheel cart for walks. Inside my foster home I do very well as my Foster Mum's home is all on one level and that really helps me get around. Don't feel sad for me believe you me I can keep up with my fur brother's and sisters just fine. A home that is all one level would be just great for me and a fenced in yard is a must for me. Some other special things about me I do not have control over my bladder or bowels and my Foster Mum takes great care of me and expresses my bladder 2 to 3 times a day. Expressing my bladder will need to be done for me for the rest of my life. I am a great little yorkie girl that is looking for a loving home to call my very own !
Update 02/11/12: Halie Here - I Am Enjoying The Good Life in Maine! The Weather Has Been Pretty Good In Maine and Foster Mum Has Taken Me Out For Walks With My Wheels On. I love To Go For Walks, Foster Mum Bought Me A Beautiful Coat And Some Fancy Booties For My Feet. I Am Really Looking Forward to The Warmer Weather - Foster Mum Says It Is On It's Way.
I Like To Play With Toys And I Have Favorite Blankets That I love To Snuggle With. I Love To Smuggle On The Couch With Blankets And I Like To Lay In Foster Mum's Lap. I Play With Other Fur Kids And Well Sometime's I Like To Have My Person All To Myself.
Foster Mum Took A Picture Of Me Today With A Valentine's Bandanna On ! I Am Not One To Wear Fancy Thing's But In The Spirit Of Valentine's Day I Will Pose For The Picture. I Still Have The Bandana On And I Think I Look Rather Beautiful !
Next Week I Am Going To The Groomer's I love My Groomer She Is The Best. I Am Sure Foster Mum Will Post Some Pics Of Me. Happy Valentine's Day Everyone!
Update 01/08/12: Hi Harlie – I wanted to give you an update and let you know how I am doing. My wheel cart came in the mail and Foster Mum took me to see the vet to get it fitted. I love my new cart it is red and has flowers on the sides of the wheels.
It has gotten so cold in Maine Foster Mum has taken me for walks with the cart and tomorrow she is taking me to the pet store to get fitted for some snazzy booties to wear when I go for walks with her. Foster Mum also bought me a new heavy coat to wear for my walks, I hope I will allow her to put it on me sometimes I can be quite the diva and protest when she wants to put on cute outfits on me.
Hopefully I will not protest because it is cold in Maine and the jacket is not to look fancy it is to keep me warm.
Before I came into care with United Yorkie Rescue I had some ear issues which has cleared up however Foster Mum took me to the dermatologist because I have skin issues prior to coming into care as well. The doc put me on a trial of prescription dog food and she is keeping a journal to determine if it is an allergy to food or an environmental allergy.
I am going to have a dental and spay really soon also. I will let you know how my boot fitting goes tomorrow and I will post some pictures on the United Yorkie Rescue Facebook page. I would really like a forever home to call my very home I am a love bug and I follow Foster Mum around the house and when she is in her office doing work I lay by her feet in a pet bed.
I love to be showered with attention Foster Mum has some fur brothers and sisters that I play with but sometimes I can be a little pit pushy and push them out of the way to get Foster Mum's attention. It may be best if I am the only dog in the home however I love to play with other dogs.
I am learning to share time and attention. Well – Harlie signing off for now. See you soon…
UPDATE 11/7/11:Hi Harlie Here In Maine! I wanted to let all of you know that I am doing really great despite the fact that I am not able to have surgery on my back legs. I have a postive outlook and I try really hard to walk on my back legs and get around (I drag my back legs and feet at times and I walk on my tippy toes also). Since I am incontent my Foster Mum helps express my bladder three times a day, which will have to be done for the rest of my life.
Foster Mum has ordered a wheel cart for me and it should be arriving in the mail this week or by the begining of next week. I am looking forward to getting the cart and going for walks! I am sure Foster Mum will decorate my cart...she knows that pink is my favorite color! And I am sure the wheel cart will be fit for a princess like me.
I am still in need of having a dental completed and to be altered as well. Foster Mum is taking things slow for me she knows that the next couple of months will be busy for me.
Also I am still continuing to receive the Animax Ointment 2 times a day for my ears. A hair sample from the abnormal area of her ear was submitted for testing but the results have not been completed yet.
Foster Mum will keep you updated on my progress...she is still learning alot about me. I love attention and to be patted and sometimes I like all the attention to be on me. I enjoy playing with my foster brother Rudy and I enjoy curling up on the couch at night with my other foster brother Henry (who is a United Yorkie Rescue Alumi). I have figured out that there are two other special yorkies in Foster Mum's home which helps me to feel at ease (two of Foster Mum's yorkies have three legs!). I feel like this really helps me fit in maybe this is why I feel so close to Henry and my foster sister Ella they are special just like me.
Please be sure to check back on updates about me...I am sure Foster Mum will let all of you know when I receive my wheel cart (I know she is just as excited as I am!). Harlie signing off for now.
UPDATE 10/20/11:Harlie is home resting comfortably this evening. The results of her CT Scan / Myelogram revealed evidence of a previous disc rupture at the level of her 13th Thoracic Vertebrae (in the middle of her back.) The neurologist reports this appears to be an old injury and from the past information that we have pieced together regarding Harlie, this injury incurred in May of 2011 and it was left untreated. The damage to her spinal cord regardless of the underlying cause is permanent and surgery is not an option for her. Harlie was measured today for a wheelchair that United Yorkie Rescue will obtain for her.
Along with the use of a wheel chair for daily walks I will be speaking with a Canine Rehabilitation Therapist for some guidance with some exercises that I can do for Harlie's back legs.
Harlie, has a bacterial - yeast infection in both of her ears which is being treated with Mometomax drops in both ears 2-3 times and a hair sample from the abnormal area of her ear has been submitted for testing.
I will keep everyone posted on her progress. She really has a lot of spunk and personality and is a joy to foster.
Thank you, Amy – Harlie's Foster Mum
UPDATE 10/10/11:I am settling in at my foster home with my fur brothers and sisters and even got my own new doggie condo with bumpers so that I do not hurt myself. I like it here in Maine! I have been exploring in the backyard and taking in all of my new surroundings.
Please keep Harlie in your thoughts on October 13, Thursday as she has an appointment with the specialist to look at her legs.
Initial bio 10/02/11:Meet Harlie! She is a 3 year old, 7 pound female Yorkie. Her original home was in SC. It is believed there was an injury that has resulted in the loss of use of her back legs. We are not sure if this injury is permanent or can be corrected through sugery. We will let you know her condition as soon as we get her to one of our vets...but please send good wishes her way!
A BIG THANK YOU FROM UYR
All of the members and the Yorkies and the Yorkie Wannabees at United Yorkie Rescue would like to say THANK YOU to all of you who have supported us these past nine years. When we started this group in August of 2002, we really didn't know how we were going to do everything we wanted to do. So many of you have wished us well, sent donations, and prayed for our very sick little ones. We really appreciate all you've done for us and for the homeless kids. With your continued support, we promise to keep doing what we do best - rescuing the little ones in need. Please visit us at our United Yorkie Rescue website and look around to see what we've accomplished WITH YOUR HELP!! THANK YOU!! THANK YOU!! THANK YOU!!!! United Yorkie Rescue Members and Kids
Here's a great idea. Donate your cellphone and help UYR. Use this button to find out how.
Who We Are
United Yorkie Rescue, Inc. was founded on August 5, 2002, by a group of loyal and hard-working rescue friends. We consolidated our efforts and talents to form a family dedicated to the rescue and well being of the Yorkshire Terrier. We have pledged to rescue all Yorkies and Yorkie mixes in need. In addition, we are devoted to providing love, nourishment, rehabilitation, socialization, and awesome forever homes!! If you'd like to donate, please click on this button.


Mission Statement:
To take in as many stray, abandoned or surrendered Yorkshire Terriers or Yorkshire Terrier mixes as possible, providing we have available and appropriate foster homes, and provide them with foster care, behavior screening, rehabilitation, health care, with the ultimate goal of placing them in loving forever homes
To educate the public about the nature and behavior of the Yorkshire Terrier, and the duties inherent in being a responsible pet owner, which includes spaying and neutering all companion animals
To help all who are interested in experiencing the joy of owning Yorkshire Terriers as canine companions

Adopting a friend

Please visit our adoption page, "Looking For Love," and read about the rescued yorkies that are currently looking for their new families. If you see one that pulls at your heartstrings, click on the Adoption Application link to complete and submit an online application.

Come Visit Us!

Please visit our website!! http://www.unitedyorkierescue.org/ We hope you will learn something about Yorkies that you didn't know before and have fun while you're doing it. Enjoy our other links, which are funny and informative. Some of our resident puppies always have something to say!

FLORIDA REGISTRATION CH17075

A COPY OF THE OFFICIAL REGISTRATION AND FINANCIAL INFORMATION MAY BE OBTAINED FROM THE DIVISION OF CONSUMER SERVICES BY CALLING TOLL-FREE (800-435-7352) WITHIN THE STATE. REGISTRATION DOES NOT IMPLY ENDORSEMENT, APPROVAL, OR RECOMMENDATION BY THE STATE.

United Yorkie Rescue

A National Rescue Dedicated to Yorkshire Terriers and Mixes
Email: dahman@gmail.com

Click here for a list of pets at this shelter




---





[Home] [Information] [Shelters] [Search]