Hope for Paws
---
Our Featured Pet...
Adoptable Dogs
Simba!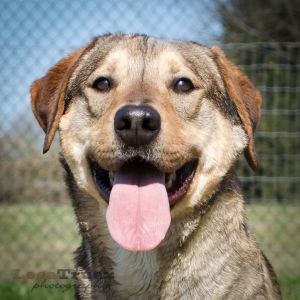 Simba is a handsome Anatolian Sheppard of about 3 years old. He is playful and affectionate. He can be timid when he first meets people but once he knows you he is sweet and happy just to be around you. Simba loves to play with other dogs and loves to go for a swim, even in a little kiddy pool. He plays fetch and knows some basic commands. He is just a super dog. Simba came to us when he was about a year and a half old with a partner dog named Ranger. Ranger is now living in a forever home with a family of his own. Simba is still waiting for his family. Simba has lived his entire life in a kennel or crate as he was born at the rescue who took his pregnant mom in. Unfortunately the rescue group did not spend time teaching him that people are fun so he came to us a little afraid. After no time at all he came out of his shell and is playful and happy with people he knows. Simba is looking for a special family that is willing to give him the time to learn to trust them. He is handsome funny and affectionate but because of his past he will need his family to give him a little time to learn to trust them. He is so special to our trainer here at Camp Diggy Bones that she has offered his adoptive family free training for Simba. The trainer said that Simba has a spark in his eyes that she sees rarely and only in very exceptional dogs so she knows Simba is a shining star. He would do best in a home without small children since he is so large and could accidentally knock them over. He is a moderate energy dog so is looking for a family that likes to include their dogs in their activities. If you are looking for a dog that can be anything you want him to be, but he will always be your best friend. Simba is up to date on his vaccinations, neutered and micro-chipped.

Simba is available for adoption through the collaboration of Hope for Paws and Camp Diggy Bones. If you are interested in meeting him please contact Hope for Paws at hopeforpaws205@gmail.com. His adoption fee is $100.
Contact Hope for Paws

You can also download an application from our site by clicking on the link.
Adoption Application.
Who We Are
Hope for Paws was founded on the belief that there are no bad dog breeds only people that exploit the
natural characteristics of a breed for selfish and often cruel purposes. We are dedicated to rescuing dogs
from harmful and neglectful situations regardless of breed and to educate the community regarding
specific breeds. We hope to decrease the number of homeless dogs in our community through education
about the benefits of spaying and neutering pets. Visit our website at hopeforpaws.net
Adopting A Friend
One of the things you will find when you choose to adopt is that it makes you feel like you have saved a
life. In actuality you have! When you adopt you have now not only saved the life of your new pet but you
have made room for a rescue group to save another shelter dog from being euthanized. You will also fiind
that somehow adopted dogs know how lucky they are and usually shows their gratitude to you for the rest of
their lives.
At Hope for Paws all our dogs and puppies are up to date on their vaccinations, micro-chipped and neutered or
spay. Our adoption process includes submission of our application, Which you can downlaod from our site by
clicking here
Once we receive your application for adoption we will review it within 3 days. At that point we will call you to
inform you of the status of the application and to schedule a home visit if your application has been approved.
Your dog will be delivered to you during the home visit. We are looking forward to helping you find the perfect
dog for your family and a perfect family for our dogs.
Come Visit Us
From Dallas take I-30 East to exit 68 for Route 205. Travel approximately 8 miles through the town of Rockwall.
Camp Diggy Bones is on the right hand side right past the Stone distributor.
From DFW airport take exit airport north to 121 North. Take 635 east to George Bush Tollway North. Stay on
PGBT until the exit for Wylie Rt. 78 North. Travel approximately 15 miles to Route 205. Make a right onto 205.
Camp Diggy Bones is approximately 1 mile on the left hand side.