Southern States Rescued Rottweilers
---
Our Featured Pets...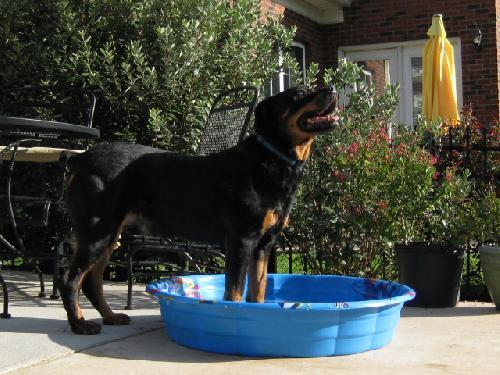 Meet Zeus!
News
Who We Are
Southern States Rescued Rottweilers, Inc. is an organization devoted to helping Rottweilers in the Southern States. We currently cover 11 states throughout the South: Alabama, Arkansas, Georgia, Louisiana, Mississippi, Northern Florida, North Carolina, South Carolina, Tennessee, Texas and the Virginia. Our mission is to rescue and re-home Rottweilers within these states. If you are interested in adopting, please visit our website at www.southernstatesrescuedrottweilers.org and complete an adoption application. If you are interested in fostering or volunteering, you can also complete an application at our website.
Adopting A Friend
We try and match up dogs with the best possible living environment for everyone involved. Some dogs need to be in homes with no children, no cats and/or other dogs - and some dogs LOVE children, cats, and/or other dogs! We want to make sure that everyone in the family is happy! Adoption requires that an application be completed and a home visit. Two personal references and a vet reference are required - these will be checked! If apporved, a tax-deductible donation of $250 to Southern States Rescued Rottweilers is required upon taking possession of the dog. We also require that a contract be signed - that states, among other things, that if you are unhappy with your dog that you will return him/her to us, that you will provide needed veterinary care, that you will provide adqueate food, ect.

The adopted Rottweiler will be spayed/neutered, current on vaccinations and on heartworm preventive medication prior to placement.
Loving Foster Homes Needed
Southern States Rescued Rottweilers needs foster homes in AL, AK, FL, GA, LA, MS, NC, SC, TN, TX, and VA. We are a rescue group for Rottweilers who relies on the generosity and love of foster families to care for our Rottweilers until a new, permanent home is found. We will supply vet care for the animals and our foster families provide food, home, love and training. We are currently in URGENT need of foster homes. Being a foster parent is an incredibly rewarding experience. You are temporarily providing a needy Rottweiler with a loving home environment and helping that Rottweiler become more suitable for adoption into a responsible, lifelong home.

Could you share your home & love with a foster dog until a new forever home can be found? If you are interested, please visit www.SouthernStatesRescuedRottweilers.org and complete a member/foster home application and someone will contact you. Thank you for your consideration.
---
Southern States Rescued Rottweilers
P.O. Box 21133
White Hall, AR 71612
Email: rottie.info.ssrr@gmail.com
Click here for a list of this rescue's pets

---

[Home] [Information] [Shelters] [Search]