The Henry County Humane Society
1303 Brentwood St.
Paris, TN 38242
Phone: (731) 247-3042
Contact us by email:
Nancy
Visit Our Blog
Business Hours: 8am-5pm - -Mon-Fri.
---
Find us on Facebook: Henry County Humane Society Facebook Wall

Visit The Henry County Humane Society's website at AnimalShelterGroup.com
Follow OnTwitter
Photos and Info on Flicker
HCHS Sister Site
Look for us on Facebook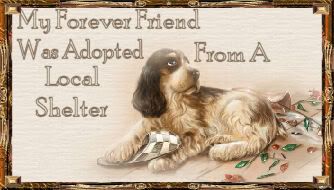 Scoll to bottom of page for more banners free for you to use
*** WE ARE VERY SORRY BUT WE CANNOT ACCEPT ANY ANIMALS AT THIS TIME. WE DESPERATELY NEED FOOD and/or MONETARY DONATIONS TO BUY FOOD AND FOR VET CARE. THANK YOU IN ADVANCE FOR ANYTHING YOU CAN DO TO HELP...
Mission Statement
The Henry County Humane Society has been organized to be a network of individuals whose purpose is to prevent cruelty, abuse, and neglect of animals and to promote awareness of animal issues. The Humane Society will strive to assure that the animals' interest are guaranteed by society through ongoing campaigns directed to the public to raise interest, promote responsible pet care, stress the importance of spaying and neutering your pets and to assure the animals that we share our world with a more kind and safer future.


Animals have taught us loyalty, patience, trust, love, and a respect for all nature. Nature survived millions of years before mankind. Mankind will not survive without the natural environment. There is a very delicate balance between the animals, nature, and the human factor---

Let us learn to be gentle.
We are a no kill organization and try every means available to find good homes for the animals housed here. Some of these have serious medical issues or behavior issues and the kindest thing to do is humane euthanization. Many can get better with a little vet care and TLC. There's just no reason we can't make the world a little better for our friends. This is one reason donations are so important. You may donate using our PayPal option near the bottom of the page. You can also send check and money order donations to the address listed above.
We are a permanent 501(c)(3) organization. Any and all donations can be used as a tax deduction for your records. Tax I.D. #780117615.
If you are looking for an easy way to donate, just look for our adoption barrels at Mineral Wells Animal Clinic, Lakeway Animal Clinic, Kroger's, IGA going out towards the lake, and the E.W. James on the west side of town. You can drop food items, cleaning supplies, and other pet supplies in the barrels for your convenience. Thank you to those that have so generously donated already!
If you wish to adopt you will need to fill out an application. You may call the contact number listed above or send an email to kdavis@wk.net
Just Dogs - Just Cats - Small & Furries - Just Rabbits - Just Birds
Courtesy listings are for animals from other organizations and private parties who ask the favor.
Even though our photo album is a little outdated, you will still be able to see the work that the HCHS puts in to help rescue and save abused animals whether large or small.
--->Our Photo Album<---

Not sure about adopting or just want some general knowledge and information on training, being a volunteer or other information on pet ownership .
Click on the link below for some excellent videos covering several different topics that will help guide you in your ownership of a cat or a dog.