Prince Albert SPCA Animal Care Centre- Saskatchewan, Canada
Foster Homes Urgently Needed

---
Our Featured Pet: Scarlett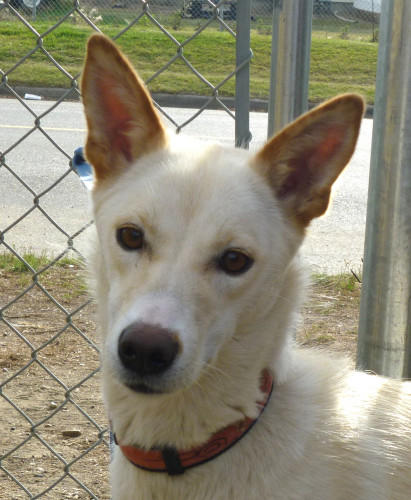 Scarlett is a 1 1/2 year old Husky mix who arrived in our care on September 12th. We received a call from an owner in distress who could not afford to look after her and her 8 puppies. Although only 5 weeks old the puppies went into foster care and Scarlett came to us as she had nothing left to give them. Literally a bag of bones and full of worms Miss Scarlett has been doing quite well and is now ready to find that special home to call her own. She is an affectionate girl who loves to be around people and we know that her perfect home is out there for her. If you would like to give this darling a loving home where she can get the attention and companionship she deserves come and visit her at 680 Exhibition Drive, send us an e-mail to pa.spca@sasktel.net or call our Animal Care Center at 763-6110 .

HORIZON PET FOODS - A Proud Sponsor of our SPCA

A big THANK YOU to all the businesses and private contributors who have generously donated supplies, advertising and monetary donations. Due to these generous donations, the Animal Care Centre can continue to care for the unwanted and homeless pets that come into our care.
The Prince Albert SPCA Animal Care Centre does not euthanize dogs,unless they are very aggressive or seriously ill. We believe that a home can be found for each one of them. This has been made possible by our dedicated volunteers and staff, loving foster families and what we like to call boot camp. Trailrunners Dog Training and DogCo have been very helpful in our venture.
Our cat adoptions aren't doing nearly as well, but we are still hopeful that the cat lovers out there will come and adopt a cat! .
If you are unable to adopt, you can help in other ways - you can volunteer your time with grooming or walking, or we accept good quality dog food, cat food, chew toys (the bigger the better! Our kennel doors let small toys escape!) dog cookies,non clumping kitty litter etc ...If you would be interested in fostering a dog, please contact us @763-6110, email pa.spca@sasktel.net or visit us @680 Exhibition Drive.

But for the lucky ones who have found homes - Click here to see our Happy Tails!
---
It's a sad fact that only 28% of cats at our Animal Care Centre find homes. Please consider us if you are looking for a cat or kitten.

If you unable to adopt an animal, you can call to sign up for a membership ($10.00). You will then receive a copy of our newsletter to bring you lots of news of our Care Centre and the big plans we have for the future.

If you don't live nearby and are interested in one of our pets, WE WILL help to coordinate transportation arrangements.. So give us a call before dismissing the idea!!
---
We are a small "stand-alone" animal care centre that relies on donations and adoptions in order to keep operating. We do not receive funding from the provincial or federal government. We keep the animals as long as we can, but there are only so many kennels. The cat pictures you see are just a "sampling"... If you are unable to adopt but would like to help, any financial donation would be appreciated more than you can imagine! Any donation over $10.00 will be issued a tax receipt.
Who We Are
The Prince Albert SPCA Animal Care Centre is a non-profit organization that operates on fund-raising alone - we are not funded by the provincial or federal government. A huge volume of cats and dogs pass through our doors, and many are unable to find homes. As with many rescue shelters, we are trying to find homes for as many of them as possible!
Adopting a friend
If you are interested in adopting a pet from us, please call the animal care centre at (306)763-6110, email: pa.spca@sasktel.net, visit our website www.princealbertspca.com or come by between 11:00 and 6:00, Monday to Friday; 11:00 - 5:00 Saturdays and 12:00 to 4:00 Sundays. You will need to complete an adoption application - and be approved to adopt - before you can take a pet home. Dog adoption fees start at $85.00.
Come Visit Us!
We are located at 680 10th Street East (Exhibition Drive), Prince Albert, SK (just before the Prince Albert Exhibition grounds). We're about an hour and a half drive (north) from Saskatoon, so we aren't too far to come if you're interested in one of our featured pets.
---
Prince Albert SPCA Animal Care Centre
680 10th Street E (Exhibition Drive)
Prince Albert, SK S6V 2W2
Phone: (306) 763-6110

Email: pa.spca@sasktel.net
Click here for a list of pets at this shelter

---

[Home] [Information] [Shelters] [Search]