Brooke's Haven Animal Rescue
---
Our Featured Pet...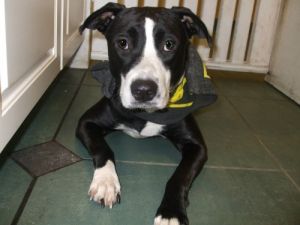 Having patiently endured arduous heartworm treatment, Emmy is ready to strut her stuff! Left to fend for herself on a busy road, she deserves to know what a soft bed and kind words feel like. Emmy is a well-mannered girl who is anxious to show you what true devotion feels like.
News
The holidays will soon be here. Please consider donating to make the holidays merrier for our rescues. A Kong toy, Kuranda bed or just some quality time with them would be very much appreciated. Cash donations are tax deductible and can also be given as gifts - we will notify the recipient of your generous donation. Thank you for keeping the rescues in your thoughts this holiday season. For additional details on the rescue and photos of the pups, please joiun us on Facebook at Brooke's Haven Animal Rescue.
Who We Are
Brooke's Bed and Biscuit in Bluffton, South Carolina has set aside an entire wing of the boarding kennel for those in need. While the majority of our rescues come from animal control facilities in the surrounding area, we also find ourselves taking in abused, neglected and abandoned souls from our immediate vicinity. Since Brooke's Haven Animal Rescue was established as a 501c3 nonprofit in 2009, we have placed almost 200 dogs, cats, hamsters, rabbits, pigs, birds and others in loving and caring homes.
Adopting a friend
Our goal as an animal rescue is to ensure our adoptees do not end up in the same predicament from which we have worked so hard to save them. Therefore, we ask that you fill out an adoption application before you take your new family member home. All adoptions are initially on a trial basis to ensure the right fit for two-legged and four-legged alike. In addition, we ask that you contact us if you should ever need to relinquish one of our rescues so that we can make arrangements to welcome them back into our flock.
Come Visit Us!
From I-95 you will take exit 8, follow the ramp to Hwy 278 East. Stay on Hwy 278 East for apx. 12 miles. Once you go through the light at Rose Hill Plantation, you will take a right at the next light, which will be Buck Island Road. We will be your 3rd left. From Hilton Head Island you will continue West on Hwy 278. Once you go through the light at Simmonsville Rd. (Wendy's will be on your right) you will take a left at the next light, which will be Buck IslandRoad. We will be your 3rd left. Look for Brooke's Bed and Biscuit Boarding Kennel, we are located just inside!! Hours of Operation are from 8:00 AM until 6:00 PM Monday through Friday. 8:00 AM until 2:00 PM on Saturday and 2:00 until 4:00 PM on Sunday.
---
Brooke's Haven Animal Rescue
25 Buck Island Road

Bluffton, SC 29910
Phone: 843-757-7387

Email: brookeshavenanimalrescue@gmail.com
Click here for a list of pets at this shelter

---

[Home] [Information] [Shelters] [Search]