Burrillville Animal Control
Click here for our page on Facebook!
Click here to see our Happy Tails!


---
Our Featured Pet...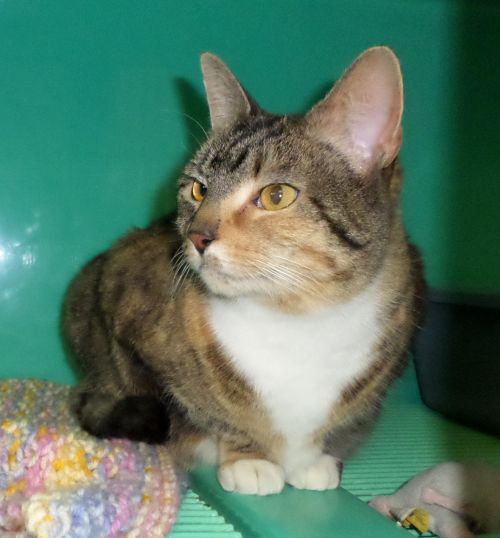 CUDDLES
CUDDLES HAS BEEN ADOPTED!!!! Cuddles is a six year old Calico Tabby cat looking for a new home. She is a friendly and playful girl who likes attention. Her coat pattern is beautifully unique. Cuddles is litterbox trained, Felv/FIV negative, spayed, and vaccinated. LOG #2014-007.
News


LOW COST SPAY/NEUTER CLINIC FOR CATS ***Thursday, May 8, 2014***at Burrillville Animal Shelter, 131 Clear River Drive, Oakland 568-9480.***Services will be performed by Salmon River Vet in their mobile surgery unit. You must contact Salmon River at 401-793-0092 to schedule an appointment. Cost is $75 (cash) for spay or neuter and includes rabies and distemper vaccines and ear mite treatment if needed. Deworming is an additional $5. Drop off time is 8:30 - 9:00 a.m. Pick up is between 2:00 - 3:00 p.m., same day. Payment required at time of service.***

. ANNUAL TOWN RABIES CLINIC: Sunday, April 27, 2014 from 10:00 a.m. to 12:00 noon at the Burrillville Highway Garage, 65 Union Avenue. Cost is $11 per vaccination – cash only! All dogs must be leashed and under the control of a responsible adult. If your dog cannot be trusted around other people or animals, please muzzle him/her. Cats and ferrets must be in carriers. Please bring proof of current valid Rabies vaccine to receive a 3-year vaccination certificate. Those without proof of current vaccine will receive a 1-year certificate. Coordinated with RI Veterinary Medical Association. Dog license will be available at the clinic for a fee of $7 per license.


It seems that our number of abandoned and very neglected animals in need of veterinary care is continuing to rise. We are always happy to receive money donations that enable us to provide the medical care these animals need. All money donations are utilized for routine and emergency veterinary services for animals in our care. Other donated items we can use include: paper towels, kitty litter, dry and canned dog and cat food, bleach, Heartguard, Frontline, biscuits/treats, and towels.

| | |
| --- | --- |
| | We have chosen Kuranda dog beds for our boarding facilities because they are so good for our dogs. We still don't have enough for all of our kennels. If you would like to donate a bed so another dog can sleep in proper comfort, please click here. |
Who We Are
Burrillville Animal Control is a municipal facility which operates to enforce animal control laws as well as house stray and homeless animals. Animal Control officers are available to assist the public and perform the following services: Return stray animals to their owners, place unclaimed animals for adoption, enforce local and state animal control ordinances, and educate and provide referrals for the public.
Adopting a friend
After meeting the pet you would like to adopt, the ACO will perform a brief screening. Depending on the status of the pet you are choosing (i.e. vaccinations, spay/neuter, etc.) the Shelter requires that you prepay the cost of Rabies vaccines and spay/neuter at the veterinarian of your choice. Upon returning to the shelter with the pre-paid receipt, the chosen pet will be released in your custody after completing the adoption paperwork. Animals that have been vaccinated and spayed/neutered require an adoption donation. We are able to assist you with low cost options for spay/neuter of dogs and cats.
Come Visit Us!
The Burrillville Animal Control Shelter is located on Clear River Road which runs off of Broncos Highway (Rt 102) in the village of Oakland. Visiting hours are from 8:00 a.m. - 11:00 a.m. seven days a week. Evening visits are available by appointment, Tuesday thru Friday. Visit our municipal website at http://www.burrillville.org/Public_Documents/BurrillvilleRI_AnimalCtrl/index
---
Burrillville Animal Control
131 Clear River Drive

Oakland, RI 02858
Phone: 401-568-9480

Email: aco@burrillville.org
Click here for a list of pets at this shelter

---

[Home] [Information] [Shelters] [Search]