We should have been neutered, we should have been spayed, now we suffer the consequence of the errors THEY made.

If only they'd trained us, if only we knew...

we'd have done what they asked us and worshiped them, too.

We were left in the backyard, or worse -let to roam- now we're tired and lonely and out of a home.

They dropped us off here and they kissed us good-bye... "Maybe someone else will give you a try."

So now here we are, all confused and alone... in a shelter with others who long for a home.

The kind workers come through with a meal and a pat, with so many to care for, they can't stay to chat,

They move to the next kennel, giving each of us cheer... we know that they wonder how long we'll be here.

We lay down to sleep and sweet dreams fill our heads.. of a home filled with love and our own cozy beds.

Then we wake to see sad eyes, brimming with tears – our friends filled with emptiness, worry, and fear

If you can't adopt us and there's no room at the Inn – could you help with the bills and fill our food bin?

We count on your kindness each day of the year – can you give more than hope to everyone here?

Please make a donation to pay for the heat... and help get us something special to eat.

The shelter that cares for us wants us to live, and more of us will, if more people will give.


---
Up-dated on January 28th, 2014

The shelter is opened Sunday-Thursday from 9-3:30 . Closed ALL holidays.
PLEASE VOTE FOR OUR SHELTER EVERY DAY TO WIN A VERY MUCH NEEDED GRANT! THANK YOU FROM ALL OF US AND ALL THE HOMELESS ANIMALS!



please vote for our shelter!


PAPER TOWELS.....BLEACH....... PURINA CAT CHOW COMPLETE FORMULAR........CLAY CAT LITTER..............PEDIGREE DRY DOG FOOD........ CANNED DOG FOOD...........FRISKIES CAT/KITTEN CANNED FOOD..........O'CEDAR MOP HEADS......RAWHIDE TYPE BONES (MOSTLY MEDIUM OR LARGE).

Other wish list:

Laxatone - Regular Flavor, Hairball Remedy, 2.5 oz

Puralube Vet Ophthalmic Ointment, 1/8 oz

Terramycin Ophthalmic Ointment, 1/8 oz*

Goat-A-Lac, 4 lbs Powder*

Mini Disposable Litter Trays*

Thank you so much for those who have helped us get so many things we so desperately needed. Your support is so graciously needed and VERY much appreciated.






You can now download an application to adopt by going to our website www.westwarwickshelter.org/






If you are in need of low cost spay/neuter assistance here are a few sites to get the help you need.


RIVMA Telephone # 751-0944 (asst only not a hospital.)

Volunteer Services For Animals Telephone # 273-0358 ( asst only not a hospital)

Salmon River Telephone # 793-0092 ( s/n cats only) other services for both cats and dogs

PARL 421-1399 x205

Friends Of Animals (asst only)





PLEASE SPAY/NEUTER IT'S THE ***LAW***
If you would like to help us shop though igive.com a precentage of all everyday online purchaces is donated to help our animals. CLICK HERE TO SHOP TO HELP OUR HOMELESS ANIMALS. PLEASE SELECT: West Warwick Angel's Caring For Animals.







The West Warwick Animal Shelter Highly recommends:

Dynamic Dog Training Services

Susan and Harry Parker (Owners) are also members of the RI Animal Control Association. Susan's work with RI shelter dogs is NATIONALLY RECOGNIZED! Her own program known as "Out of the Pits and into the Ritz" has won a $5,000.00 grant thru Maddies Fund!

Susan specializes in Obedience Training Dogs Adopted from Animal Shelters. She is an Instructor & Relationship Coach for Superior Canine Communications. She and her husband Harry have extensive experience training "Bully Breed" dogs.

Dynamic Dog Training Services offer personalized and private in-home training as well as group and/or both if you like!!! We also offer one day in-home behavioral assessments and can design a behavioral modification plan to suite your dogs specific needs.

Classes shall run Spring 2008 thru Fall 2008 Our next group begins Sunday June 1st (This class is already full)

We are currently accepting sign ups for our July classes (Beginning Sunday July 20th 9am)

Classes are outdoors and are held next to the West Warwick Animal Shelter 106 Hay Street West Warwick, RI 02893

Susan and Harry are also looking for new "Train the Trainer" volunteers so if this interests you, please feel free to contact us about this magnificent program designed to help shelter dogs become more adoptable. So far, this program has a 100 percent success rate! Read more about this program on page 8 of Animal Print Magazine http://www.theanimalprint.com/ current.html You must be currently volunteering at the shelter for a minimum of 4 months before you can apply to be accepted into this program

The current fee for a recently adopted shelter dog (adopted within 4 months, and must be a shelter that Dynamic Dog Training is affiliated with) $65.00 payable on the first day of class

All others is $150.00. Canine Good Citizen test fee is: $35.00

http://www.Dynamicdogtraining.net
Please call Susan at 401-823-8851.
Or e-mail her at :MyPetTherapyDogs@ yahoo.com

ALL DOGS MUST BE CURRENT ON VACCINES. Proof is necessary before class starts!

Classes run between 6-8 consecutive weeks long (We only cancel due to rain)



---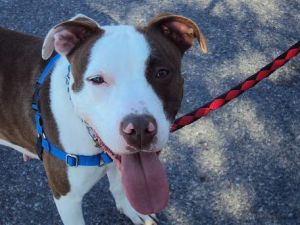 Coco is a young playful, very friendly, sweet little gal. She has just started the national award winning training program "Out of the Pitz" with Susan Parker owner of Dynamix Dog Training. She is doing awesome training and is well on her way to acheiving her CGC (canine good citizenship) She's a great dog to have a lot of fun with. She does well with other dogs and loves to go for walks.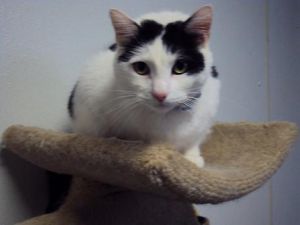 Meet Ms.Chrys! Chrys is only a year old. She is a very sweet girl. She's not a big fan of getting held but she'll love the daylights on you. She's a beautiful loving girl. Poor baby was left in a broken carrier in the middle of a rotary in the blazing heat. By complete luck a man driving saw out of the corner of his eye there was something in the bag. She was one very lucky little girl! She's a quiet girl that loves to hang out with her human's. P>



Click here to see our pets that have been adopted


Do you want to adopt or have a dog your home owners insurance policy will not allow you to have. Homeowners with breed exceptions on their insurance policy can get this policy and still own the breed of their choice because it insures the dog not the home. http://lkalmanson.com/dog.html. Renters, and dogs that have a past bite record can also get insured.
---
DONATIONS NEEDED


We are in need of the following items:
clay cat litter
canned gravy dog food
laundry soap
bleach
Purina cat chow (blue bag)
bones (right from the meat department)
Frontline (flea & tick treatment) any weight, cat or dog
(We desperately need * dry and
canned kitten food), nursing kitten bottles
catnip mice (always a big hit!!)
pet wipes, ear wipes
dog toys and treats, including chew bones, Snausages, and Beggin' Strips, kongs.


Gift cards and food donations are always appreciated! Please call Lori at 401-615-3388 to donate. Thank you!
Click the button to make a donation using PayPal. Thank you!


---
OUR SHELTER WORKS WITH:


West Warwick Angel's Caring for Animals they help our shelter by working very hard on finding forever home for our animals and by providing financial help for medical to our shelter animals. West Warwick Angel's also helps us get much needed supplies and shelter needs we do not get donated. If you would like to help them help us and our furry little friends please make a donation of any amount.
Any checks should be sent to:
West Warwick Angel's
PO Box 752
West Warwick, RI 02893
Thank you!


TO ADOPT.................... * Must be at least 21 years old
*Must provide proof of home ownership or landlords permission

---
PET SHOWINGS and UPCOMING EVENTS We will be at Petco route 2 Bald Hill Rd Warwick every Saturday from 12-3 pm.


UPDATE! Our empty Ink Jet has been great. Thank you to everyone who has donated thus far. The funds received have been used for our spay/neuter program and we can use all the help we can get, so keep on collecting those empty ink or toner cartridges. They can be dropped off when we are showing at Petco, mailed to our PO Box or dropped off at the shelter. Thanks for your support!
---
Animal Shelter Hours of Operation

Monday-Sunday 9 am - 3:30 pm Closed all holidays.

Directions:
RI mall exit 12 B to the 4 way intersection
left onto Rt. 2 (Bald Hill Rd.)
take right at Bald Hill Dodge onto Toll Gate Rd
stay straight-after set of lights stay to right-
Bradford Soap factory is on the right-at the end of the factory take that right onto Hay St.-follow road to the end
The shelter is located at the end of the road 106 Hay St . Please call the shelter directly at 401-615-3388 before coming down it's a small shelter and most times there is only one person on duty. Some animals may also be in foster care and not at the shelter. There is an application process if you do not live close by were you can come back the following day we suggest you request an application on line to make the process faster.
---
VOLUNTEERS NEEDED!

If you would like to help, but are unable to adopt a pet, consider becoming a volunteer! There are plenty of different things to do! For more information please call 401-615-3388. We are especially in need of families to care for kittens & mother cats or just the moms or just the kittens. Please call if you are able to help!

To adopt a rabbit, please click the bunny picture below

---
PET FRIENDLY RENTALS

Need help finding a rental that will accept pets? visit www.pets911.com and click on the link on the right side of the page for Free Listings of Pet Friendly Apartments in your community!

---


email:West Warwick Animal Shelter
*** NOTE ****
Please do not send attachments as your message will be deleted without being opened. If there is a picture you would like to send please email first for approval. Thank you for your cooperation.

Click here for a list of pets at this shelter
---

[Home] [Information] [Shelters] [Search]