Amigos De Los Animales

Our dogs love to sleep on Kuranda Dog beds, but we don't have enough for everyone. If you would like to donate a bed at a special wholesale price for a another dog to sleep in comfort, please click here.
PLEASE DONATE TODAY
As a result of the economy, countless dogs and cats in Puerto Rico are suffering. Amigos de los Animales is in dire need of donations to keep up its great work in Puerto Rico. Please donate today, in any amount, to help keep us on our feet. We are a 501(c)3 organization dedicated to animal welfare in Puerto Rico. Visit our main website at: www.amigosdelosanimalespr.org for more information about us and what we do. For your convenience we have a PayPal button link above and below, and a snail mail address below. Mil gracias!
NEWS FLASH!
Jane Velez-Mitchell Launches Dog Documentary After Visit to Puerto Rico
Amigos de los Animales was fortunate to be able to act as an assistant to investigative journalist and author Jane Velez-Mitchell when she came to Puerto Rico to see how she could be of help with the pet-overpopulation crisis Puerto Rico has been suffering. Taking her to all the island hotspots of animal abuse and abandonment, Jane put together this documentary of her time spent here, hoping to encourage the island government to adopt a spay/neuter policy. We hope you enjoy Part 1 and Part 2:
BEBA FOR 'FIRST DOG'!
When Amigos de los Animales heard that in President Obama's first public address he said he and his family wanted to adopt a mixed-breed rescued dog, we went right out and picked up Beba and her two siblings from a shelter parking lot. After Jane Velez-Mitchell aired a photo of Beba's on her show "Issues with Jane Velez-Mitchell," Beba catapulted to stardome in Puerto Rico. She was on several TV shows locally and featured in several newspapers.
But alas, Beba's White House lawn dreams are dashed as the First Family has their heart set on a Portuguese Water Dog (Hey, what kind of mixed-breed dog is that?). The good news is, though, that a very special family in New York City wants Beba! Soon Beba will be strutting her stuff in New York's upper west side where her new guardians have a boutique clothing store--and where dogs are most welcome!
Ahhhh. The good life.
OUR FEATURED PET...Coral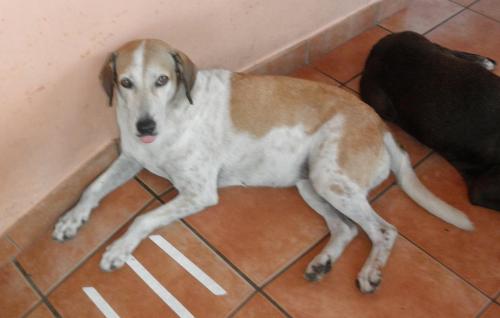 Coral lived in a kennel for the first four years of her life because she was "rescued"by a well meaning elderly lady who had no other way of managing the animals she rescued. Amigos de los Animales took her into our shelter to help rehabilitate her and now she is a lovely 6 year old senior citizen. We would love to see her in a loving family of her own but until that time comes, Coral is a very well balanced, laid back member of our pack.
Coral looks like a smiley hound mix though she barely ever says a word. She is a very sweet, docile and loving girl who is sterilized and completely vetted.
Please email amigosdelosanimalespr@gmail.com if you would like to adopt Coral. She is sure to warm the heart of any family or person willing to give her a forever home with lots of belly rubs and attention.

CURRENT PROJECTS & OTHER NEWS:
Attack of the Blogs!
Amigos de los Animales' Adri has been keeping a webblog of all rescue info and daily "Life with the Animals" which has been a source of donations for the organization as well as a vehicle for spreading awareness of some of the animal welfare problems local rescuers face in Puerto Rico.
Amigos de los Animales encourages all rescue organizations local, stateside and around the world to embrace weblogs as a way to fundraise and raise awareness.
Adri's blog is always rescue and animal related and will give you an idea of what is involved in animal rescue on a day to day basis. Take a look at Adri's webblog for rescue photos and to read what's happening in animal welfare in Puerto Rico:
http://pinonesbeachproject.blogspot.com
"Dead Dog Beach"
Amigos de los Animales (ADLA) pioneered the rescue of the first dogs off of what local fishermen in Yabucoa call "Dead Dog Beach" after receiving a desperate email from Canadian Steve McGarva detailing the horrific abuse the more than 90 dogs were experiencing. ADLA set up pet-partnerships with two New Jersey shelters specifically to help rehome the abandoned and abused dogs from the aweful situation at the beach. The "Dead Dog Beach" rescue project has since grown to include many island and stateside organizations working for the benefit of the dogs at the beach, and also includes hundreds of financial donors without whom this project would never have been possible. Many pet-partnerships now exist and aid the rescue of dogs from "Dead Dog Beach." More than 900 dogs have been taken from "Dead Dog Beach" since September of 2006, and 95% have been rehomed.
"Tourist Dog"
Amigos de los Animales will go the extra mile to help tourists interested in adopting dogs straight from the streets of Puerto Rico. Because Puerto Rico is considered a Commonwealth of The United States, dogs traveling out of Puerto Rico to the Continental U.S. are considered traveling State to State. The plight of stray animals tugs at the heartstrings of tourists and many budding organizations dedicated to helping dogs from Puerto Rico spring up each year as a result of people vacationing in Puerto Rico. Puerto Rico Tourism Association has thousands of letters from tourists objecting to the animal welfare situation in Puerto Rico, and a fairly recent poll of tourists suggested the plight of animals on the island as being one of two main ways Puerto Rico could improve in regards to its being a vacation-destination of choice. Amigos de los Animales is dedicated to doing its part to bring about a better future for the animals in Puerto Rico, and is more than willing to help any tourist wishing to adopt a dog seen while on vacation here.

If you are a tourist visiting Puerto Rico (or have been), and would like to write to the local government where you witnessed abandoned or abused animals, click on this link and use the drop down menu for that municipality, and write directly to the Mayor governing there.

Alternatively, please write to one of the following agencies and ask them to shift some focus toward bringing about a humane Puerto Rico by working together with the many talented and creative rescue organizations and municipal shelters working toward that goal on the island:


OLD NEWS
Barceloneta Bridge Massacre
Amigos de los Animales is "shocked, but not surprised" by the tragic events that took place in the municipality of Barceloneta. This incident was not an isolated incident, contrary to what government and tourism officials would like us to believe. As an animal rescue organization with its hands in many pots, we have firsthand knowledge of how Puerto Rico operates in respect to animal welfare issues. Puerto Rico does not yet have a foundation with respect to animal welfare, sadly. And we hope the spotlight will continue to shine on this tragic event long enough for people to see that animals are being butchered and killed all over the island in much the same fashion as those tossed off the bridge in Barceloneta.
What really sets this tragic event apart from other horrible situations - like that of Dead Dog Beach in Yabucoa or Los Machos Beach in Ceiba - is that people's civil rights were violated. The Mayor of the municipality himself was knocking on doors and taking animals with one hand as he threatened eviction with the other. Children, whose parents weren't home, were told to hand over all animals or they and their parents would be tossed out on the street. While folks were sleeping "animal control officers" came into their yards and took their animals, some being injected on the spot. These are just a few of the things the people in Barceloneta experienced, not to mention the horror the dogs experienced (a few of which survived the fall and literally wear their sadness in their face).
Amigos de los Animales is committed to acting as a voice for the tragedy in Barceloneta, and for all animal welfare issues on the island in general. We are working closely with attorneys acting on behalf of the people and animals that have suffered, and are at the disposal of larger organizations looking to assist in the tragedy. For those looking to get involved in some way, we can accept PayPal donations and will distribute your contribution as you wish. You can also scroll down to the bottom of the page and write our Governor and the Tourism Company. Urge them to finally create a roundtable allowing rescue organizations to help them address animal welfare issues once and for all, so that Puerto Rico can have the image that they so desire, but won't ever have if they don't realize there is a problem. And please, specifically, make sure to mention that you won't visit Puerto Rico unless you see they are making an effort. We think these agencies don't understand that making an effort is a redeeming quality in the eyes of most people, and even the smallest effort on their part, would go a long way in the eyes of those whose vacations have been ruined because of animals they've come across, and those whose hearts have been broken because of what they've read or seen on TV.
Thank you so much for any support you can offer. We truly appreciate all help in any way it comes.
Hon. Luis Fortuno, Governor
La Fortaleza
P.O. Box 9020082
San Juan, PR 00902-0082

Puerto Rico Tourism Company
Jaime Lopez Diaz, Executive Director
P.O. Box 902-3960
San Juan, Puerto Rico 00902-3960

Arecibo Shelter
Note: Unfortunately, this shelter and the municipal government of Arecibo could not get its act together and now refuses to work with rescuers. It has now become a 100% kill facility despite a combined best effort of local rescue groups, and animals are still being mistreated according to some. The shelter, its animals and some of its staff can be viewed in Jane Velez-Mitchell's two-part documentary above.
When Amigos heard that the soon-to-open municipal shelter in Arecibo didn't have money to feed the 80 dogs under its roof and had no vet in attendance of the dogs, we raised money for vaccinations, medication and supplies, and organized a vaccination day to vaccinate the dogs and catalog the dogs under the shelter's care. We also rescued 20 dogs from the shelter, some of which had serious health conditions. We also rescued two kittens from the shelter, the only two they had, who have since gone to St. Hubert's animal welfare for adoption. All of the dogs rescued from the shelter are in various stages of rehab, with one already adopted to Amigos diehard supporter Golden Glove champ Chrissy Beckles.
OUR MISSION STATEMENT:
Amigos de los Animales: acting as a voice for abused and abandoned animals in Puerto Rico - speaking for those who cannot speak for themselves.
WHO WE ARE
Amigos de los Animales, Inc., is a licensed, nonprofit 501(c)3 corporation acting as a voice for the abandoned and abused animals on the island of Puerto Rico. Amigos de los Animales is dedicated to bringing about a humane Puerto Rico and we are not limited in our activities to further this cause. Amigos de los Animales rescues, rehabilitates and rehomes both companion and farm animals, and works with government and community alike to educate Puerto Rico on animal welfare issues. Amigos de los Animales is run 100% by volunteers, and we rely on the generous donations of people like you in order to be able to carry out our activities and continue our work.
OUR SHELTER?
Amigos de los Animales (ADLA) has a small licensed shelter at the Piņones Beach home of Adri Galler Lastra. We currently use local veterinarians to treat and sometimes board our animals. ADLA's premier vets are Dr. Ernesto Casta and Dra. Katia Esteves, who both have practices located in the San Juan area. Both vets have top notch staffs which have been instrumental in the rescue of hundreds of our animals. If you would like to see a list of vets in Puerto Rico, Amigos de los Animales website will have a resouce page set up shortly at www.amigosdelosanimalespr.org.
ADOPTING A FOREVER FRIEND FROM AMIGOS DE LOS ANIMALES
Amigos de los Animales always has an array of dogs for adoption. If you are interested in adopting an animal from Amigos de los Animales, please visit our pet page and see if there is a special companion there that might be just right for you or your family. If you do see your forever friend on our pet page, please contact us for an adoption application.
CONTACT US
Amigos de los Animales, Inc.
Hc 1 Box 7622
Loiza, PR 00772
Phone: (787) 313-5653
Email: Amigos de los Animales, Inc.


Click here for a list of pets at this shelter

---

[Home] [Information] [Shelters] [Search]