Our Dog of the Month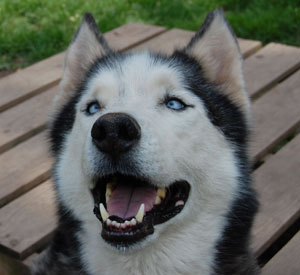 Age: 9 Years
Sex: Male
Size: Large

Meet Clint...

Clint is a handsome guy that came to MaPaw almost a year ago as a victim of the economy when his family could no longer care for him. When he first joined his foster home, he was confused about what was happening. Clint quickly warmed up to his human caregivers and was soon making friends, both human and canine. This big guy just wants attention and someone to love.

Clint loves toys, riding in the car and people of all ages. He is a vocal boy and has a low grumbly voice when he expresses himself. He will do best in a sibe-savvy home that is experienced in typical husky ways. Clint will be fine as an only dog or with another female canine companion.

At 9 years old, Clint is a low key husky who enjoys the attention of his humans and just wants a family to call his own.
About MaPaw
MaPaw Siberian Husky Rescue is an organization dedicated to the caring and placement of Siberian Husky and Husky mix dogs into loving, permanent homes through adoption and referral services.

We are a network of foster homes located throughout Eastern Pennsylvania, parts of New Jersey, Maryland and Delaware. Our foster homes are volunteers that open their homes and their hearts to Siberian Husky and Husky mix dogs in need.

All of our dogs are given individual attention that allows us to learn about their personalities and needs. This knowledge helps us to place our dogs in homes that are best suited for them, which results in rewarding and lasting relationships.
Sponsor a MaPaw Permanent Resident
We wish there were perfect homes for every husky in need. The truth is, there just aren't. Some of our guests, we know, are permanent. If a foster dog becomes "unadoptable" for reasons of health, age or behavior (other than dangerous biting) we do not euthanize him or her, even when faced with high medical bills or a lifetime commitment. As long as they are pain-free and can still enjoy life, we will provide them with ongoing love, shelter and medical care.

This commitment comes with a high price tag. While our foster caregivers are all volunteers and not compensated in any way. The feeding and medical care must be financed from our nonprofit groups limited funds - which are also needed for vet exams, vaccinations, medications and spay/neuter for ALL of the foster dogs in our care. Unfortunately, as with anything, money plays a key role in determining how many huskies we can help.

Learn more about our Permanent Residents. Meet Aero, Callie and Jack. Make a donation in their name to let them know you are thinking about them!
Shop the MaPaw Store
Visit the MaPaw store for some great gifts for Husky lovers! T-shirts and Siberian love bead bracelets! Click here to check out our store! Visit our Cafepress store for t-shirts, mouse pads, coffee mugs and so much more!
Upcoming Events
Sunday, May 12th
Breakfast at Gilbertsville Fire House
Gilbertsville, PA
8 am - 12 pm
Full Service or Buffet
10% of the proceeds will be donated to MaPaw
---

MaPaw Siberian Husky Rescue
899 Douglass Drive
Boyertown, PA 19512
610.369.0055
Email: mapaw@sibes.com
Website: sibes.com