Friends of Pep Border Collie Rescue
News
Friends Of Pep Is pleased to announce that we have officially adopted out 1150 dogs. Yeah for all the adopters who made that possible!!!
We are always very busy with new arrivals and adoptions please check our list frequently if you dont see a dog today that meets your requirements.
We judge all applicants based on the dogs needs so please apply and we may be able to suggest a different dog if necessary
All of our dogs are in Pa already unless it states otherwise.
Please request an application to adopt from the email link below. When you are approved you will be given an appointment to meet the dogs and choose your best fit
Please come and be a fan of ours on Facebook and add your adopted dogs pic.
Who We Are
This is Pep the dog our rescue is named for: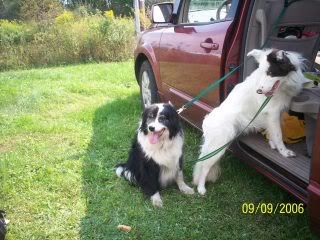 Pep is a true Border collie rescue he was on his 5th home when he came to us at 11 months
He was abandonded as a newborn with his siblings in a box. A rescuer raised him on a bottle and then he bounced in and out of rescue for 11 months, due to his border collie /puppy nature. He was one of the most destructive dogs ever ....but he raised all the granchildren and took everything they threw his way ....you could leave a box of donughts on the coffee table and he'd never touch it ....but let the neighbors leave anything on their porch or open garage and he carried it home LOL

It's with great sadness that we announce that Pep died in his sleep in his favorite spot 3/17/08. He was 14+ years old. We will miss him and each dog saved is dedicated to his memory.
Our mission is to match you with a dog that suits your lifestyle.
We are a family based rescue with everyone helping out even the grandchildren. We have had Border collie mixes in the family for years and have a great love for the breed.
We also assist kill shelters by taking small terriers and poodles to help them find great homes

Adopting a friend
Please Email Friendsofpep@aol.com or click the email link click here,
All Dogs 24 weeks and older are Spayed or Neutered HW (-) placed on interceptor, have all vaccinations current rabies, and are frontlined for the month
Puppies
. They have appropriate vaccinations for age and have been vet checked
Donation items needed
We can always use toys and milkbones for the dogs so if you are coming to adopt please feel free to bring their favorite snacks
We can also use old towels to clean and good useable blankets
Friends of Pep Border Collie Rescue
31 N. 4th street
P.O. box 455
Gouldsboro, PA 18424
Email please for info

Email: friendsofpep@aol.com
Click here for a list of pets at this shelter

---

[Home] [Information] [Shelters] [Search]