Monroeville Animal Shelter
---
Our Featured Pet...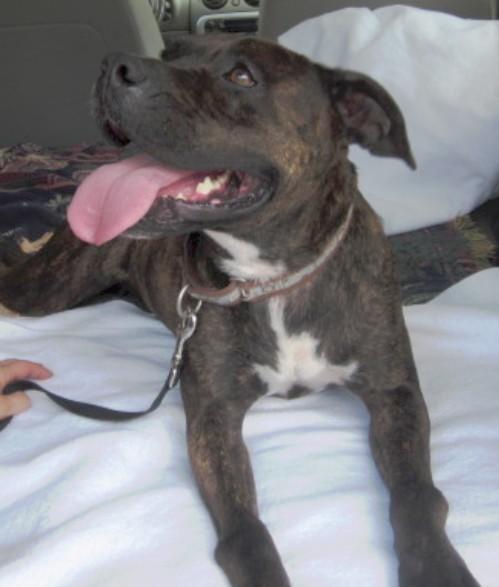 Mona (aka MoMo) When you wish upon a star, makes no difference who you are, when you wish upon a star, your dreams come true. Yes folks, I am Mona, a 3 year old Pit/Boxer mix. You can call me MoMo because you are my friend. Every night before I close my eyes, I wish upon a star to have a home of my own. I have never had a home or someone to love me, but I hear that finding a good home is better than the pot of gold at the end of the rainbow. I can picture what a home would be like - and it is such a wonderful image. In my imagination of a home, someone would love me and make me feel wanted. I have been at the shelter for about 8 months - I just keep getting overlooked and I don't know why. I am an awesome girl. It feels like my life is just passing me by, waiting and waiting every day for someone to notice me and give me a good home. When I go for walks, it feels like freedom. When I was getting my pics taken, my friend Renee opened the back of her car and I jumped in. There was a soft blanket in there and I just rolled around on it - it felt like being on a cloud. My friends Renee and Sue were holding me in their arms - I guess this is what love feels like and I really liked it. I know I am not the most eye catching, but beauty is in the eyes of the beholder. I have a beauty all my own - it is to love and be loved. Just the basics in life is all I want - love, home and food. Here are some comments from my human friends at the shelter: Mona is a staff favorite!! She is extremely loyal and has a loving temperament with people. She would make some lucky family an excellent companion. She is very active and would require daily exercise. She has enjoyed playing with a few dogs at the shelter, but would do best as the #1 dog. She eats well and loves treats. She is spayed and up-to-date on vaccinations. Unfortunately, Pits and Pit Mixes get a bad rap. The breed continues to be misunderstood. You should be knowledgeable about the breed and how to train and work with them. Mona is a great dog!! Before you close your eyes at night, please wish upon a star for a home for me. Paws Crossed, MoMo For more info on me, please contact Sue at 412-389-2480 or 412-372-1305 or email turfg979@verizon.net It takes a very special person to adopt a senior animal - are you that person? Let's look at the advantages of adopting a senior dog: 1. We have wisdom. 2. We don't chew things up - like your furniture. 3. What you see is what you get. 4. We are calmer than the youngsters. 5. We appreciate everything. 6. Age is just a number - and even humans age. We are like fine wine. 7. We don't cry and whine at 3am to go potty. 8. We are beautiful souls - inside and out. But most of all, you are saving a life. Thank you for listening to me, I truly appreciate your time. Toomax For more info on me, please contact Sue at 412-389-2480 or 412-372-1305 or email turfg979@verizon.net .>Won't you give them a chance? And please spay and neuter.





WHO WE ARE
We are the municipal animal control facility located in Monroeville, PA. After our adoption questionnaire has been completed, returned and approved, visits are by appointment only. We will do our best to match you with a dog or cat that is compatible with your family's lifestyle. Our goal is to find the best match for both pet and adoptive family. Please spay and neuter.

NOTE that our facility is not open to the public without an appointment as the animal control officer is often out of the office as that is the nature of the job and the adoption volunteers who have full-time jobs elsewhere are only available one morning; the facility is in a secured location which is inaccessible evenings and weekends. The animals in foster homes might be available for evening and weekend appointments. We greatly appreciate your patience in communicating with our adoption volunteers who may not be able to get their phone messages or emails until late in the evening.
ADOPTING A FRIEND
Our animals are adopted as inside pets only. A completed adoption questionnaire and interview are required prior to scheduling an appointment to see our animals available for adoption. An adoption donation is required for the animals to help cover our expenses. Warm and loving homes are needed for our animals. Won't you give them a chance? And please spay and neuter.

WHY SPAY & NEUTER?
often produces a better behaved and calmer pet
reduced pet cancer risks later in life
reduced pet populations giving others a chance to be adopted and reducing need for euthanasia
VISITING US
Visits BY APPOINTMENT ONLY. We are in Monroeville, Pennsylvania, which is located 20 minutes east of Pittsburgh, PA. We are about 10 minutes from the Monroeville Exit #6 of I76 (PA Turnpike) and I376 (Parkway East).
FOR ADOPTIONS ONLY, if you are interested in one of our animals:
Monroeville Animal Shelter
Monroeville, PA 15146



Adopting a pet? Wait a minute!
It can happen to the best of us. You see a cute, tiger-striped kitten with white paws and green eyes, just begging for your attention. Or maybe it's a gorgeous, tail-wagging Labrador mix who couldn't be more friendly.

You take one look, and the next thing you know, you're walking down the pet food aisle at the local supermarket.

If you're like most of us, falling in love with a pet is easy. And no wonder! Sharing your home with a four-legged friend can be one of life's greatest joys. Dogs, cats, and other pets give us unconditional loyalty and acceptance, provide constant companionship, and even help relieve stress after a hard day's work.

Adopting a pet, though, is a big decision. Dogs and cats are living beings who require lots of time, money, and commitment over 15 years' worth in many cases. Pet ownership can be rewarding, but only if you think through your decision before you adopt a companion.

Things to consider.
The fact that you're thinking about adopting a pet from an animal shelter means you're a responsible and caring person. But before you make that final decision to bring a furry friend into your life, take a moment to think about these questions:

Why do you want a pet? It's amazing how many people fail to ask themselves this simple question before they get a pet. Adopting a pet just because it's 'the thing to do' or because the kids have been pining for a puppy usually ends up being a big mistake. Don't forget that pets may be with you 10, 15, even 20 years.


Do you have time for a pet? Dogs, cats, and other animal companions cannot be ignored just because you're tired or busy. They require food, water, exercise, care, and companionship every day of every year. Many animals in the shelter are there because their owners didn't realize how much time it took to properly care for them.


Can you afford a pet? The monetary costs of pet ownership can be quite high. Licenses, training classes, spaying and neutering, veterinary care, grooming, toys, food, kitty litter, and other expenses add up quickly.


Are you prepared to deal with special problems that only a pet can cause? Flea infestations, scratched-up furniture, accidents from animals who aren't yet housetrained, and unexpected medical emergencies are unfortunate but common aspects of pet ownership.


Can you have a pet where you live? Many rental communities don't allow pets, and most of the rest have other restrictions. Make sure you know what they are before you bring a companion animal home.

Is it a good time for you to adopt a pet? If you have kids under six years old, for instance, you might consider waiting a few years before you adopt a companion. Problem-free pet ownership requires children who are mature enough to be responsible. If you're a student, in the military, or travel frequently as part of your work, waiting until you settle down is a wise choice.


Are your living arrangements suitable for the animal you have in mind? Adopting a large or energetic dog to share your small apartment, for example, is not a good idea he likely won't have enough space to move around in, and giving him enough exercise will require quite a bit of activity on your part. Choose an animal who will be comfortable in your surroundings.


Do you know who will care for your pet while you are away on vacation? You'll need either reliable friends and neighbors, or money to pay for a boarding kennel or pet-sitting service.


Will you be a responsible pet owner? Having your pet spayed or neutered, obeying community leash and licensing laws, and keeping identification tags on your pets are all part of being a responsible pet owner. Of course, giving your pet love, companionship, exercise, a healthy diet, and regular veterinary care are other essentials.


Finally, are you prepared to keep and care for the pet for his or her entire lifetime? When you adopt a pet, you are making a commitment to care for the animal for his or her lifetime.

Get an animal for life
Sure, it's a long list of questions. But a quick stroll through the animal shelter will help you understand why answering them before you adopt a pet is so important.

Many of the shelter's homeless animals are puppies and kittens, victims of irresponsible people who allowed their pets to breed. But there are at least as many dogs and cats at the shelter who are more than a year old, animals who were first obtained by people who didn't think through the responsibilities of pet ownership before they got a pet.

Please, don't make the same mistake. Think before you adopt. Sharing your life with a companion animal can bring incredible rewards, but only if you're willing to make the necessary commitments of time, money, responsibility, and love for the life of the pet.

Reprinted with permission from The Humane Society of the United States.

Click here for a list of pets at this shelter

---

[Home] [Information] [Shelters] [Search]