Hearts for Hounds
Who We Are
Hearts for Hounds is a non-profit, all-breed dog rescue located in Carlisle, Pennsylvania. All the dogs we rescue are placed in loving, pre-screened foster homes until we can find them their forever homes. We rely solely on donations to cover transport costs, shelter pull-fees, food, supplies and veterinary care. We try to save as many animals as possible, but our resources are limited. If you would like to volunteer or make a donation, please email our organization.
---
In Loving Memory
Spot was a beautiful baby Pit Bull that died from the Parvo virus. It is to him that we dedicate our efforts in saving as many puppies and dogs that we can. We love you Spot. You will always be in our hearts.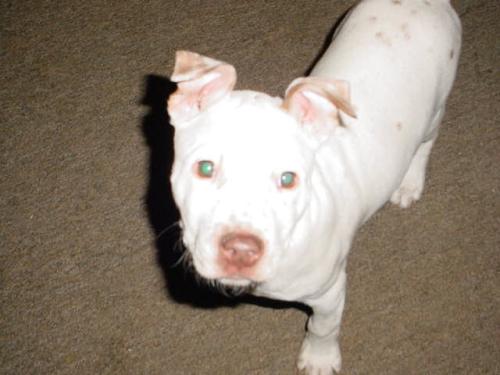 Adopting a friend
If you are interested in adopting one of our puppies/dogs, you can e-mail us directly at cdarhower001@comcast.net. All potential adopters are required to fill out an adoption application and a home-visit will be completed prior to approval. If you are interested in adopting one of the kittens/cats, you can email them directly at mspacak@comcast.net . The cats are affiliated with a different rescue. All adoption fees are placed back into the rescue so that we can help save more animals.
Adoption Fees
Our adoption fees are based on the age, size, health and temperament of the dog and can range from $205 - $500. A fellow rescue group wrote the following, which sums it up for all rescue groups:
Recently someone asked, "Why would you charge $500 for a rescue pet? Why not just place it in a good home?" The answer is because we need adopters who are willing to support all rescue pets, not just the dog they adopt. A healthy puppy/dog might cost us $150-400 in vet care, and many people will want to adopt it. A puppy/dog with health issues (such as parvo, pneumonia, or URI) can easily cost $500-$1500 in veterinary expenses, and it may require months of foster care for rehabilitation; yet we can only ask a minimal adoption fee, and it may be a long time until anyone comes forward to adopt it. Fees from the healthy, more adoptable dogs help offset the cost of caring for the others. Most of our dogs have a sad story to tell. We hope that you too are willing to give an opportunity for a better life to ALL of our dogs by supporting them through adoption fees. Without these funds, our rescue efforts would not be possible.
News
We are in need of forever homes and foster homes! Please click on the VolunteerMatch icon to view opportunities with our group!
You can also help by shopping online at Petsmart.com. A portion of all proceeds purchased through this site benefits Hearts for Hounds. Please click the below link to help us out!
We here at Hearts for Hounds have a Wish List. We are in need of a few things and if you are able to donate any of the following it would be a great help.
1. Dry Food - Purina Puppy Chow, Pedigree Adult Dog Food and Pedigree Small Breed Dog Food
2. Dog Treats
3. Dog Toys (NO plastic toys with squeakers)
4. Blankets, Towels or Sheets
---
Hearts for Hounds
Carlisle, PA 17013
Phone:

Email: cdarhower001@comcast.net
Click here for a list of pets at this shelter
---

[Home] [Information] [Shelters] [Search]