WELCOME
Bingo's Foundation Ltd.
Click here for a list of pets at this shelter
---
---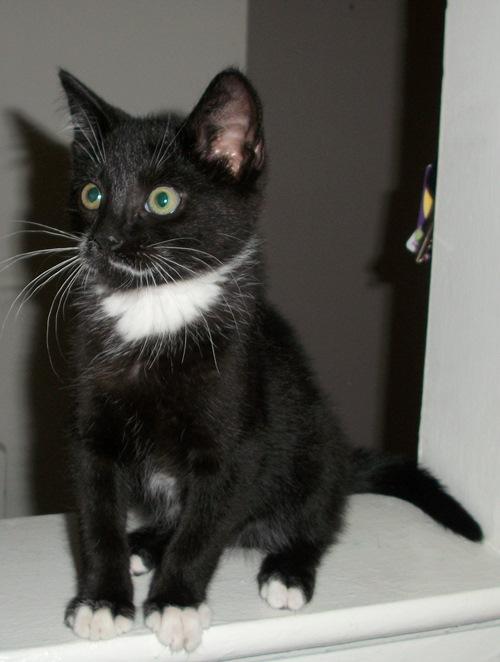 Our Featured Pet...ALVIN!




ALVIN will sit on your lap and put his paws around your neck and give you a great big hug and kiss. Alvin is just the purrfect lovable and playful kitten. He is about six months old, updated with shots and neutered. . Please complete our online application found at this website . Please submit an application online and it will come directly to us.

---
VOLUNTEERS WANTED
Help us promote the welfare and well-being of homeless, stray and feral cats and kittens; help us promote the importance of spaying and neutering all cats and kittens; help us educate the public on the benefits of responsible ownership of cats and help us find good homes for adoptable stray and feral cats and kittens. Join our team of cat lovers! Volunteer your time at our No-Kill Shelter or join any of our committees in an effort to help the homeless cats in Lower Bucks County and the surrounding areas.

Email us at bingosfoundation@gmail.com or call us at 215-781-0378.
---
Upcoming Events & Fundraisers
Monthly Events
Order your WaWa, Dunkin Donut or any other gift card from Bingo's Foundation and help us raise money for our no-kill shelter. Download this form and mail the form with your payment, payable to Bingo's Foundation by the 20th of each month. You should receive your cards by the 27th of the month. For more information, please call Eleanor at 215-781-0378, or email shakcat@verizon.net
Come visit Bingo's Foundation and our cat(s) at Boscov's Neshaminy Mall on the 3rd Saturday of each month. We will be located at the mall entrance from 11:00am to 3:00pm. ON SATURDAY, October 18, 2014. If you are interested in adopting please take a moment of your time and complete our on line application to get the process moving.
Bingo's Foundation is now a "group" on Facebook. Just visit the social networking site and search under BingosFoundation. Bingo's Foundation Facebook
With the current state of the economy, Mickey Giosa, the founder of the Emmett Food Fund, has enabled many senior citizens and low income citizens keep their loving cats in their homes by providing them with cat food they could otherwise not afford. The cats are kept out of the shelters or worse euthanized and now may stay in their homes with their loving guardians thanks so much to Mickey. In addition the Emmett Food Fund assists caregivers of feral colonies in need of food. Bingo's Foundation is the sponsor of this program and we thank Mickey for her wonderful work. If you are in a good position and can donate food to the Emmett Food Fund please contact us at 215-781-0378 or at bingosfoundation@gmail.com. We will pick up the food or you may drop off the food at our NO-KILL Shelter. Also, monetary donations are always appreciated and needed. Donations are accepted via PayPal or mail your tax-deductible donation to: Bingo's Foundation, P O Box 7130, Penndel PA 19047 with the memo portion of the check indicating Emmett Food Fund. Volunteers are needed to assist Mickey. Please contact us at the above number or email address if you are interested in helping the Emmett Food Fund. Just a few hours of your time will make a tremendous difference to a cat's life!
Please click below to donate
Thank you!
---
2014
WE ARE RAFFLING OFF A LEAF BLOWER - PURRFECT TIME OF YEAR! RAFFLES WILL BE SOLD AT ALL OF OUR UPCOMING EVENTS OR EMAIL OR CALL US TO TAKE A CHANCE. DRAWING IS NOVEMBER 18TH AT BOSCOV'S AFTER OUR BAKE SALE, ABOUT 4PM.
Visit us at Boscov's on Saturday, November 15, 2014, Neshaminy Mall; Mall Entrance from 11a until 3pm. We will have one of our lovable cats that is up for adoption.
BAKE SALE - Saturday November 15th at Boscov's Neshaminy Mall Entrance -- annual bake sale is almost here. Stop by our table and pick up baked goods for your family and friends and support our NO-KILL Shelter at the same time. This fabulous and delicious sales runs from 11am until 4pm. Like to bake, let us know. We will have a variety of baked goods - and this is the last day to purchase a raffle for our fall basket or rather, LEAF BLOWER...
FRIDAY, DECEMBER 12, 2014 ANNUAL HOLIDAY BINGO - DON'T WAIT ORDER YOUR TICKETS NOW! From 6pm to 10pm join Bingo's Foundation for an evening of fun and excitement. We are sponsoring our fifth "Holiday Bingo" at the Bensalem Senior Center (1850 Byberry Road, Bensalem PA). Holiday baskets will be raffled off; food and delicious desserts will be available to purchase and most importantly lots of bingo games to play and money to win. The cost is $25.00 per person which includes two lap boards, three paper specials, one dessert and a coffee or tea. Our Holiday table will offer lots of gifts for you to purchase for your friends and families. Complete the form below and remit with your payment by November 30, 2014. Space is limited. Tickets will be sold at the door if space is available. Call 215-781-0378 or email us at bingosfoundation@gmail.com for space availability and ticket orders. RESERVED TABLES FOR PRE-PAID PARTIES OF SEVEN OR MORE

Holiday Bingo Registration Form
---
Other Ways To Donate
| | |
| --- | --- |
| Bingo's Foundation is now partners with Bissell. Everytime you purchase a Bissell product and enter the code ADOPT; pick our shelter, Bingo's Foundation we will receive 10% for our No-Kill Shelter. You will also received a discount as well as free shipping. You can help support our shelter anywhere in the USA. Just click on the Bissell logo to the right and start shopping! | |
MAGAZINE SUBSCRIPTIONS- Chose from over 650 magazines at discounted prices. Purchase a new subscription or renew your favorite magazine subscription and 40% of your purchase will go directly to Bingo's Foundation! They also added cookie batter and restaurant certificates. Just click on the banner above to check out our magazine subscription page.
GIANT GIFT CARDS and SHOPRITE GIFT CARDS available from BINGO'S FOUNDATION. We earn 5% for each card. Please support our organization and purchase a gift card from us. THERE IS NO ADDITIONAL COST TO YOU!
GIFT CARDS AVAILABLE TO PURCHASE! Donate monthly to Bingo's Foundation WITHOUT it costing you and your family any extra money from the budget. Use script for your everyday purchases and a small percentage will be donated to Bingo's Foundation. Over 700 stores participate in this program. The percentage donated to Bingo's Foundation vary at each store, but it is from 1.5% to 18%. Mail full payment & order form to: Eleanor c/o Bingo's Foundation, P O Box 7130, Penndel PA 19047 or email Eleanor at shakcat@verizon.net
SHOPPING at IGive.com!!-Go shopping and you will save a cat's life at the same time! That is right, go ahead and buy something for yourself and/or that special someone and support the homeless cats at Bingo's Bunglaow at the same time. Purchase a new CD, the latest bestseller, essentials like toothpaste or vitamins, a computer, clothing and anything else you can imagine.
Every time you shop at one of the over 600 name brand stores in the Mall at iGive.com Bingo's Foundation will receive a donation of up to 26% of each purchase you make at NO cost to you. What would be better then shopping in the privacy of your own home without the traffic and noise and supporting a great cause all at the same time?
Remember, donating to BINGO'S FOUNDATION will not cost you a thing! So visit http://www.iGive.com/Bingo's now! Membership is free and your privacy is guaranteed.
eBay users: here's a new way to give! Sell and buy on ebay and donate a portion of your sales to Bingo's Foundation through MissionFish and eBay Giving Works.
eBay Sellers: Whether you are an experienced eBay seller who has been selling items for a long time or if you are new to eBay and would like to learn how to sell items and donate a portion of your sales to support Bingo's Foundation. Just log into your eBay account and select "Giving Works (Charity)" on the left under Catagories or click on the MissionFish logo below and then select "For Sellers" to learn how!
eBay Buyers: Like to Shop on eBay? You can also help support Bingo's Foundation by looking for sellers on eBay who are selling items and donating a portion of the sales to Bingo's Foundation. Just log into your eBay account and select "Giving Works (Charity)" on the left under Catagories or go directly to our Bingo's Foundation MissionFish Homepage to see what items are being sold on our behalf.
(Currently there are no listings to benefit the Bingo's Foundatin at this time because we are still in the process of setting up, but please check back with us in the near future!)
---
Bingo's Foundation, Ltd., is a non-profit 501(c) cat rescue group run solely by volunteers. Incorporated in February of 2001, We are a no-kill organization recently reaching one of our goals with the help of HFA when we purchased a shelter aka bungalow for our cats. Our next goal is to offer a low cost spay/neuter clinic in Bucks County. Currently Bingo's Bungalow, a temporary haven for our cats, allows us to provide shelter, medical care, food, love and socialization to the homeless and abandoned cats of Bucks County and the surrounding area. All of the cats and kittens that enter the bungalow are tested for Feline Leukemia and FIV, spayed or neutered (if age appropriate) and updated with their vaccines.
---
INTERESTED IN VOLUNTEERING? We are always in the need of good volunteers whether you want hands on at our no-kill shelter, or you enjoy fundraising, working with a team for one of our committees such as publicity, adoption, education, etc. Please email us at bingosfoundation@gmail.com or call us at 215-781-0378 if you would like to volunteer for Bingo's Foundation. If you are unable to give us your time, please consider a monetary donation to help us keep the bungalow running. Donations are tax-deductible. If you are interested in receiving our newsletter, just email us your address.
---
TURNING IN A CAT OR KITTEN? If you are turning in your cat or kitten please note there may be a wait to enter the shelter. To request to turn in your cat or kitten please complete the surrender wait list request/surrender form. The form must be completed entirely and mailed or emailed back to Bingo's Foundation P O Box 7130, Penndel PA 19047. There is a fee involved. Our email address is bingosfoundation@gmail.com. Donations are accepted via PayPal.

---
Potential guardians must complete an application. We will contact your vet and/or references. Once this process is completed and approved, we will bring the cat and/or kitten to your home to complete the adoption. There is a fee involved. This fee enables us to help another cat or kitten in need.
Click here to complete our online application.


---
Low Cost Spay/Neuter
Friends of Animals 1-800-321-7387

The Spayed Club - 1-610-275-7486

Spay USA - 1-800-248-7729

Spay & Save - 1-610-279-9714

Forgotten Cats - 215-219-8148

Bridge Clinic - 215-639-3333




Bridge Clinic

is now open each Tuesday. The clinic is located at 2820 Old Lincon Hwy, Unit 1A, Trevose PA 19053. Please call 215-639-3333 to schedule an appointment.
---
Free Behavior & Training Videos
"Behavior problems account for the leading cause of owner relinquishment of pets and resulting euthanasia." What a sad but true statement. Are you having behavior problems with your pet or know of someone who is having behavior problems with their pet? Check out these free online training videos and help keep a pet in their forever home!!




---
Visit Pet Health 101for helpful information and tips about maintaining a healthy adopted pet!!
Fleas and Ticks
Arthritis
Behavior.
---
Healthypetnet.com


More information coming soon!
---
Contact Us

Bingo's Foundation Ltd
P O Box 7130
Penndel, PA 19047

Phone: 215-781-0378

Fax: 215-945-2161

Email: shakcat@verizon.net



---
---

[Home] [Information] [Shelters] [Search]