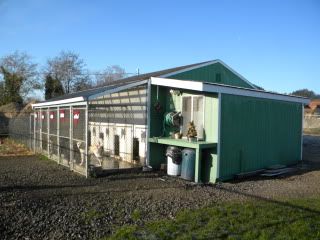 No Featured Pet At This Time...



News
If you are in the Reedsport area, be sure to notify Reedsport Police 541-271-2100, we may know of the location of your dog.
Who We Are
The Reedsport Shelter is a no-kill Shelter located on West Railroad Avenue off Port Dock Road in Reedsport, Oregon. Operating under the Reedsport Police Department it is staffed by a volunteer manager and a group of dedicated volunteers who care for the many dogs received from the coastal area of Douglas County. The City of Reedsport has a very small budget for the maintenance of the building, property and utilities of the shelter. The dogs needs are supplied totally by funds, food, and assorted needs donated by benefactors in our community. Local veterinarians donate their services, medicines, and supplies at reduced or no cost to the dogs in need. Adopting a Friend There is no adoption fee, nor do we give dogs away. We do ask for a donation of $25.00 -$150 (so we may continue caring for the animals in our facility). Dogs we have had spayed/neutered, vaccinated & chipped require a little larger donation. We require the new owner spay or neuter (if not already) the dog within a specified time period, vaccinate and license the dog in the county where they reside.
Come Visit Us!
Contact Reedsport Police Department at 541-271-2100 for directions and to arrange to meet the dogs.
---
Reedsport Police Dept./K9 Shelter
146 N 4th Street

Reedsport, OR 97467
Phone: 541-271-2100

Email: k9shelter@cityofreedsport.org
Click here for a list of pets at this shelter

---

[Home] [Information] [Shelters] [Search]