Catahoula Rescue (Ontario)
---
Catahoula Rescue Ontario:
---

Catahoula Rescue advocates for homeless Catahoulas and Catahoula mixes and places these animals in permanent, loving homes. We have the odd honorary Catahoula that we take in from small local pounds in our own backyard. Our Mission is to make a difference...one dog at a time.

We promote responsible guardianship through humane education. We also assist responsible Catahoula owners if they must find a new home for their dog. We can offer advice and options that might make it possible for the dog to stay with his family. If it is still necessary to rehome the dog, we will list him/her on our available pets page. We also try our best in Ontario to help our local rural pound dogs and you will often see non Catahoulas on our site that are looking for loving homes. All of the dogs that come into our care, go to various foster homes. The location of the dog's foster home is listed in each, individual ad. Our work is paid for by donations, adoption fees, and the volunteers themselves and we are always looking for foster homes.

Catahoula Rescue Ontario is operated 100% by volunteers - people who love dogs, especially Catahoulas, and work hard to match these wonderful dogs up with loving families. Volunteers transport dogs in need from shelters to safety, provide foster homes, organize and help with fundraising events, photograph the dogs for their profiles, and keep the web site and Facebook page up-to-date.

A great big THANK YOU to everyone who's a part of this great group that works so hard to save the lives of dogs in need and find them their furever homes!

For more information, please visit our website www.catahoulaontario.ca


---
ADOPTION PROCESS

Interested in adopting one of our fabulous dogs? Here's a brief overview of how the process works:

1 - Complete the online application
2 - We will put you in touch with the foster parents who will give you more info on the dog(s) and can answer your questions.
3 - If the dog(s) sounds like a potential fit, you can set up a meeting with the dog (and your current pets).
4 - If it's tail wags all around, the next step is a home visit (if the initial meeting was at your home, then this step has already been completed!). The home visit is very informal and gives us an opportunity to get to know you better (and for you to get even more information on the dog).

If a dog's profile includes "Pending" beside its name, it indicates that an applicant has met the dog and completed the home visit steps and are proceeding with the final steps of the adoption.

For the detailed version of the adoption process as well as important notes please refer to the "How to Adopt" section of the website.

All dogs are spayed/neutered, microchipped, vaccinated (rabies, DHLPP), are heart worm tested and on preventative


---
FEATURED PET: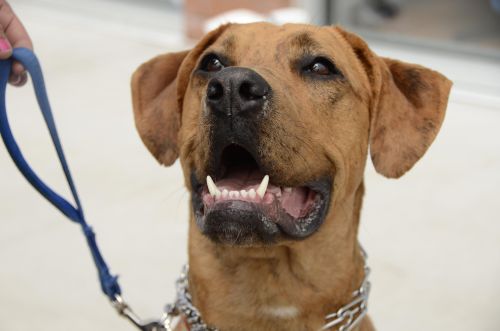 Bentley is a handsome and fun 10 month old Catahoula/Great Dane cross. Bentley is true to the Catahoula breed in many regards. Like many Catahoulas, he is by nature a confident and assertive dog and needs a calm, confident owner who understands working breeds (mental and physical stimulation) and who is committed to give him an outlet for his energy. Bentley is highly trainable, very intelligent, extremely affectionate, protective of his family without being aggressive, determined, headstrong, and always the clown. He will quickly catch on to any game that you initiate. If it is possible for a dog to possess a sense of humor, then this breed definitely has just that, and Bentley is sure no exception.

It is important to note that because of their working background, Catahoulas possess an unwavering energy level, which makes them a high-spirited, lively and energetic animal that requires a good deal of exercise and stimulation. Without this attention, they can easily become bored, troublesome and destructive, and Bentley is no exception. He requires a great deal of exercise (at least an hour or more a day of hard exercise), without which he tends to become bored and prone to mischief. He lives to please his people, and could be EXCELLENT at agility or other dog sports.

He is super with other dogs, and plays well and hard for hours. He currently lives with three other dogs, and they spend the day outside running within a large area bordered by an underground/invisible fence. At the end of the day he comes in tired and happy, and sleeps soundly for the entire night. Bentley lives in a home with cats, which he finds interesting and likes to tease, but shows no particular aggressiveness towards them. He will chase them if they run, but stops when they do.

Bentley has basic obedience skills and knows "sit", "down, "go to your bed" and "stay". He's fully house trained, and crate trained (although we do not currently use one). Bentley is in general not prone to destructive chewing providing he gets enough exercise. He does not guard his toys or food, and will relinquish willingly bones and other items to his foster people. He has great recall off-leash, and is quiet and well-mannered on-leash. He LOVES car trips and travels very well.

For more information please email catahoulaontario@gmail.com



---

OUR WISH LIST
This list is updated as our needs change but for right now we are in need of the following items. If you are able to donate any of these we would be very grateful.
* good quality dry adult and puppy food.
* good quality dry adult/puppy food
* blankets and towels
* gently used toys, leashes and collars
* Large sized crates
* gas cards
***Monetary donations. No matter how small. Every little bit helps pay our vet bills.***
---
HOW TO VOLUNTEER/FOSTER:

Without volunteers, we would not be able to continue. We need people not only to help foster dogs, but to assist in many ways. This includes transporting, helping with placement, computer help and fund raising. If you are interested in volunteering, please contact us at CatahoulaOntario@gmail.com. Please feel free to join us on Facebook at Catahoula Rescue-Ontario
We are desperately looking for foster homes in the Ottawa area as there is no shortage of dogs in need and we usually have a waiting list of dogs needing foster care, many who are urgent. If you can help by opening your home to a dog in need, please e-mail us at CatahoulaOntario@gmail.com and we can provide more detailed information.
---
SPECIAL THANKS:

We would like to extend our gratitude to our wonderful vets at Billings Bridge Animal Hospital, West Carleton Vet Clinc, Le Plateau Clinic, and Lafontaine Vet Hospital for their ongoing support and excellent care of our rescue dogs. We would also like to thank Critter Jungle, Pet Valu, Global Pet Foods, and Pampered Pets, and Tri-Natural for their ongoing support of rescue groups in the Ottawa area. Our gratitude also goes to our amazing transport coordinators and every volunteer driver and shelter volunteer who spend their weekends on the road driving dogs at risk to safety because without them, rescue could not be possible.

---
CONTACT INFORMATION:

The best way to reach us is by email at catahoulaontario@gmail.com - we try to respond to enquiries within 72 hours. Our website contains more detailed information (including an FAQ section and an expanded section on adoption): www.catahoulaontario.ca
We are also on Facebook

---
Catahoula Rescue (Ontario)
Ottawa, ON
Gloria Baggs,
Email: catahoulaontario@gmail.com
---
---

---
---