AARF - ANIMAL ANGEL RESCUE FOUNDATION
HELPING THOSE WHO CANNOT HELP THEMSELVES
Serving the Southern Ontario Region
You can now make a tax deductible donation in Canada - please see our Giving Page at: http://www.canadahelps.org/gp/15883/
VISIT US ON FACE BOOK AT https://www.facebook.com/pages/Animal-Angel-Rescue-Foundation/151589997148/
VISIT OUR WEBSITE AT http://www.aarf-rescue.com/
---



---

HOW CAN YOU HELP?
Just because you can't take a dog into your home, doesn't mean you can't take one into your heart. There are many ways to help, we accept monetary donations in order to help pay for boarding costs and vet costs; we accept donations of "grain-free" food, bedding, toys and leashes. You can even choose a dog to sponsor. If you love the outdoors and love to walk, you can choose to become a volunteer dog walker. Every bit helps and is so appreciated. Pictured above is one of our sponsors, Flavia, she donates monthly to help our rescues. Together we can make a difference! Contact us at deannaaarfrescue@yahoo.ca for more details. We look forward to hearing from you.
---

FOREVER HOME NEEDED FOR HARLEY

Are you looking for a wonderful companion to share your life with? Harley is an awesome boy who is 5 years young. He is great in the house, excellent with dog friendly dogs and good with cats too! Please click on his picture to read more about Harley.

NEWS
DONATE A KURANDA BED FOR A DOG IN NEED


---
---
STOLEN/MISSING - SHADOW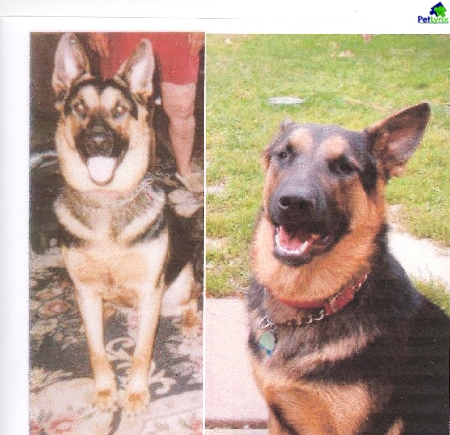 STOLEN/MISSING - PLEASE HELP SHADOW FIND HIS WAY HOME - Shadow went missing on February 11, 2008. His owner's yard was broken into - the snowblower along with Shadow was taken. The theft took place on the west mountain in Hamilton, Ontario, but he could have been taken anywhere. He is a friendly boy and very much loved; he is missed dearly.

We are asking for your help; if you have seen him or know his whereabouts, please call 905-772-6403.
---

WHO ARE WE... AARF is a No Kill Rescue AARF exists to rescue, rehabilitate, and re-home abandoned abused and unwanted dogs. AARF was established in 1998. We work with local as well as rural animal control facilities, humane societies where we rescue dogs that would otherwise be euthanized.

---

AARF uses a hands-on approach to train and rehabilitate dogs so that they may become family pets. Our program proves that the rate of successful placements is far higher if the dog is healthy, socialized, well trained and re-homed in an environment suited to his or her personality.

---

AARF ensures that all dogs that come into the rescue are fully vetted. Each and every one is vet checked, treated for worms and fleas, spayed/neutered, heart worm checked and micro chipped. As well, most of senior dogs we rescue need extensive dental surgeries. We have also treated a number of dogs that were heart worm positive.

---

AARF is strictly a not-for-profit rescue; we receive no funds from any agency, corporation or government. AARF relies solely on the kindness and generosity of the public and community.

---



SPECIAL NOTE: Please think about your pets and what would happen to them if something were to happen to you....please don't assume that family or friends would step up and take in your pet(s) - make sure you have specific arrangements made and that it is clearly identified in your will.

---




ADOPTING A COMPANION


AARF Rescue adoption fees are based on the age of the dog:

Dogs (puppy to adult (8 years and under) $400.00, Senior 9 years and up $250.00

AARF Rescue charges an adoption fee of $180 for a kitten or cat.
We are a not-for-profit organization and all of the adoption fees go directly to the veterinary care of our dogs and cats.

Many dogs and cats we bring into our rescue are in need of medical care in addition to the regular series of shots and spay/neuter. Such medical care may include ear infections, blood tests, surgeries, dental work, grooming, just to name a few. Each dog or cat is vetted according to their specific requirements. However, all dogs and cats will have received their deworming, flea treatment, vaccinations including rabies, neutered/spayed and micro chipped.

Please note if the dog or cat is returned within 2 weeks (14 days) of the adoption date, the adoption fee less $50.00 (administrative fee) will be returned.




PLEASE NOTE THAT WE DO NOT ADOPT OUT OF PROVINCE
ALSO IN ORDER TO FOSTER OR ADOPT YOU MUST BE 21 YEARS OF AGE


---

COME VISIT US!!

If you are interested in the cats and dogs we have available for adoption, please send us an email at deannaaarfrescue@yahoo.ca for an adoption application.



---

AARF

ANIMAL ANGEL RESCUE FOUNDATIONEmail: deannaaarfrescue@yahoo.ca

---

"Happy Tails and Purrfect Beginnings - click here to see our successful adoptions.!



---





[Home] [Information] [Shelters] [Search]