Safe Haven Animal Rescue
---
Our Featured Pets...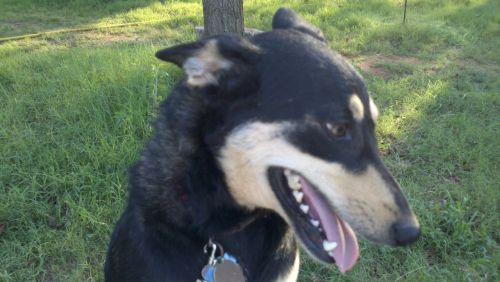 My name is Charlie, I am not a special needs dog, but I need a special home. I had a rough home life growing up so I have trouble trusting people. My foster parents have been working with me for several months and I am whole lot more secure than when I first went home with them! I am sometimes nervous when I am at adoption events, so please dont judge me right now. If you are patient and loving I will be a great pet for you. I will grow to be a part of your family. I am already the sweetest dog my foster mom has had. (I heard her say that!) Sometimes when I am nervous I wet a little bit, but I am getting better about that too and I know I will overcome it. Im really scared of children, so I might do better with no kids. I like cats, but sometimes I chase them for fun. I get a long great with other dogs my size or bigger, Im a little to excited to be around little dogs right now. All dogs are spayed/neutered, vaccinated, tested for heartworms/ehrlichia/lymes, placed on heartworm preventative, wormed and microchipped prior to adoption. The adoption fee for our dogs is $150.
Who We Are...
Safe Haven Animal Rescue, Inc. is a non-profit 501(c)(3), charitable rescue organization dedicated to finding homes for homeless and abandoned animals. We rescue the majority of our animals from shelters where they are destined to die. Others come from puppy mills and some from pet owners who are unable or unwilling to care for their pets any longer. Although we concentrate mostly on rescuing dogs, cats and ferrets, we frequently rescue pocket pets and exotics. We have rescued many mice and rats, guinea pigs, bunnies, birds, an iguana, and others that have come our way. At this time, Safe Haven Animal Rescue, Inc. is limited to finding homes for animals who are being cared for in foster homes.

If you have an adopted pet from Safe Haven please realize that we are always here for you and your pet. Please contact us at the email address or phone number below if you need anything!!!
How You Can Help
We are always looking for individuals willing to foster animals who live in the OKC and surrounding area. If you are interested in fostering please contact us. The more fosters we have available, the more furry animals we can save! We also periodically need foster homes for pocket pets such as rats, mice, etc. Any monetary donations you are able to make are completely tax deductible. Every dollar counts so if you have a few seconds to click the button below and donate even one dollar we would be so appreciative! We can also use donated items such as crates, cages, dog/cat and ferret food, cat and ferret litter, food dishes, litter boxes, etc. Again, all donations are tax-deductible. Thank you for you support!
Adopting a friend
If you are interested in adopting one of our animals please fill out an Adoption Questionnaire . Adoption fees are posted on each animal's bio. These fees allow us to assure you that your adopted pet is already spayed/neutered, wormed, vaccinated, treated for fleas and ticks, microchipped and provided with any necessary medical care they may require.

All cats are FVRCPC and Rabies vaccinated, tested for FIV/ FeLV and spayed/neutered prior to adoption. All dogs are DHLPP and Rabies vaccinated, tested for heartworms/ehrlichia/lymes disease, placed on heartworm preventative and spayed/neutered prior to adoption. All ferrets Distemper and Rabies vaccinated, placed on heartworm preventative and spayed/neutered prior to adoption.
Visit us on Facebook!
Keep up with the latest info on the animals currently in our program! Also, learn about our new arrivals faster. Our adoptables are posted on Petfinder.com after their quarantine period is over but we don't like to wait that long to share the news with our Facebook friends...
Safe Haven Animal Rescue | Promote Your Page Too

Safe Haven Animal Rescue for Ferrets | Promote Your Page Too

---
Safe Haven Animal Rescue for Ferrets
Mailing address :PO Box 76089, OKC, OK 73147
Phone: (405) 463-1556
Email: safehavenanimal@cox.net
Click here for a list of pets at this shelter

---

[Home] [Information] [Shelters] [Search]