Blue's Mews Siamese Cat Rescue
---
Our Featured Pet(s)...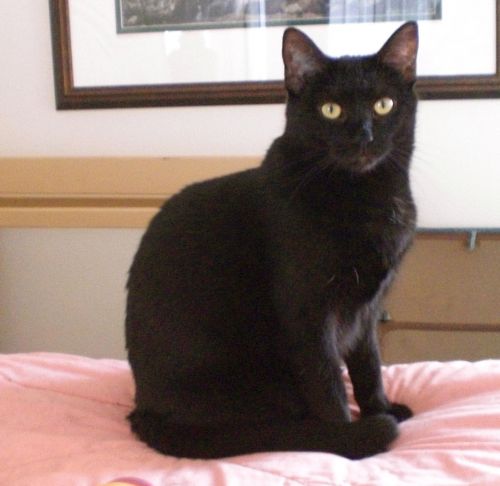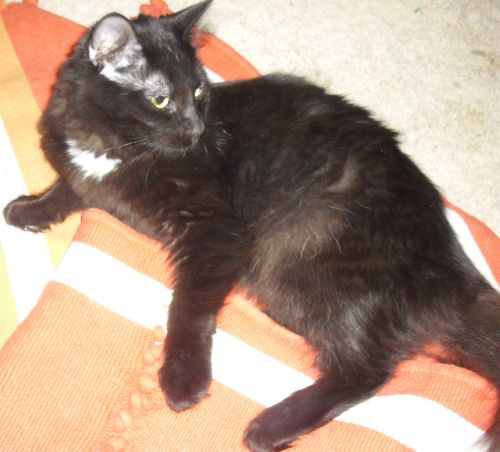 Storm Dancer & Ninja. This pair of kittens are a striking couple. Unrelated and exactly the opposite in temperament (Storm Dancer is bold and curious, Ninja is cautious and careful), they have become playmates and friends. Storm Dancer is helping Ninja to come out of his shyness. Compatible as pairs--but also able to be adopted separately--these adorable kittens are bright, active, and affectionate. Storm Dancer, the magnificent magician, gets his name from his graceful moves when chasing feather toys! Ninja is a gorgeous semi-longhair--just enough hair to be fluffy and not enough to cause grooming issues. Ninja is the more challenging of the two. Storm Danceer is sure she can handle pretty much anything, but Ninja is slow to trust and needs lots of special handling with TLC. But when he is playing with Storm Dancer you see him as he is meant to be--happy, fun-loving, and confident. If you are interested in rescuing either or both of these adolescent kittens, call or text 937-271-1411 or email cat_rescue@earthlink.net
We display kittens at Pet Supplies Plus, at the Kettering store on Stroop Road and the Centerville store on South Main Street (Rte 48) throughout the spring and summer, on Saturdays from 1:00 to 6:00.
We can be found at Moochie & Co., from 1:00 to 6:00, on the 1st Sunday of each month.
Mother's Day is Coming! We still have 4 hopeful older (8 -10 months) kittens as well as an ever growing number of baby kittens (10 - 16 weeks) looking for their forever homes. We also have gorgeous young adult cats looking for lasting love. This spring (even though baby kitten season has begun), please consider the warmth and affection an older kitten or young adult can provide. They are our special focus for Mother's Day. If you adopt an older kitten or young adult, you will receive a gift certificate to Pet Supplies Plus as our special gift to you! So contact us to see some of the best little sweethearts around and take home a new BFF for yourself or your Mom! All are altered, vaccinated, chipped, and are ready for new homes.
News
We Get By With A Little Help From Our Friends! Our special thanks to all those without whose support we would not be able to help kittens and cats. Our wonderful vet friends are Banfield at Fairfield Road, Banfield at Feedwire Road, Airway Animal Clinic, Northgate Animal Hospital, Town & Country Animal Hospital, Twin Maples Animal Hospital, and the Dayton Care Center. Our spay/neuter friends are Pet Advocate League, who bring in Dr.Laura Miller and her mobile N.O.M.A.D. unit, and Dr. Danielle Ratstetter at Pets in Stitches. Our rescue-friendly pet stores who currently display our kitties are Moochie & Co. and Pet Supplies Plus. A big thank you to you all! We appreciate all the help you provide!
We Are Going Places! We are going to the HUGE Columbus Pet Expo April 19th through 21st. We will be at the Pet aFair in Dayton Kentucky on April 27th. We will be at the WPAFB Pet Appreciation Day in the Prairies Bark Park on May 25th. We hope to be at the Yellow Springs Street Fair on June 8th, and of course, we will be at the Fairborn Sweet Corn Festival on August 17th and 18th.
Did You See Us? We have been bringing in the crowds at Pet Supplies Plus on Stroop Road in Kettering. Thanks to the kind people who have stopped to look and been charmed by our sweet babies, we have adopted out over 180 cats there( and through home visits) in the past year. We also had a fabulous weekend as sponsor Royal Canin's guests at the huge 1000-cat CFA Cat Show in Columbus! Our booth was mobbed all weekend! Thank you to all who stopped in to admire the kittens. Thank you, especially, to all those who donated on their behalf. And of course, thank you to those who fell in love and adopted our babies!

If you are looking for us, here is where to find us! We display kittens most Saturdays from 1:00 to 6:00 at Pet Supplies Plus on Stroop Rd. in Kettering. On alternating weekends we are also at Pet Supplies Plus on S. Main in Centerville. We visit Moochie & Co., in the Greene, on the first Sunday of each month, from 1:00 to 6:00. Watch this space for details! Of course, you can still see the kitties in their own home at the Blue's Mews Cat Haven. It's great to see them where they can prove just how well they can climb bookshelves and scale the curtains.... sigh
We Were on TV! ABC 22/Fox 45 visited us at Pet Supplies Plus in Kettering last month and captured video of all of our babies. Everyone hammed it up for the camera, especially the torties--now all in their forever homes! Come see us on Saturdays and join the fun!
Who We Are
Blue's Mews Siamese Cat Rescue is a small, volunteer-run cat rescue, dedicated to assisting Siamese cats, Siamese mixes, and Siamese wannabes. Don't all cats want to be Siamese?
Blue's Mews has no shelter; all of our animals are fostered in private homes. With more foster homes, we could help more animals. Please consider becoming a foster home. Kittens need you!
We provide the best possible vet care for the cats in our care; our expenses are very high and our adoption fees very reasonable. Donations are much needed and always welcome!

Why Adopt From Us? Because we are serious about each and every kitten. All of our adoptable kittens have had (at least) their first FVRCP; most have had two FVRCPs and their first FeLV. All have come from FeLV/FIV-negative mothers, or if orphans, have tested negative themselves. When you adopt from us our care doesn't stop. We ensure our kittens get their complete shot series, even after you adopt them. We follow through with spaying and neutering, too. Kittens come with a 3-week health guarantee. If they need vet work, we get it for them. When you adopt from us, you are not adopting "trouble."

Blue's Mews kittens are highly socialized, fully vetted, and come with an unconditional return guarantee (if you don't want them, we want them back!). We keep our numbers under control so we can give our kittens the best of food, the best of vet care, and the best of attention. Email cat_rescue @earthlink.net or call or text 937.271.1411 for latest availability.

No Vacancy. We regret that our current foster homes continue to be full. For health and safety reasons, we cannot take in new cats at this time. What we can do, though, is provide courtesy postings. E-mail or text your adoptable one's photo, description, and background, along with your contact information, and we will advertise them for you here. Give it a try--it's free. PS With more foster homes, we could take more kittens....
How You Can Help
We Need Foster Homes! Blue's Mews Siamese Cat Rescue is up to its neck in kittens. We are working on locations to display kittens, and we are really working hard on trying to find foster homes. We have very good luck placing our kittens. In-home socialization, excellent vet work, and a 100% return acceptance policy all help make our kittens desirable pets. If you foster kittens for us, you will NOT be stuck with them. If you are in the Greater Dayton Area (Fairborn, Riverside, Huber Heights, Beavercreek, Yellow Springs, Xenia, Bellbrook, Centerville, Kettering, etc.) and you want to help, please call or email us to let us know. We will really be able to use you, and you will have the satisfaction of knowing you saved precious lives. And if you are able to nurse infant orphans, do please contact us. For new volunteers, we have a trainer, and we can help you become an experienced surrogate cat mom. Oh, and please note, if finances are an issue, we can supply kitten food and cat litter. Other volunteer opportunities include transporting cats and kittens to the vet, developing literature, photographing adoptables, and working on our web sites. Call 937-271-1411 to volunteer.
Donations Needed. Please Help! Right now, we are still overrun with kittens, and the money has run low. We depend on donations to assist cats. Please consider donating to us to make it possible for us to continue to help the homeless and the helpless.
We are short of cash from many vet bills incurred on behalf of our own and of financially strapped owners' cats.
We feed our cats and kittens Royal Canin because we believe a high quality, safe source diet with usable protein is important for obligate carnivores.
We use lots of scoopable Tidy Cat kitty litter, Lysol spray and Clorox bleach to disinfect, and lots of Simple Solution, and Bounty paper towels to "de-stink.".
We need lots of cat toys to keep their minds and bodies active. We need cat beds, baby blankets, and fleece pads to keep them comfortable and comforted.
Donations of any of these things (as well as money, of course) are always welcome. Please call or text 271-1411; we will be happy to pick up anything you are willing to give. Checks can be made to Blue's Mews. Our administrative mailing address is 273 Fairway Drive, Fairborn, OH 45324
Adopting a Friend
Blue's Mews Siamese Cat Rescue advertises adoptable pets on Petfinder.com and in the Dayton Daily News and Skywriter. Visits are by appointment. Potential adopters must meet responsible pet owner criteria and sign adoption contracts. Please be aware that an invitation to view cats/kittens is just that; we reserve the right to place kittens in the best available homes. We reserve the right to refuse to adopt out any cat or kitten if we feel it is not in the animal's best interest to do so.
We ask a minimum donation of $75 for our Siamese Wannabe and 1/2 Siamese cats and kittens. Siamese are $100. Paired adult adoptions are 2-for-1 price. For paired kittens, the second kitten is discounted. Adoption donations help defray our staggering vet bills. This fee structure brings us in line with other local shelters and rescues and is very needed for us to remain able to help cats.
Cats are tested, spayed or neutered, and have all shots (FVRCP, FLV, Rabies)
Kittens receive the full set of vet-recommended boosters; they are spayed or neutered beginning no earlier than age 16 weeks
Unaltered kittens may be adopted on contingency only; they must be returned for spaying or neutering as they reach what we consider an appropriate age (16 weeks and above for non-Siamese; 20 weeks and above for Siamese).
Cats and kittens are treated for ear mites, worms, and fleas
Cats and kittens are now being microchipped
Although we try to ensure that our adoptable animals are healthy, we provide a 3-week health guarantee, meaning that we will pay for treating illness your kitty may be incubating when you adopt it.
We offer a 2-week unconditional money back return policy. Cats are returnable at any point, but after 2 weeks, we ask that you consider your adoption costs as a donation.
Please Note: Blue's Mews will not, under most circumstances, adopt out kittens below the age of 12 weeks. We let kittens grow up with their siblings, learn from the adult cats around them, and develop healthy immune systems before we let them go. Exceptions are occasionally made for orphan sibling pairs or mother and baby.
But I Want a Baby Kitten! Female cats are fully grown at 2 years of age; males, at 3 years. If you want a kitten, be aware that a cat is a kitten throughout the first year and a half of life. Don't cut yourself out of experiencing the joy of welcoming some of our older kittens into your heart. If your heart is set on helping baby kittens, considering fostering litters for us or another cat rescue. We always need foster homes. Then you have the reward of truly helping lots of kittens--without having to live with lots of cats.
Two Are Better Than One: Under most circumstances, we adopt kittens in pairs. Young kittens need each other and they are amazingly less trouble in pairs than in singles. Even after they grow up, cats with best friends are happier cats while you are at work. Please be aware that this means, if two homes are otherwise equal, preference will be given to the home that adopts a pair.
Come Visit Us!
We have no shelter, so normally, our cats must be seen by appointment. But we attend many of the pet-related events in the Miami Valley as part of our community outreach. Look for us at community happenings. We'd love to meet you!
---
Blue's Mews Siamese Cat Rescue

Fairborn, OH 45324
Phone: 937-271-1411

Email: cat_rescue@earthlink.net
Click here for a list of pets at this shelter

---

[Home] [Information] [Shelters] [Search]