4 Love of Pets Rescue
Our Featured Pet...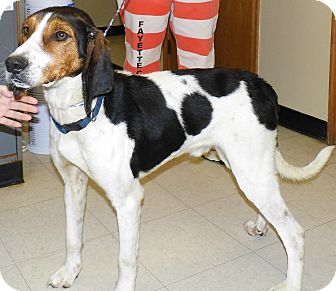 Meet Nick!
Nick has been adopted! Please view other dogs available at the link below
Fayette County Dog Shelter
Nick's Story... Nick came to the shelter as a stray on Dec., 16, 2013, and is ready for a new home. He is around 3 years old and only weighs 45 pounds. He is thin and could use some TLC. Nick is animal and people friendly. Please open your heart up to this sweet hound. If interested, call us at (740) 335-6630 or email us at mailto:fayette.dogwarden@sbcglobal.net.

Fayette County Dog Shelter is a rescue-friendly small shelter that takes in all stray dogs for Fayette County, OH. We are located at 1550 Robinson Rd SE Washington Court House, OH 45169

View Map
Our Adoption Process...
For Fayette County Residents, Puppies under 6 months of are $18. Males over 6 months are $55.50, which includes a $75 neuter coupon and a 2014 Females over 6 months are $68, which includes a $100 spay coupon and a 2014 license tag. For non-Fayette county residents, all dogs are $18, including their 2014 license tag. All adopted dogs come with a 20lb bag of Pedigree dog food. There is no pull fees for rescues.
4 Love of Pets---Who We Are
We are group of people who have worked one way or another in rescuing, transporting, training, and re-homing forgotten or discarded pets. This site is set up to find homes for those occasional pets that either don't fit into one of our breed rescues, have special needs, or just need a venue to find that forever home. We work closely with local shelters helping them find new homes or rescues for the dogs/cats before they run out of time. If you are truly dedicated to making life better for animals, if you are interested in educating people to spay/neuter their pets, are willing to foster and care for animals in a loving environment and patient enough to wait until a good home if found--, please let us know. We will help you find that special home that all deserve in this life. We do not have a shelter or foster homes at the moment. If you are serious about finding a new home for your pet , please send a biography and 1 to 3 pictures, contact name, phone number and/or email address to the email address below and we will do the listing and screening for you.
Adopting a friend
Email us to obtain an adoption application. Please be patient in filling it out--we are very interested in the people we are trusting our foster animals to! If approved, we will then call to chat and possibly schedule a home visit and arrange for you to meet your pet. We reserve the right to find the best homes possible for our animals and will try to find the best fit for both (for example--puppies and small children are usually NOT a good fit!)
---
4 Love of Pets Rescue


West Chester, OH 45069
Email: Forloveofpetsrsq@yahoo.com
Click here for a list of pets at this shelter

---

[Home] [Information] [Shelters] [Search]