Schnauzer Rescue Cincinnati
---
Our Featured Pet....... "ZANDER"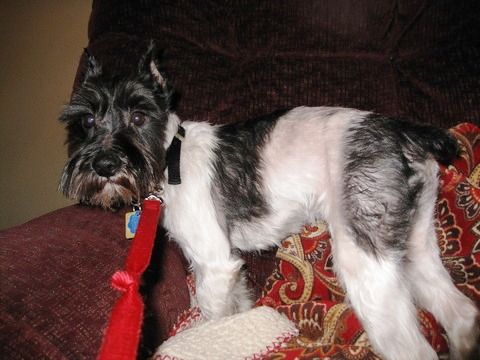 Hi there, My name is Zander. I am a little 5 year old Parti mini Schnauzer. Up until now my life has not been so good. At the time I didn't know any different because it had always been that way. I was stuffed in a small cage with a lot of other Schnauzers. We were only taken out to breed when our owner needed us. Then we were stuffed back in the cage. I never knew the feel of loving hands, or cuddling, or toys or treats. Then one day an angel stopped and picked me up along with my friends and we were taken to the Animal Ark in Cincinnati. I was put in a big kennel with my sister, but even though everyone that came to see me wanted to love on me I was so scared that I would not let them touch me. Then one day my foster mom came to see me and she held me even though I was scared and tried to get away. She took me home and gave me a bath...Boy that was refreshing and I was scared the whole time. In the time I have been with my foster mom and dad I have come a long way. I now know it is fun and feels good to get my head scratched. I know to get in my cage when it is time to eat and to sit for my treat. I do go potty outside when they take me out but with all this bad weather it has been hard for them to get me to want to go out. So I still need help with potty training and I still do not liked to be picked up and held. I wear a leash all the time except at night when I am in my cage sleeping...That way they can catch me and hold me. It takes a long time for me to relax while they hold me, but I know they won't hurt me. If you are up for a challenge and would love to help me learn to love humans and not be afraid, I am your dog. I live in Springboro OH with my foster dad and mom..Roger and Diane and 3 fosters sisters and one foster brother. My adoption fee is only $275.00 If you are interested in ZANDER, please go to our web site (click below). Once there - click on the "INFORMATION" tab and select "ADOPTION FORM"
Submit an application to adopt HERE.
---
Total Number of Dogs Rescued and Placed Since November 2004


1,248
---
---
---
---
---
To our Private and Business Supportors


We would like to take the time to Thank our supporters who donated services, physical items and monetary donations to Schnauzer Rescue Cincinnati. We are forever grateful that you have given unselfishly to help us in our goal in rescuing all the miniature schnauzers that are in our care right now and will be in the future. Your donations have been greatly appreciated! We cannot Thank You enough for donating to our rescue group to help us obtain our goals!
Thank You!

LITTLE BARKS
Collars , Leashes and Gifts
www.littlebarks.biz
Owner: Kim Kier


ANIMALS INK.COM
Car magnets and Misc.
www.animalsink.com


DOGGON FANCY
Collars , Leashes and Cat Toys
www.doggonfancy.com
Owner: Amanda Blyler


IAMS COMPANY
www.Eukanuba.com


DAILEYS DAYLILIES
www.daileydaylilies.com
Owners: John and Shirley Dailey


U.S. BONES
www.usbones.com


Pretty Paws Grooming Salon
4101 Oechsli Ave
Louisville, KY 40207
(502) 896-1986

POOCHIE HEAVEN
poochieheaven.com
---
---
You can now help care for our "Special Needs Dogs" by using Pay Pal !
---
You can help support our rescues with your purchases!

Click on the above logo to start shopping!

---
---


A tribute to my little guy:
Jaeger came to me about four and a half years ago as a rescue. I fell in love with him immediately and adopted him. He was about 8-9 years old and only weighed about 12 pounds. He was always such a happy little guy. He developed Sick Sinus Syndrome and many other numerous problems. He was on meds for his heart and his lungs and he had a horrible set of teeth that we kept up to date on cleaning. My vet told me 2 years ago that he was only living month to month but the little guy had such a strong will to live that he kept fighting. Thanksgiving Day, I lost him. He was my heart dog and he is part of the reason that I have done rescue. God bless you little guy, I will see you someday again.
Pat
---


To Read a Special Message about Rescue click HERE.
---
Schnauzer Rescue Cincinnati needs foster homes in Ohio, N. Kentucky, West Virginia, and parts of Indiana and Florida and Michigan. If you are able to help out these little fur babies for even a short time, we would greatly appreciate it. We also need help occasionally in transporting. Please contact Pat Miller at pmiller0000@aim.com if you have any questions or would like to help out.
You can also use our "Volunteer" application form below.
---
To Donate Directly to our Health Care Providers Click Here.

---
To see a list of some of our supporters click HERE.
---
Who We Are
We are a small rescue group originally based near Cincinnati, in Sharonville Ohio. SRC's service area covers all of Ohio, Kentucky, and most of Indiana and parts of Delaware, Pennsylvania and Florida. We are dedicated to the rescue of schnauzers in danger of being euthanized, living in unhealthy situations, as well as owner surrenders. Schnauzer Rescue Cincinnati is growing rapidly, and unfortunately, so are the number of dogs that need help. We are in desperate need of volunteers to provide foster homes, and help with the transportation of rescues. If you are not in a position to volunteer, you can still help, we will always accept a monetary donation, dog food, gift cards (telephone and pet supplies), leashes, collars, and anything dog related. Please help us help the dogs.
Submit an application to Volunteer HERE.

Submit an application to Foster HERE.
---
Meet our volunteers HERE.
---
Adopting a friend
The adoption process will include a vet reference as well as a home visit. Our adoption fee is determined on an individual basis. The fees do not always cover the costs of the upkeep of our rescues. In addition to transportation expenses to our rescues' foster homes, we completely vet them, which includes, an exam by our vet, blood work done, all vaccinations, heart worm tested, fecal test, and a dental is done if needed.
Submit an application to adopt HERE.
---
Come Visit Us!
Our group is an all volunteer organization. We have no "Brick and Mortar" location. All fostering is done by our members in their private homes.
---

To Jump to our newest web page click HERE.

---
To Jump to our Florida Petfinder page click HERE.
Click here for a list of pets at this shelter
---
Schnauzer Rescue Cincinnati
Sharonville, OH 45241
Email:
pmiller0000@aim.com
---

[Home] [Information] [Shelters] [Search]