Wilmington Area Humane Society Inc.
---
.
Our Featured Pet...
Featured Pet - Courtney is a young girl who has an estimated date of birth of June 2013. She's somewhat independent & enjoys playing. She would like nothing better than to find her forever home. She has been vet checked, spayed and is up to date on shots. She needs several things throughout her lifetime, such as being kept inside, regular vet care, toys, nutritious food, clean water, gentle handling and most importantly, lots of love and attention! Cats live 15 to 20 years on average. We ask that you consider carefully that you can make a lifetime commitment to this pet. Please call toll free 1-877-802-1633 or e-mail wahspets@yahoo.com.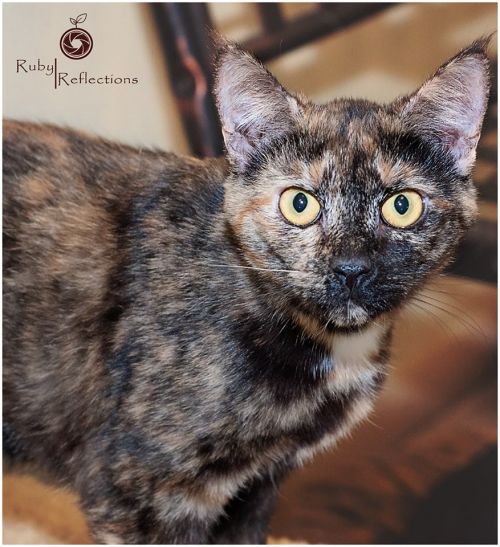 NEWS
The Wilmington Area Humane Society was honored to be recognized at the American Red Cross Heroes Breakfast with the Pet Hero award on March 19th, 2014 . We thank those who helped make this award possible!
Upcoming Events
Satruday, November 22, 2014 Wilmington Area Humane Society will help celebrate Dex's birthday at D&G Paws and Claws Snack Shack, 5356 US 68 North, Wilmington from 10-3 pm. Bring in donations for the Wilmington Area Humane Society to receive special discounts. Door prizes & raffles. Meet an adoptable dog from WAHS. A percentage of sales that day will be donated to WAHS.

Saturday, November 29, 2014 Looking to have your Pet's picture taken for Christmas? Ruby Reflections Photography will be at D & G's Paws and Claws Snack Shack, 5356 US 68 N., Wilmington from 10-5 taking pictures - 20% of proceeds will go towards the Wilmington Area Humane Society!

Saturday, December 20, 2014, Bath-a-thon, at D & G Paws and Claws Snack Shack, 5356 US 68 North, Wilmington to benefit Wilmington Area Humane Society. Get your dog ready for the holidays with bath, dry & nail trim. By appointment.

Sunday, December 21, 2014 Adoption Day Open House. Come meet cats and dogs available for adoption. WAHS Shelter, 5361 US 68 N., Wilmington, OH, 1 - 3 pm. If you need further info, please call the toll free pager at 1-877-802-1633.
Who We Are
The Wilmington Area Humane Society is a non-profit 501(c)3 organization formed to promote the welfare of dogs and cats in Clinton County and to provide programs to the residents of this area to nurture and strengthen the human/animal bond. The Wilmington Area Humane Society officially became a non-profit 501 (c) (3) organization on June 11, 2003. We have renovated a facility that is used to house our dogs and cats so we are able to showcase our animals locally. Volunteers feed, take care of and socialize our dogs and cats 4 times a day. The Wilmington Area Humane Society receives no tax dollars and relies on donations, fund raisers and adoption fees to fund its programs.
Adopting a Friend
The dogs and cats that we have available for adoption have been vet-checked, temperament tested, current on all vaccinations and are spayed or neutered. All puppies or kittens not old enough to be spayed or neutered will be adopted out with a spay/neuter voucher good for a deposit refund of $20 after proof of alteration is provided. The adoption fees for dogs and puppies are $125 cash while cats and kittens are $40 cash. The dog adoption fee includes a one year Ohio dog license. We are not set up to take credit/debit cards. Adoption days are held once per month and extra days are planned around number of animals and special events. We also do many adoptions by appointment. For an appointment or further information, please email wahspets@yahoo.com or call the toll free pager at 1-877-802-1633.
Community Programs
Trap-Neuter-Return (TNR) Program for Clinton County - THIS PROGRAM IS CURRENTLY ON HOLD. This is a low cost spay/neuter program for the purpose of feline population control. For available dates contact WAHS at our toll free pager : 1-877-802-1633 or email sbathori@aol.com. This program was initially made possible through a generous grant received from the Kenneth A. Scott Charitable Trust. 1. Eligible cats must be at least 12 weeks old in estimated age, weighing at least 2 pounds. 2. Caretakers will be required to pay $40.00/ cat in cash PRIOR to any procedures. 3. Any cat which bites a TNR worker will be humanely euthanized and tested for Rabies by the state lab as animals cannot be quarantined at the shelter. 4. Cats are tested for Feline Leukemia (FeLV) and Feline Immunodeficiency Viruses (FIV). Any cat testing positive for either or both viruses will be humanely euthanized. 5. All cats will be Rabies vaccinated. 6. Male cats will receive a gonadectomy and female cats an ovariohysterectomy with dissolvable sutures placed. 7. ALL CATS WILL BE EAR TIPPED FOR EASY IDENTIFICATION. This requires removal of the upper third of the left ear pinna.

WAHS Spay/Neuter Voucher Program - This program is to assist Clinton County residents financially with the cost of the spay or neuter surgery for their dogs or cats. This program is open to low income, senior citizens and those individuals who have recently lost their jobs or have some extenuating circumstances. Please email sbathori@aol.com to inquire about an application and information about the program. All vouchers and monies toward vouchers will go directly to the veterinarian performing the surgery and will not be given to the individuals.

Lost/Found Pets - If you have lost or found a dog or cat, you are welcome to post a picture and information on the Wilmington Area Humane Society Facebook page at https://www.facebook.com/pages/Wilmington-Area-Humane-Society/93257992586 or send an email to wahspets@yahoo.com and we will post. We ask you will let us know if the pet has been reunited with his/her home. Tips to help you find your pet are located on the notes section of our Facebook page. If you have lost or found a dog, we encourage you to call the Clinton County Dog Warden at 937 - 382-8388 as well as dog wardens of surrounding counties.
Volunteering
Working with animals is a very rewarding experience. Whether you have many hours to give or are available only a few times a year, we have an activity you can participate in. Some of our activities require several hours weekly and some a few hours a month. If your schedule is extremely heavy, we even have ways in which you can help us once or twice a year (e.g., fund-raising events). If you are interested in volunteering, please call the toll free pager at 1-877-802-1633 or email wahsvolunteers@yahoo.com.
Come Visit Us!
Please come visit us on the third Sunday of every month between 1pm to 3pm for Adoption Day. We are located at 5361 N. US Hwy 68, in Wilmington, Ohio near the intersection of I-71 and U.S. 68. You're invited to follow us on Facebook at https://www.facebook.com/pages/Wilmington-Area-Humane-Society/93257992586.
Donations are Appreciated
Donations of dry dog/puppy food, cat/kitten food, cat litter, cleaning supplies and toliet paper are welcomed. If no one is at the shelter, please leave by the back door. Please send all monetary donations to WAHS, INC., P.O. Box 968, Wilmington, OH 45177 or click on the link below to pay by credit card.. Thank you for your support!.
Ohio Pet Fund
Have you seen cars sporting plates showing pets on them? The Ohio Pet License Plates are vehicle registration tags that raise funds for education, spay and neuter of pets for low-income families, and for dogs and cats adopted from qualifying agencies. Share your love for pets! Even if you have just renewed your license plates, you can still buy the plate for $25. Simply visit your deputy registrar's office, or call 1-800-589-TAGS, three pet friendly plates available. The more plates sold, the more animals that can be helped. Visit www.petsohio.com. Thanks to the Ohio Pet Fund for awarding a 2012 grant to the Wilmington Area Humane Society!
BISSELLís Partners for Pets When you purchase pet products on bissell.com and enter the code ADOPT at checkout, a portion of your purchase will be donated to our shelter. Whatís more, every purchase goes towards an entry for us to win a $5,000 quarterly giveaway! Itís simple. ∑ Shop pet products on www.bissell.com ∑ Enter the code ADOPT at checkout ∑ Then select our shelter! Learn more at www.bissell.com/partnersforpets.
---


[Home] [Information] [Shelters] [Search]