G.R.A.S.P., Inc.
Greece Residents Assisting Stray Pets
P.O. Box 26741 Rochester, NY 14626
---
Featured Pets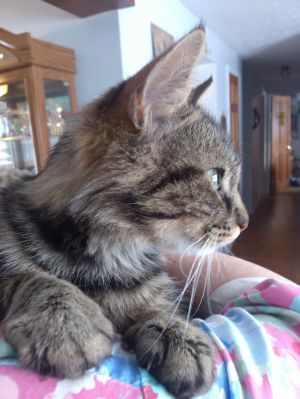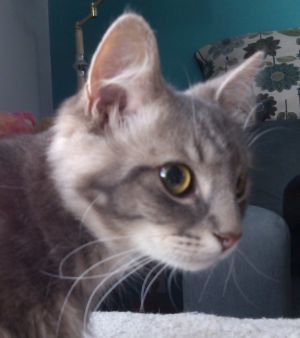 Emma
and Wonder Adoption Special: Between 3/10 and 3/16, our adoption fee is only $50 when adopted together!

Hi, we're Emma and Wonder!!

Emma, who loves people, loves to be pet, talked to and who purrs like an engine. She helps her visually impaired brother, Wonder, navigate his way but still does enjoy her alone time. She needs to be adopted with Wonder. DOB: 9/15/12

Wonder is an absolute sweetheart and a purring machine. There is nothing shy about him. Wonder has trouble seeing but still manages to get around very well. He needs to be adopted with his sister, Emma who is his 'guide' cat. DOB: 2/15/13

These pets have been combo-tested for Feline Leukemia and FIV, received a rabies vaccination along with all other age-appropriate vaccinations and are altered.




Juliet
My name is Juliet - I am an 8 month old terrier/hound mix!

My date of birth is 5/19/2013. I am getting along great with my foster sister who is a black lab. We even nap together! I was also very nice to the little Sharpei and Shih Tzu that I met just the other day. I am still learning my basic manners but I am eager and excited to learn all sorts of new tricks! I love cuddling and giving kisses to anyone that will take one. I am a happy little girl with a little tail that is always wagging and looking for a home with a few extra treats to spare. :)

Adoption fee: $250
If you have a question about these featured pets, please contact us. You can also fill out an online application.
Please visit our pet list to see all of the other wonderful homeless pets that we have available for adoption. We invite you to visit the G.R.A.S.P. website for more information on our organization and to fill out an online application to get a head start on the adoption process. Thank you!
Foster homes needed!
GRASP continues to reach out to all local residents for help right as we are in need of additional foster space. Would you please consider fostering a healthy, friendly cat or kitten for us? If you can't, do you know of anyone who might consider helping us out? Before being placed into foster care, all cats and kittens are fully vet checked, tested for feline leukemia and FIV, checked and treated for all parasites and fleas and fully vaccinated, spayed or neutered. GRASP will gladly provide food, litter, litter boxes, dishes and toys. All we need from you is a little extra space in your heart and home. If you've ever thought about helping out, please make now the time you decide to step-up! GRASP does not have a pet shelter. All rescued animals stay temporarily in volunteer foster homes until they are adopted into a permanent home. Call 234-1953 or contact one of the Foster Coordinators to become a foster family!
News
Please visit www.graspinc.org for the latest news, events and general information.
Who We Are
G.R.A.S.P. (Greece Residents Assisting Stray Pets) was incorporated on February 1996 as a non-profit animal rescue organization. Greece is a suburb of Rochester, N.Y. and the purpose of the group is to find fur ever homes for all adoptable animals that come through the town's Animal Control. G.R.A.S.P. is staffed completely by volunteers and is funded entirely by donations from the public. Our animals are kept in foster homes or boarded until a foster home is found.

Please be aware that we are not able to adopt to anyone living more than two hours away from Rochester. Some of these fur children came from bad situations and to be sure that they are in the right environment, home visits are necessary.
Adopting a Friend
If you are interested in adopting one of our available pets, you must first fill out an adoption application form (available on our website or at adoption events). If your application is approved, then (for dogs) a home visit is scheduled. If all goes well, a formal, legal adoption agreement is filled out and signed at the time of adoption. Our fee for adopting a kitten six months and younger is $135, for cats over 6 months the adoption fee is $100, and the fee for senior cats, 8 years and older, is $50. Our fee for adopting a dog/puppy is listed in their bio. The fee helps offset expenses incurred, since all of G.R.A.S.P.'s animals are examined by a local vet, receive all age-appropriate vaccinations and are spayed/neutered.
Volunteering and Donations
Volunteers are always needed to help with adoption days, dog walking, and fund raising events. You do not need to be a Greece resident to volunteer. Of course, our goal is to have a shelter, but until that happens, we need canned and dry cat food, cat litter, cat condos, carriers, dog collars, blankets, leashes, stamps, a digital camera and a copier. We are also desperate for foster homes to help with our kittens and dogs.

Without the support of the public and generous donors like you, we could not continue to give homeless pets another chance at a permanent home. Since there are always homeless animals in need, the funds are always tight. At a minimum, our vet bills run into the hundreds of dollars each month. Won't you take a moment now and send what you can spare? Your donation today will save a life tomorrow. Donations can also be mailed to G.R.A.S.P., PO Box 26741, Rochester, NY 14626. Thank You!
Come Visit Us
Currently, we have our adoption event at Petco in Greece on Ridge Road West on Thursday nights from 6:00pm to 8:00pm and on Saturdays from 11:00am to 3:00pm (11am to 1pm 6/20/09-9/5/09). Please stop by and say hello. You may just find your next fur baby there.

You may also visit us on the web at www.graspinc.org for more great information or to fill out an online application and get a head start on our adoption process.
---
G.R.A.S.P., Inc.
Greece Residents Assisting Stray Pets
P.O. Box 26741
Rochester, NY 14626
Phone: (585) 234-1953 (Voice Mail)
Email: View our contact page for the correct person for your inquiry
We are a non-profit organization entirely funded by donations from the public.
---

[Home] [Information] [Shelters] [Search]