P.O. Box 203 Oakland Gardens, NY 11364
Phone: 718.595.2161| e-mail: fofadopt@nyc.rr.com


View Our Pet List | Make a donation

Click here to see our Happy Dog Tails!
Pet of the Month: SHANNON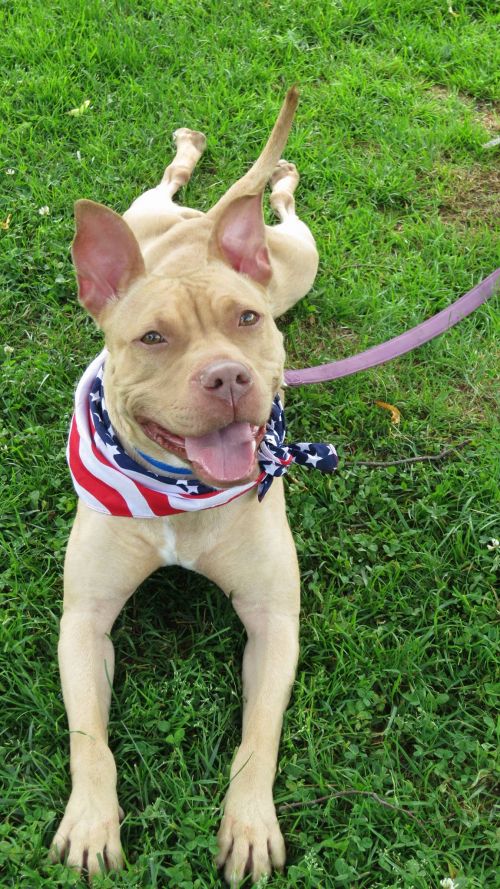 Shannon is a beautiful Pit Bull mix that was rescued from one of our municipal shelters. Shannon is just 3 years old, she is charming and very sweet and gets along with all the other dogs at the shelter.Shannon weighs 52 pounds. Everyone that meets Shannon is impressed with how well behaved she is. Please contact718.595.2161 or fofadopt@nyc.rr.com for more info on Shannon. Shannon is in a foster home but she still needs a family to call her own. This is what Shannon's foster family says about her. "We love Shannon. She has quickly become our favorite foster! We have never had a pitbull before, and I am very confused as to why. She is loyal, loving and soooo cute!! She is great around everyone; dogs, kids, and crowds. She has been a wonderful foster dog. She has a willingness to please, she picks up commands quickly, and she loves to be around people. Shannon walks nicely on a leash, we use a no-pull harness. She currently knows sit, stay, lay down, and paw (her favorite). We are working on roll over, drop it, and leave it. She is gentle taking treats and has no food aggression. She loves carrots and American cheese, but will eat almost anything. Shannon is crate trained, and housebroken, she sleeps through the night peacefully. He has never chewed our furniture or home, but she is pretty tough on dog toys. She can take down a stuffed toy in minutes not even knowing what she did. Then brings the prices to us to put back together. It's adorable! She does well with Kong toys and tuff toys. She LOVES squeakers! He favorite things to do; play ball, play tug-o-war and cuddle on the couch. Very much a lap dog." .


---
.
Please visit our Pet List for additional photos and information.
THANK YOU TO ALL OUR SUPPORTERS. WE ARE GRATEFUL FOR EVERY DONATION. NO AMOUNT IS TOO SMALL. WE CAN ONLY CONTINUE OUR RESCUE MISSION BECAUSE OF YOUR GENEROSITY AND COMPASSION.
For Our Friends Wish List
http://www.amazon.com/registry/wishlist/1YU29ED24A819
We are very grateful for the donation of any of these items.
IF YOU CAN NOT ADOPT PLEASE CONSIDER BECOMING A FOSTER PARENT. A FOSTER HOME PROVIDES TEMPROARY SHELTER FOR A DOG WHILE WE SEARCH FOR ITS FOREVER HOME. ALL COSTS ARE COVERED BY US AND IT FREES UP BOARDING SPACE THAT WILL ENABLE US TO RESCUE ANOTHER WONDERFUL PET. PLEASE CALL 718.595.2161 OR EMAIL fofadopt@nyc.rr.com FOR MORE DETAILS.:
PLEASE JOIN US FOR DOG WALKING CALL 718.595.2161 FOR TIMES. GETTING OUT, HAVING TREATS, TRAINING, PETTING AND LOVE ARE REALLY IMPORTANT FOR THE DOGS WE HAVE IN BOARDING AND YOU WILL LOVE DOING IT.
WE ARE AN ALL VOLUNTEER GROUP. 100% OF ALL DONATIONS GO DIRECTLY TO RESCUE MORE PETS OR TO SUPPORT THE PETS WE HAVE ALREADY RESCUED.
WHEN YOU RESCUE A DOG YOU WILL NOT CHANGE THE WORLD BUT YOU WILL CHANGE THAT DOGS WORLD.
PLEASE READ BELOW FOR OUR SPECIAL EVENTS AND ADOPTION POLICY.
PLEASE VISIT OUR FACEBOOK WEBSITE AT Facebook


News
Thank you for your interest in out group. Please read further for more information. Please note: kindly include your phone number (along with a good time to call you) and name when e-mailing us regarding our dogs/puppies for adoption. This will help us reach you faster. Also, For Our Friend's is in great need to find volunteers to help walk our dogs during the week. Please call or e-mail if you can volunteer to walk during the week. THANKS!




Upcoming Events
When?
Adoption Day
Monday October 13
11:00AM - 3.00PM
Garden World
46-20 Francis Lewis Blvd.
Flushing NY 11358


Upcoming Events


When?
GARAGE SALE

SATURDAY OCTOBER 18

9AM – 4PM

128 CHESTNUT DRIVE

GARDEN CITY, NY 11530

Call For Information

718.595.2161

PLEASE E-MAIL LAURA AT Laura.Hind@sanofi.com to donate items.

Upcoming Events


When?
Dog Walk

Every Monday, Wednesday, Friday and Sunday

Call For Information

718.595.2161

If you are interested in meeting a certain dog on that day, please call 718.595.2161 to confirm that we will be bringing the dog you would like to meet.

Can't adopt? Please join us as a volunteer!
Call for more information call 718.595.2161. See you there!

The dog/ rescue work that For Our Friends is able to do is only possible through the kindness and support of all of those that donate to us. Thank YOU, especially if you recently adopted from us, sent in a donation. The more donations we receive, the more dogs/puppies we are able to help save. :)
For Our Friends, Inc. is a nonprofit, no kill, rescue group. FOF keeps all dogs until a loving home is found for them. We are devoted to saving dogs/puppies in need. Many of our dogs have been abandoned and have literally been found by our volunteers in the streets of Queens and the Bronx. Many of the dogs we rescue are from the euthanasia list of our area kill shelters. All of our dogs are given full medical exams including all of the necessary innoculations. All dogs are tested for heartworm. Any treatment for illness or injury is provided. In addition, all dogs are spayed/neutered prior to being made available for adoption.

Our group has NO shelter of its own. All dogs are boarded at a veterinary hospital that has kennel facilities. We pay $16/day to board each animal that we have, as well as the fees for the medical care. We are supported solely through the tax-deductible donations that we receive. 100% of all donations go to the costs incurred in the medical care and boarding of our dogs.
Adopting a Friend
Please note the following--We are frequently asked if our dogs for adoption are housebroken. We do not have our dogs in our homes---they stay in a kennel until adoption. Therefore, we cannot say, in all honesty, whether or not a certain dog is housebroken. However, what we do know is that many of our dogs upon adoption do very well with the housebreaking issue. We urge all our families to crate train their new friend and to put them on a schedule where the dog is taken outside 20 minutes after eating or drinking. A large majority of the dogs we place in homes are in the 1-3 year age range. These dogs tend NOT to have any major problems with housebreaking once they are in homes and receiving proper training.

Another frequently asked question is regarding the mix of the dog. Generally, when a dog is first brought in, the vet gives a general idea of the mix of the dog. Also, the input of volunteers is considered. We can never know for certain what mix a dog that has been living in the streets is exactly. However, we do give you our "best guess". The best thing to do, is to come out and meet our dogs. Their personalities will charm you, regardless of their mix!

For Our Friends, Inc. prefers to adopt its dogs to people living in the tri-state area. The kennel that we board our dogs is in Nassau County, Long Island. It is our hope that those reading this from places outside the tri-state area, will contact their local rescue groups.

Our adoption procedure is as follows:

A volunteer from our group will ask a potential adopter for a veterinary reference, if possible. (For example, those people that currently have a dog/cat or those who have had a dog in the past) We will also ask questions regarding dog experience and give information regarding the current dogs for adoption. If no veterinary reference is available, the potential adopter will be asked to provide a personal character reference.


The volunteer will make an appointment with the potential adopter based on a satisfactory vet/personal reference, in order to show dogs at the kennel. All family members must be present at this meeting. This includes the family's current dog. Appointments can be made weekdays until 7:30p.m. and weekends until 4p.m.


If the potential adopter is a first time dog owner, we will, again, meet all family members and discuss at length housebreaking and training procedures. We may even deliver the dog or puppy to the home. We will certainly provide follow up phone calls and answer any questions the family may have.


Finally, if the adopter/dog match is mutually agreeable, an adoption agreement will be signed by the new owner. The adoption agreement basically states that the dog/puppy will be treated in a humane way- given food, shelter and veterinary care. The pet will wear all necessary identification tags at all times AND that if the relationship between dog and owner does not work out For Our Friends will take the dog back within the first 6 months following the adoption of the dog, for any reason, no reservations. We often take back dogs that have been adopted for much longer periods but we prefer to work with you to place the dog in an appropriate home.



For Our Friends
must ask a donation at the time of adoption, in order for us to continue our rescue work. The fee is $200 for a mixed breed dog that has been spayed or neutered. We ask $250 in the event that we adopt out a rescued pure breed dog. (We have rescued many pure breeds, although the majority are mixed breed dogs.) All adoption fees are refundable if the dog/puppy is returned within the first 30 days following adoption.

Volunteering
We are always in need of volunteers. There are a number of ways that volunteers can help us. First, Foster Families are needed in order to provide a temporary home until a permanent home can be found. Foster Families socialize the dog/puppy and even help out with housebreaking if necessary. Fostering also saves the group the expense of boarding fees and more dogs can then be rescued.

Another important way a volunteer can help us is by bringing some of our dogs and "hanging out" at PetCo. on a Sunday. We have had many successful adoptions just because people have seen our dogs at these stores. However, we often have to limit the number of dogs we can bring because of the lack of volunteers. Since we have no shelter of our own, the exposure of our group at Pet Co. and K9 is crucial to getting dogs adopted.

In additon to the above, volunteers are also needed to take the dogs out of the kennel and give them some exercise! The kennel is in a residential area, so we are able to take them on good walks close to the kennel. The kennel allows us to walk only between 12 and 2p.m.- weekdays and weekends. Perhaps you could join us on Mondays, Wednesdays, Fridays or Sundays? Or, perhaps you could find some friends who also love dogs and start a group on another weekday. Bring your own doggie treats!! The group can provide you with leashes

The kennel is also located a short distance from a DOG RUN. One of our volunteers is very dedicated to bringing dogs to this run for much needed exercise and fresh air. However, the more volunteers, the more dogs that can get out for some fun and exercise. Visiting the Dog Run is a good way to spend a couple of hours and it helps our dogs a great deal.


Donations
All of our work helping dog and puppies is possible because of support from generous animal lovers.
Please send whatever donation that you are able to give to:
For Our Friends, Inc.
P.O. Box 203
Oakland Gardens, NY 11364

---
We also accept online donations, you can make credit card contributions can made using PayPal.
This fee is tax-deductible due to our nonprofit status.
All the dogs thank you for it!
Come Visit Us!
Please call 516.616.3076 or e-mail fofadopt@nyc.rr.com in order to make an appointment to come to the kennel where we house our dogs. The kennel is in Nassau County, Long Island.

P.O. Box 203 Oakland Gardens, NY 11364
Phone: 718.595.2161| e-mail: fofadopt@nyc.rr.com


---

[Home] [Information] [Shelters] [Search]

For Our Friends is a verified shelter of the
petyourdog.com
community and supports its awareness program