Animal House Shelter & Sanctuary
---
Our Featured Dog...
Rosa
---
Our Featured Cat...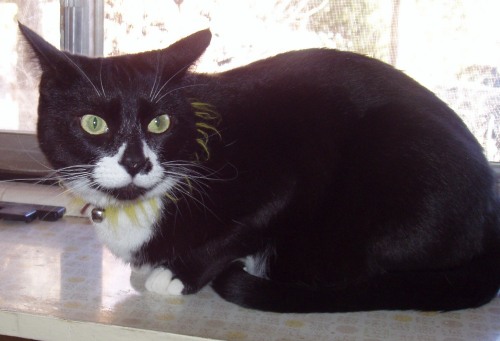 Hinder
---
Who We Are
Animal House Shelter and Sanctuary is working to find homes for animals in Elko County and the surrounding area. We are committed to keeping all of our animals until they find homes, or receive the call to the great animal shelter in the sky.
News
We also have volunteers that rescue ferretts. If you need help with a ferrett or just want information on ferrett care, please email or call us.
Animal House is proud to be a Purina ProPlan Rescue Ambassador. Their support has been much appreciated.
We have been holding pet adoptions at the Petsmart in Meridian, Idaho for the past few months. To date, we have found homes for over 80 pets with their help.
Don't forget - you can help us AND the environment by collecting empty aluminum cans as well as old cell phones and empty inkjet cartridges. Call 775/340-5884 for details. We are more than happy to provide collection tubs for any group.
Adopting a friend
Please call us to set up an appointment to take a look at our animals! You can get more information on our dogs or cats at 775/340-5884. We have many cats, kittens and dogs available.
Alleviate the financial stress associated with your petís unexpected medical expenses and generate funds for our shelter at the same time! Simply apply for a ShelterCare Pet Insurance Program by using the ShelterCare banner-link.
Hereís how it works: ShelterCare Pet Insurance Programs cover you when your pet needs essential veterinary care from an illness or injury. Also, every time a completed application for a ShelterCare program is generated through our shelterís website, we automatically receive a $25 donation to help cover common needs like blankets, litter and food. This donation is of no cost to you and provides us with essential funds. Make the right move and enroll today!
-
Come Visit Us!
Animal House Volunteers meet the first Thursday of every month at 6pm. Please call for location details! (775) 340-5884 We are currently working on building our permanent sanctuary. Until we get our structures built, all animals are living in foster homes. If you are interested in any cats or in the low cost spay and neuter program please call 775/777-8233; if you are interested in dogs or if you are interested in fostering animals please call 775/340-5884. If no one is available to take your call please leave a message and an Animal House representative will return your call as soon as possible.
---
Animal House Shelter & Sanctuary
802 Elburz Unit 9
Elko, NV 89801
Email: animalhouseshelter@hotmail.com

Click here for a list of pets at this shelter

---

[Home] [Information] [Shelters] [Search]