Torrance County Animal Shelter
---
Our Featured Pet...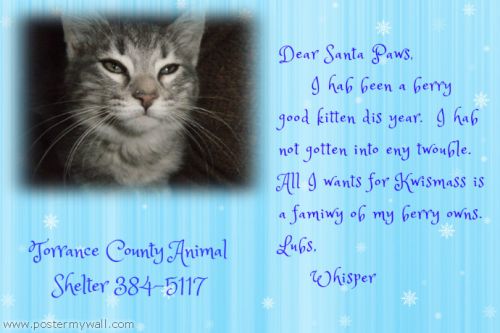 Sweet little Whisper loves to play with everything! He can make anything into a toy. He also loves cuddles and kisses. This beautiful, talkative 3 month old boy would love nothing more than a forever home for Christmas. Please call the shelter at 384-5117 to find out more about baby Whisper.
News
Who We Are
We are a government entity that serves all of the unincorporated areas of Torrance County and have been operational since 2004. We are a small shelter in a rural community, so we have a very small adoption base. Due to that we try to transfer out as many of our adoptable animals as we can to local Animal Humane Associations.
Adopting a friend
Our $80.00 adoption fee covers the sterilization, rabies vaccination, county license, and wellness exam of your new family member. Also included, for cats, the FVRCP vaccination and, for dogs, the DA2PP vaccination and the bordetella intranasal vaccination. If an animal comes to us already sterilized, their adoption fee is only $45.00. Their rabies vaccination, 1st annual vaccination, county license, and a wellness exam are included in that fee.
Come Visit Us!
We are open to the public as follows: Monday through Thursday from 8:00am to 5:00pm, Friday and Saturday from 8:00am to 1:00pm. To get to the shelter from Albuquerque, take I-40 to the 2nd Moriarty exit and go right (south). Travel south on Highway 41 approximately 9.5 miles. At Clements Road make a left. Go about 50 feet and make another left. We will be in the red panel building on your right hand side. If you have difficulty finding us, please call 384-5117 and we'll be happy to help you.
---
Torrance County Animal Shelter
751 Salt Missions Trail
P.O. Box 875
Mcintosh, NM 87032
(505)384-5117 fax(505)384-4037
Email: evrasstaff@gmail.com
CLICK HERE FOR A LIST OF PETS AT THIS SHELTER

---

[Home] [Information] [Shelters] [Search]