Animal Adoption Center
Just the DOGS!
Just the CATS!
All our PETS!
Our featured pet: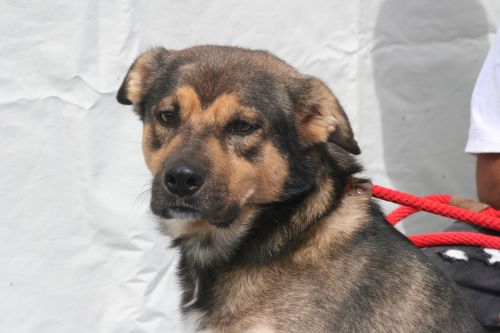 Who we are...
We are a NO-KILL, non-profit, animal shelter for dogs and cats located in Lindenwold, New Jersey. Our facility is always full of activity with at least 40 dogs and 50 cats waiting for good homes. Right now they're all waiting for you! Please, won't you come by and meet them today? It's a lifetime commitment to adopt an animal but one with returns of unlimited love!

| | |
| --- | --- |
| | If you would like to donate a durable and easy to clean, Kuranda Dog Bed to us, please click here. |
Please help...
As a no-kill facility, we depend entirely on private donations. We get no help from local, county, or federal government. We need your assistance for us to help the animals get healthy, stay healthy, and find new homes. Send your donation today to the address at the bottom of the page.
VOLUNTEERS NEEDED!
We are always in need of volunteers of all kinds to help our animals! There is truly something for everyone at AAC! Please email us for more info.
Application procedures...
Visit our shelter animals to find your new best friend. Once you've picked your buddy, then we have an application form to be completed. Please bring your veterinarian's name and phone number, if applicable, to call for a reference. If you do not have a vet, we require at least three references. If you rent, we must inquire with your landlord if you are permitted to have animals. If any of these people are unavailable when we call, your application approval will be delayed until such a time when we are able to reach them. There may be additional provisions to adoption, depending on the animal.If your application has been approved, you will be given a contract to sign. If approved to adopt, you will be given a copy of the contract as well as documentation of your pet's shot records and medical history, if known. When you come to bring home your new friend, be prepared with a leash and collar or pet carrier to transport your animal home.
Shelter Hours...
Monday through Wednesday 1-6 PM,Thursday through Saturday 1-7 PM and Sunday 1-5 PM. You can meet your new companion during these hours, fill out an application and get started on adopting a great new family member!
UPCOMING EVENTS

Dog Walk
Thanks to all for their support of this event!! We had a great time!
Wish List...
Kitty litter
Pine cleaner
Bleach
Paper towels
33 Gallon trash bags
Brooms
Mops
Laundry detergent
Dish detergent
Rice
Business size envelopes
Copy/printer paper
Pet carriers
Crates
Miscellanous animal care items
Quality laminator and laminator paper
Pens
Landscaper to donate his/her services and/or supplies
Spay/Neuter your animal...
Remember, if you adopt an animal from a shelter in New Jersey, you are eligible to participate in a discounted program for altering your new companion. We also have a spay/neuter certificate program.
Directions...
Map to our shelter

From points north: Take Interstate 295 south to the Route 30 exit (aka White Horse Pike). Turn on Rt. 30 going toward Berlin. Continue until you come to the intersection at Laurel Rd. Landmarks at this intersection include a Pep Boys on your near right, Echelon Ford car dealership on your far right, and a Payless shoe store on your far left. Stay to the right so you can get onto the jughandle. (You cannot make a left at this light) Use the jughandle to make a left onto Laurel Rd. About 15 feet after you go through the light, you will come to another light and Pufferbelly restaurant will be on the far right corner. Turn right at this light. Lindenwold high speedline station will now be on your left. Continue past the station parking lot and our shelter will be about 1 block away on your left. From points south: Adapt the above directions by getting on Interstate 295 north to route 30 toward Camden. When you come to the Laurel Road intersection you will make a right turn and continue as above. From Philadelphia: Take the Walt Whitman Bridge to route 42 (North-South Freeway). Get on Interstate 295 north and continue with the directions as above.
Adoption Fees...
Adult Dogs $200 includes microchipping

Puppies and Small Breed Dogs $250 includes microchipping

Adult Dogs over seven years $100 includes microchipping

Kittens $125

Adult Cats $80

Adult Cats over seve years $50
Please feel free to add a few dollars onto your adoption fee as a donation to help the other animals at the shelter:-)
Thinking about adopting? Please think about the rewards of falling in love with an adult dog or cat. Our mature animals are loving and so grateful for a second chance. A few have been with us such a long time because they may not be cute & fuzzy - but they have big brown eyes that will melt your heart.

See our website for more information.

Animal Adoption Center
501 N. Berlin Rd.
PO Box 4017
Lindenwold, New Jersey 08021
Phone: 856-435-9116
Fax: 856-435-1490
E-mail:info@animaladoption.com
Web Page:http://www.animaladoption.com



---





[Home] [Information] [Shelters] [Search]