FOSTERS NEEDED!!!!!!! You provide the love and home care and we provide everything else (crates, food, leashes, vet care, etc.) There are many puppies/dogs in need of rescue! We are currently looking for volunteers to foster, help out during our adoption days, make phone calls, complete reference checks, and perform home visits. Any help would be greatly appreciated!
Bonnies Animal Rescue Kingdom
YOU MUST BRING IN A PRINT OUT OF THE APPLICATION TO OUR ADOPTION EVENTS AS WE HAVE NO WAY TO PRINT THEM OURSELVES AND YOU CAN ONLY MEET OUR PUPPIES AT PET SUPPLIES PLUS IN FAIR LAWN, NJ DURING ONE OF OUR ADOPTION DAYS ON SATURDAY OR SUNDAY - THERE IS ABSOLUTELY NO EXCEPTION TO THIS AS OUR PUPS ARE IN FOSTER HOMES DURING THE WEEK WITH WORKING FOSTERS. PLEASE DO NOT ASK FOR OTHER TIMES - YOU MUST COME ON THE WEEKEND DURING OUR EVENTS AND BRING THE APPLICATION OR FILL ONE OUT THERE AND MEET THE PUPPY OR DOG AT THAT TIME, THANKS VERY MUCH! ADOPTION EVENTS ARE HELD EVERY WEEKEND AS NOTED. PLEASE NOTE TOO THAT THERE ARE NO SAME DAY ADOPTIONS - WE CHECK ALL OF YOUR REFERENCES AND APPLICATIONS VERY CAREFULLY, ARRANGE A TIME FOR A HOME VISIT AND IF YOU ARE SELECTED TO BE A GOOD MATCH FOR THE DOG OR PUPPY YOU ARE INTERESTED IN AN ADOPTION TIME WILL BE ARRANGED WITHIN A WEEK - MORE INFORMATION AT THE BOTTOM OF THE PAGE, THANKS FOR YOUR INTEREST AND WE HOPE TO MEET YOU AT PET SUPPLIES PLUS VERY SOON!
Please visit us on FACEBOOK to post any questions, adoption stories, photos, and/or videos and we are proud to be sponsored by Purina Pro PlanŽ Rally to RescueŽ
---
Our Featured Pet...
Dottie was rescued on March 5, 2014 from a high kill shelter in North Carolina. She came to us heartworm positive and was scheduled for euthanasia to avoid the cost of the heartworm treatment but we treated it and its all clear! Dottie would be best in an only dog household (no dogs or cats) because she likes to pick and choose her doggie friends. She seems to tolerate some dogs, but is fearful with others, and can bark loud around other dogs. Dottie is housebroken and walks well on a leash. She loves attention and can be a total cuddle bug! She is laid back and pretty low key. She loves affection and just wants a home to call her own! Dottie is spayed, up to date on shots, micro-chipped, and now healthy! Please donate to BARK: Bonnie's Animal Rescue Kingdom. We are a small rescue based out of North New Jersey. We are a recognized nonprofit 501c3 rescue organization!
---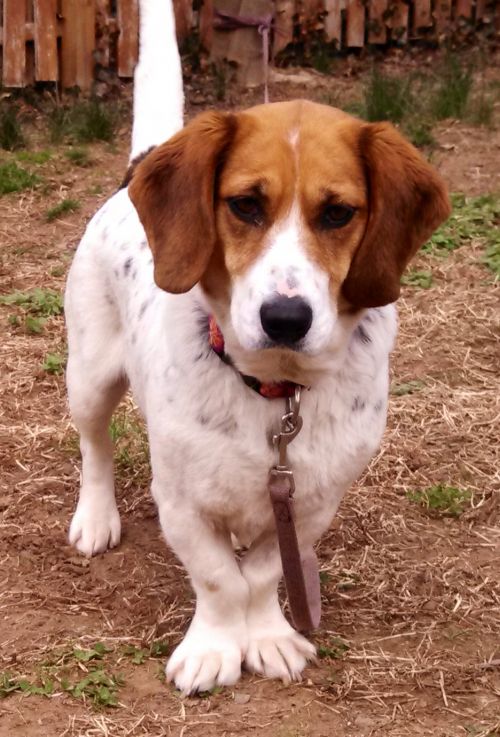 News
Please donate to Petcaring.com, more information also on our Facebook page about Marcus' story, we will forever miss him. - Marcus was an adorable, playful 12-week-old retriever mix puppy. However, after a 2 week battle with 3 fatal viruses Marcus has crossed the infamous rainbow bridge to Doggie Heaven on Saturday June 14th. Marcus was a fighter. Our small rescue fought right along side him when his blood work showed a problem. He received a blood transfusion and did well. Then the seizures started, but with the proper medication they were stopped. After days with a fever, antibiotics brought his temperature down; but unfortunately his viral pneumonia persisted. And in the end even with oxygen he eventually found breathing very difficult. He was then euthanized to stop his suffering, only after several attempts were made to make him better. Our small rescue does not euthanize our pups just because they get sick, we go to the extreme to get them better. Marcus sad 2 week battle ended up costing $11,000, but beyond the money, it ended up costing him his life. Marcus may be gone, but his will to live and his admiration for fighting until the end will never be forgotten. Please donate to BARK: Bonnie's Animal Rescue Kingdom. We are a small rescue based out of North New Jersey. We are a recognized nonprofit 501c3 rescue organization, making all donations tax-deductible. - See more at: http://www.petcaring.com/animal-rescue/money-for-marcus/39339#.U6jFozRnAl0.facebook
---
NEW EMAIL!!!! - boniark15@gmail.com November 27, 2014 - Happy Thanksgiving! We hope everyone had a wonderful Thanksgiving today, especially those who have adopted one of our precious puppies or dogs! The holidays are upon us and many of you will celebrate the first holiday season with your new addition to the family - please give them all big hugs from us here at Bonnie's Animal Rescue Kingdom! We have adopted most of our pups from our last rescue, a few are still available as you will see from our always updated Petfinder list. Tomorrow we are going to down to Caswell County to rescue two litters of puppies which we will post this weekend or by Monday so check here to see them then come meet them starting the first weekend in December at Pet Supplies Plus in Fairlawn :) As always we are in desperate need of donations right now due to recent sick pups that have come to over 15K in bills, Please donate and remember we are a Non Profit so every penny is a tax donation for you! Check out our Facebook page for more information, thanks! Thanks again for all your support and hope to see you soon in Fair Lawn! We can't keep saving lives without your providing forever homes for our sweet rescues, you are all wonderful, President and Founder of B.A.R.K.
---
WE ARE AT PET SUPPLIES PLUS IN FAIR LAWN, NJ EVERY WEEKEND FROM 1.30 TO 5.30. You can also write to Bonnie on any specific dog or puppy to find out exactly when they will be at our adoption fairs. REMEMBER YOU CAN ONLY MEET THEM AT PET SUPPUES PLUS IN FAIR LAWN, WE ARE NOT ABLE TO MAKE ANY EXCEPTIONS. Thanks again for your support and love as we cannot do it without those kind souls who give our puppies homes and enable us to rescue more as the list is endless and many more are waiting on us to rescue them down in North Carolina. And as always we are desperately seeking new fosters so please if you can find it in your hearts and home to foster email Bonnie, thanks so much to all of you!
---
We are proud to continue to be sponsored in 2013 by Pro Plan Rally to Rescue Check out their Facebook page at: https://www.facebook.com/rallytorescue........... Also remember to shop online at igive.com so free donations can be made to B.A.R.K. so check out their website. .............Also make sure you Like us on Facebook under Bonnies Animal Rescue Kingdom at http://www.facebook.com/pages/Bonnies-Animal-Rescue-Kingdom/112631865436013
---
As always, please consider fostering as the more foster homes we have the more lives we can go and save from the kill shelter. We provide all the food, crates, collars, and bedding for our fostered dogs. And for all new and continuing foster parents, those volunteers that spend their precious weekends at our adoption fairs, those that donate their time in any way, we thank you from the bottom of our hearts for your help and love, for, without you, we could not keep rescuing our precious pups! See you at the adoption events!
MISSION STATEMENT - Who We Are We are a small non-profit 501(c3) rescue group dedicated to rescuing abandoned, neglected, and abused animals. We are proud adoption partners of PetSmart and are committed to helping several high-kill shelters in North Carolina where euthanasia of highly adoptable pets can occur up to three times per week. We do our own transport every six to eight weeks and then we place the rescued animals in foster homes until they become adopted. We strive to find loving, caring, and responsible pet parents who will provide forever homes. We also assist with local animals in need of rescue due to families who can no longer care for them as a result of economic hardship. We promote and insist on spaying/neutering of all pets, as this in the only way to reduce the overpopulation of pets. All of our animals that are age-appropriate are spayed/neutered prior to adoption. We have a strict spay/neuter follow-up policy for those animals that are too young at the time of adoption. Adopting a friend
B.A.R.K. reserves the right to refuse any adoption application for any reason."We do NOT do same day adoptions.
Must be at least 21 years of age to adopt.
You must fill out an application and bring it with you to Petsmart to meet us in person and meet the puppy or dog and review your application
A volunteer or the foster parent can answer any questions or to learn more about the pet you are interested in adopting and/or answer any questions.
After the application has been reviewed, you will be contacted (approximately 3-5 days) to go over the status and possibly set up a home visit.
If you are a good match, a date will be set to meet at PET SUPPLIES PLUS IN FAIR LAWN, NJ for the adoption. Plan on spending about 60 minutes to fill out paperwork, as there are things to go over to ensure that your new pet will be happy in his/her forever home.
The entire adoption process can take up to a week to 10 days.
Come Visit Us!
Fosters
Foster homes are desperately needed. We provide food, crate, toys, treats, and all medical expenses. You only need to provide your time and a loving home! The more foster homes we have, the more animals we can rescue from being euthanized! It is an amazing and rewarding experience for anyone who loves animals! Fostering usually lasts only about 3 weeks for puppies and up to 2 months for older/bigger dogs.
Volunteers
We are a very friendly group. We are always looking for extra help with the animals on the weekend in Pet Supplies Plus in Fair Lawn, NJ. Why not stop by and give us a paw!
Donations
Any donations would be greatly appreciated! We are currently in need of laundry detergent, dry dog food, and dry cat food. You can bring them to either location during adoption days! Due to difficult economic times, Caswell County Animal Shelter has been directed to reduce costs, which means reducing the number of dogs/cats being housed at the shelter. These items would assist them in reducing their weekly expenses!
---
Bonnies Animal Rescue Kingdom
Paramus, NJ 07653
Email: Boniark15@gmail.com
Click here for a list of pets at this shelter

---

[Home] [Information] [Shelters] [Search]