The Volunteer Auxiliary For Animal Shelters Inc.
Off-Site Adoption Locations - Please see details below
---
Kitten Season Is Here!
We have lots of kittens coming in and are in need of supplies! What is most needed is KMR Kitten Formula, Wet & Dry Kitten Food, Bottles, Heating pads and most other cat items. Please, if you can, our Amazon Wish List makes it easy for you to help and it goes right to the shelter. Thank you!!!! You can view our wish list from the following link, http://www.amazon.com/gp/registry/registry.html?ie=UTF8&type=wishlist&id=2WQP5Q6S9MO4Q
---
Join Us on Facebook
Please join us on facebook! It is a great way for us to communicate with the public. We post adoptable dogs & cats, who have been adopted, upcoming events and more! http://www.facebook.com/pages/Volunteer-Auxiliary-for-Animal-Shelters-Inc/201104144255
Our Featured Pets...
Batman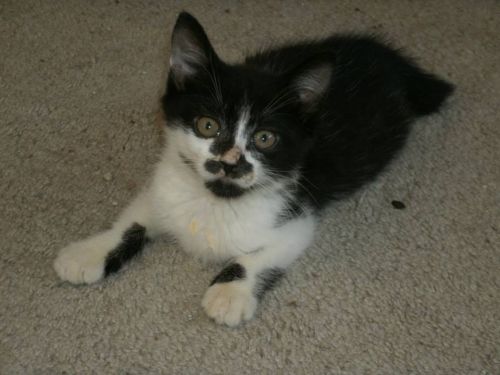 Spay/Neuter Clinics
In conjunction with the Ocean County Health Dept. and Jersey Shore Animal Center, The Volunteer Auxiliary for Animal Shelters, Inc. is offering spay/neuter clinics. The cost will be only $45 for cats and $60 for dogs (dogs must be under 40 pounds). There are income restrictions, so call our facility at 732-657-8086 for details and appointments. Our next clinics are scheduled for 2013. April 15th is the first one. Appointments will be taken 2 weeks prior to each clinic date. .
---
Volunteers:
Foster families for cats and kittens and Petsmart adoption volunteers are currently needed. Please contact Kathy at volaux@yahoo.com for more information. Dog walkers/fosters very much needed!!! Please contact Pat at mygoldens@verizon.net
Volunteer Meeting
Who We Are
The Volunteer Auxiliary For Animal Shelters, Inc. is a non-profit organization run solely by dedicated volunteers committed to helping shelter animals. We work with the Ocean County Animal Shelter (North) located in Jackson, NJ. We help by evaluating the animals and assisting with adoptions and finance medical treatment. A large part of our adoptions are done at off-site locations, staffed solely by volunteers. These locations have enabled us to place many animals in loving homes. If you are interested in volunteering, please call 732-341-9959 and leave a message. If you would like to make a donation, we are a 501(c) 3 corporation and listed as a charitable organization. Your donation is tax deductable. Please address your donation to The Volunteer Auxiliary PO Box 1432. Jackson New Jersey 08527. Your donations give sick, injured and homeless animals a chance. Please donate Kitten milk replacement such as KMR and Kuranda beds for cats.
Off-Site Adoptions
Petsmart has graciously provided us a room to house cats that we have for adoption. While the cats can be viewed during store hours and applications may be left at anytime, most adoptions are done on Saturdays and Sundays. However, appointments may be arranged during the week. Our store is the Petsmart on Hooper Ave in Toms River in the Toys R Us plaza. Adoption hours are 10 - 2 on Saturday & 11 - 3 on Sunday. .
Dog Adoptions: Weather permitting, look for our mobile adoption unit, see below for weekend locations.
---
Upcoming Events

Dog Adoptions: Weather permitting, look for our mobile adoption unit at the following events: Unless there's a conflict with the above events our normal off-site dogs adoptions are at:
PetSmart on Hooper Ave. in Toms River - Check out our fb page for details!
Also visit us:

---
Help For Dog Problems
If you have problems with a dog adopted from us or the Ocean County Animal Facility - North, you can contact us for advice. This service is provided free of charge for as long as you own the dog.
---
The Volunteer Auxiliary For Animal Shelters Inc.
P.O. Box 1432
Jackson, NJ 08527
Phone: 732-341-9959

Board Members
Florence Essig, Chariman
Andrea Layton, President
Karla Link, Vice President
Jennifer Friedman, Secretary
Alyssa Boffardi, Treasurer
Pat Robertson, Board Member

Virginia Zelevitch, Board Member
Email: volaux@yahoo.com
Click here for a list of pets at this shelter

---

[Home] [Information] [Shelters] [Search]