Libby's Haven for Senior Canines
---
| | |
| --- | --- |
| | We have chosen Kuranda dog beds for our dogs in foster care because they are so good for our dogs. We still don't have enough for all of our resident doggies. If you would like to donate a bed so another dog can sleep in proper comfort, please click here. |
NEED SOME TRAINING HELP? Check out this great link...
---
Our Featured Pet...
Meet Bethany
<!! PLACE "FEATURED PET" TEXT STARTING BELOW THIS LINE. !!> Bethany, a Beagle/Corgi mix is around 9 years old. She is very sweet and quiet and would do best in a quiet, loving household. Small children are not recommended for this older gal. <!! END "FEATURED PET" TEXT ABOVE THIS LINE !!>
---
Click here to see our ADOPTED dogs!
Please visit our main Website at www.lhsk9.org.
NEWS
SINJYN MEMORIAL VET FUND Due to a generous donation by Linda Croniak in loving memory of her beloved dog Sinjyn, we have begun the Sinjyn Memorial Vet Fund. All funds donated to this fund will be used for special needs medical care for the dogs in our program. Our first benefactor was Burton, a 10 year old beagle who required two surgeries for cherry eye, in addition to ear surgery. If you would like to make a donation, you may do so through our PayPal account or send a check to LHSC, PO Box 65, Canterbury, NH 03224. Please mark your donation Sinjyn.
WHO WE ARE
Libby's Haven for Senior Canines is an all-volunteer group dedicated to rehoming and caring for Senior dogs in need. Most of us work full-time jobs. While we try to be prompt with our responses, it may occasionally take several days to return e-mails and/or phone calls. E-mail is generally the most efficient way to contact us. Thank you for your patience. Our Seniors are shelter rescues and owner-surrendered dogs with much to offer. We provide *all* needed veterinary care for dogs who come into our program. Dogs are current on vaccinations (DHLPP/rabies), spayed or neutered, heartworm negative and on heartworm preventative medicine when they are adopted. Libby's Haven is not a shelter facility; our dogs live in homes with loving foster families while awaiting that special home of their own. Libby's Haven for Senior Canines strives to give *all* Seniors the opportunity to live out their golden years being cozy, safe, and loved.
OUR INSPIRATION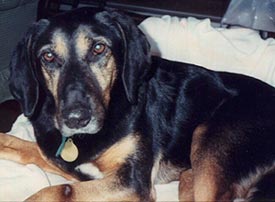 LIBBY'S STORY, by Melissa Dudley, founder of LHSC: Liberty a/k/a "Libby" was my soul dog and inspiration for Libby's Haven for Senior Canines. Libby was a 12 year old, Coonhound/Doberman, and here's her story as I know it... It began in May of 1990, when she and approximately 90 other dogs and other animals were seized from a home in Hartland, Vermont, where they were housed in cramped and unsanitary conditions. The owners were charged with neglect/cruelty and it took over a year and a half for their cases to make it through the court system. In the meantime, the dogs were distributed to various humane societies in Vermont and New Hampshire. I met Liberty several months after her arrival at the New Hampshire Humane Society while searching for a "younger" dog. Her charm and that of the eight other middle aged dogs and seniors that came from Hartland, began my serious commitment to animal welfare. I began weekly visits to walk and spend time with these special dogs who were available for foster care but often overlooked because of their age. Liberty began with weekend visits to my house - I'd pick her up on Saturday afternoons after adoption hours and the shelter manager who lived nearby would pick her up Monday mornings to begin another week of hoping for that loving retirement home. Liberty began to get depressed and so after a week-long holiday visit, in January of 1992, sweet Libby came to live with me permanently, where she joined 3 other dogs, cats, rabbits and a horse. Libby was the light of my life for the five years that she lived with me - many thought she would only last a year or two when I adopted her. But once away from shelter life, she blossomed. That's not to say we didn't have our issues, like separation anxiety, but over time that worked itself out. Click on "Libby" on our pet list - as you can see from her picture, Liberty still had the spunk for a good game of fetch. Her very favorite thing was to go for a ride in the front seat of the truck. Sadly, on July 15, 1997, the ravages of old age/arthritis made it necessary to ease Liberty's pain and send her over the Rainbow Bridge to a pain-free place to romp. We sent her peacefully in her favorite place, the front seat of the truck. She is greatly missed. It was only this past year (2003) that the other friends she joined in 1992 went to meet her at the Rainbow Bridge. The joys of unconditional love that come from sharing your life, heart and home with a senior dog are beyond words - I urge you to consider this and adopt a senior. They will light up your life!
Adoption Process
Applicants from NH and surrounding states are welcomed (VT, MA, CT, ME). Our application process helps us to determine if a dog and a prospective family or individual are suited to one another. We care about making the best possible matches between dogs and prospective adopters. The process may seem involved, but the gratitude and love you will receive from your rescued companion is ample compensation.
Libby's Haven requires:
1 – A written application (may be e-mailed).
2 – Personal and veterinarian references.
3 – A phone conversation with a Libby's Haven adoption counselor.
4 – A home visit from a Libby's Haven volunteer prior to final adoption.
We only schedule meetings between prospective adopters and dogs in their foster homes after these steps have been completed. We also attend area adoption events with our Senior dogs and we encourage interested folks to meet Libby's Haven dogs at these events. Prospective adopters do not need to have gone through our application process to meet our Seniors at the various adoption events! You can check our web site at www.lhsk9.org to see what events we will be attending. When you adopt a Libby's Haven dog, we ask you to pay an adoption fee; these fees cover a portion of veterinary expenses and help to make our continuing rescue work possible. After you bring your dog home, you are encouraged to keep in touch with us for advice or just to check in regarding your dog. If you are interested in applying to adopt a wonderful Senior dog from Libby's Haven, please do not hesitate to contact lhsk9@comcast.net with any questions and/or to request an application.
How to Help!
We are always in need of dedicated, compassionate volunteers to help us in our rescue efforts. We need assistance with fostering, transportation, processing applications and fundraising. Please contact lhsk9@comcast.net if you are able to help out! Our wish list includes towels, blankets and other crate bedding, collars/leashes, nylabones, chew/squeak toys, business envelopes, stamps, Heartgard Plus monthly chewables, and flea and tick preventative (topical, like Frontline). Contact us at lhsk9@comcast.net if you have any items you'd like to donate - the Seniors appreciate your kindness!
---

LIBBY'S HAVEN FOR SENIOR CANINES
PO Box 65
Canterbury, NH 03224
Phone: 603-783-9416

Email: lhsk9@comcast.net
Click here for a list of pets at Libby's Haven!

---

[Home] [Information] [Shelters] [Search]