Tailless Cat Rescue
---
Our Featured Pet...
&nbsp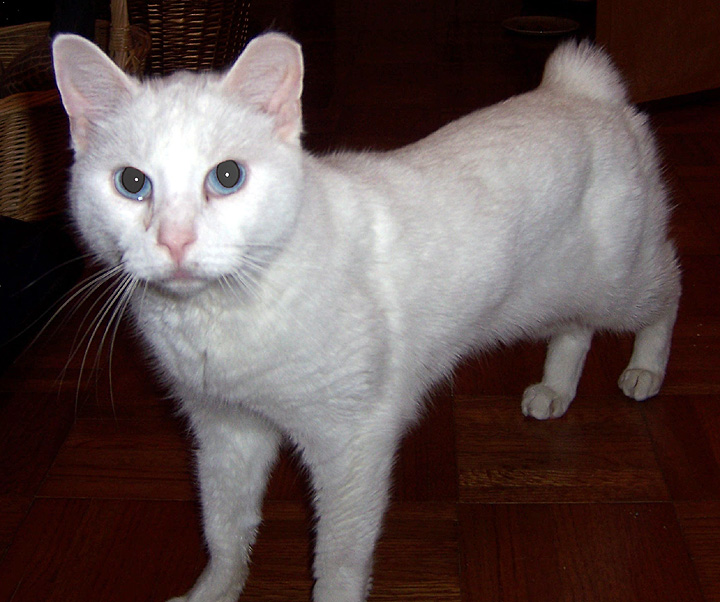 Just look at those eyes! Have you ever seen such a beautiful blue, like living topaz gemstones! They practically glow against that gorgeous white coat. Thunder owes them to the Siamese side of his family tree. The other side of Thunder's heritage is Manx and he is considered a "stumpy" due to his short stub of a tail.
If you're looking for a snuggly lap cat, then Thunder is definitely the fellow for you! Even though he tends to be shy around strange people, we've found that a little patience and a warm lap can soon win him over. He also LOVES to be petted and that's when you'll discover that his fur is as soft as a bunny rabbit's. At bedtime in his foster home Thunder likes to sleep on the end of the bed and sometimes on one of the cat shelves or cat trees.
Born around August 2008 Thunder is at an age I consider near perfect - past all the destructive kitten craziness, but still active and with many years of affectionate companionship to offer. In fact, Thunder does like to play and has a special fondness for soft toys that can be easily carried, toys like feathers and cloth mice and the like.
Thunder lived in the same home from tiny kittenhood until he lost his home at age 4 when his male owner died and the woman lost the home to foreclosure. So it takes a while for him to adapt to new places and situations. Thanks to his gentle and shy nature Thunder will do best in a quiet home with a patient and loving caregiver who will allow him the time he needs to become comfortable and confident in his new surroundings.
Thunder is vaccinated, vetted, wormed, neutered and microchipped. He is FeLV/FIV and heartworm negative and has had his teeth cleaned. He does have a heart murmur, but this is not uncommon and it did not present a problem when he needed to be anesthetized for the dental work. His adoption fee is $100.
Who We Are
Dedicated to finding exceptional homes for exceptional cats
Specializing in Manx, but we'll accept Japanese or American Bobtails and Pixie-bobs
In 1995 my neighbor's Manx cat had kittens. There was a tiny runt in the litter that wasn't expected to survive. I was there when the kittens were born, and I volunteered to provide a home for the runt if she made it. That was Misty, and the beginning of my love for the Manx breed. After several years of rescuing Manx and other tailless cats through all breed rescues, in 2006 I decided to start my own rescue and TCR was born.
TCR is run entirely out of foster homes. So the number of cats we can take at a time is limited to the space we have. We also have to respect NC law which limits the number of animals that can be fostered at a time. And we will only have as many cats as we can afford to care for at one time.
TCR is all about the cats. The rescue is based on the highest standards of honesty, ethics, and care for the cats in our program. Our motto is "Dedicated to finding exceptional homes for exceptional cats". And Manx and other tailless breeds really have exceptional personalities and deserve the best homes possible.
Most of the cats come from animal shelters or pounds where they have run out of time and are going to be euthanized. We generally don't take owner surrendered cats. We believe that once you make a commitment to a cat, it should be for a lifetime. We will assist owners in how to find homes for their cats if they can no longer keep them, and will provide access to expert advice on solving behavioral or health problems so that it is more likely they can stay in their homes.
Adopting a friend
Adoption fees are approximately equal to the basic vet costs required to get that cat ready for adoption, and will be listed on the individual page for each pet. We do have an adoption contract, and a vet reference and home check are required. The contract can be viewed on our website at www.taillesscatrescue.com
---
Tailless Cat Rescue

Liberty, NC 27298
Email: taillesscatrescue@hotmail.com

Click here for a list of pets at this shelter
---

[Home] [Information] [Shelters] [Search]