Humane Society of Eastern Carolina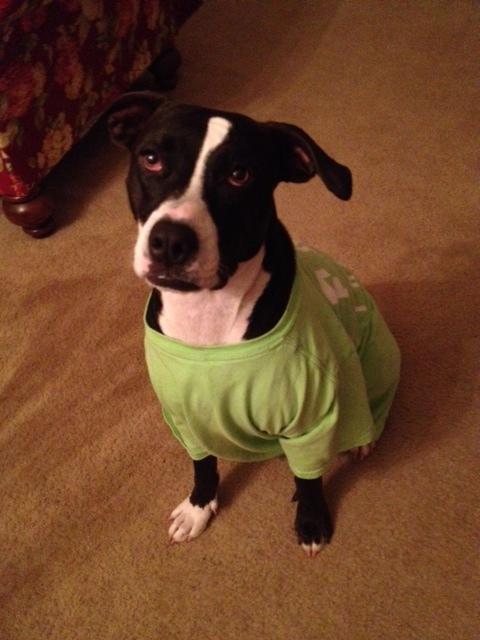 ---
The Humane Society of Eastern Carolina will be at PETsMART showcasing our adoptable cats and kittens from February 11 - 24, 2013. Check further down the page for specific times.
New Fundraising Events:
Get all the details by visiting us at the Humane Society of Eastern Carolina website!
Kindly note that our website is not updated on a daily basis. Animals that have been adopted are removed weekly. New animals that are available for adoption are added about every 3 weeks. Click here to see our Happy Tails - animals that have gone on to happy loving homes!!
All of our animals are WONDERFUL so please come see us or call if you have your heart set on one particular animal to ensure that they are still at the Humane Society. The exact ages of our animals are not listed in their descriptions, however their general age is noted. The ages are classfied as shown below:

Baby - Under 6 months old

Young - 7 months to 2 years old

Adult - Over 2 years to 7 years old

Senior - Over 7 years old
The exact weight of our dogs and cats are not listed with their descriptions, however their general size (when they reach adulthood) is noted. The sizes for canines are approximate as there is no sure way to tell how big a dog will be upon maturity. They are classified as shown below :

Small - Under 25 pounds

Medium - Between 26 and 59 pounds

Large - Between 60 and 90 pounds

Extra Large - Over 91 pounds
Pet Spotlight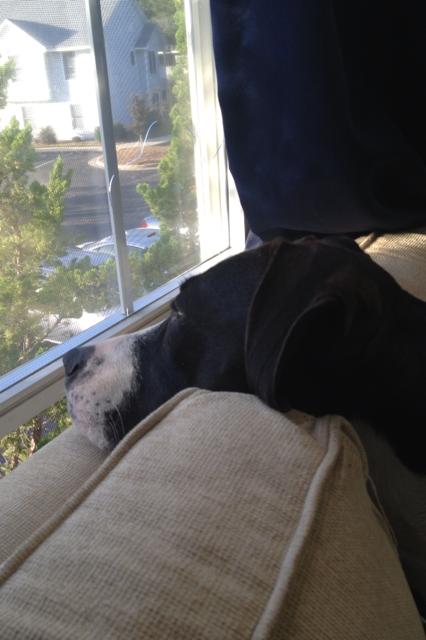 Hadley is a happy go lucky spayed female ABPT mix with lots of love to share with a new family. This gal is a super goofy smile a minute bundle of happy dog. She has never met a stranger and loves everyone she meets! Hadley is a pretty gal with a sleek gray/black coat - it's a little too dark to be called blue - that is soft to the touch. Her face is almost evenly divided by a white blaze. Her white chest and socks round out the look. She is a striking gal!
Hadley is a smart, well behaved girl who is eager to please her humans. In typical bully breed style, she can be a bit too smart for her own good. Bully breeds do well with well defined behavioral guidelines and rewards for good deeds. Hadley quickly learned sit with just a few treats and praise.
We prefer to adopt bully breeds to owners with successful previous bully experience. The adoption process for bully breeds involves a home check, vet check and possible reference check. There are no same day adopted for bully breeds. We want to ensure that Hadley finds the right home and the right family.
UPDATE 9/10 - Hadley is in a private foster home! This is what her foster mom says about her: Hadley is doing great! I am absolutely in love with her, she is such a good dog! She is very smart (we taught her how to shake!) so now whenever she sees you grab a treat she automatically throws her paw out, it's the cutest thing ever. She loves to cuddle and she really loves other dogs and especially enjoys taking trips to the dog park!
Hadley took a few days to get used to being in the house, she still is a little scared of ceiling fans if they are on. She just stares at them and watches them go around and around. It's actually pretty funny to watch, she is completely mystified by them, haha! She also watches TV, I have never seen a dog actually sit there and stare at it for a long period of time like she does. I'm not sure if you have tested her with cats, but there are two outdoor cats that hang around my apartment and she wags her tail when they come around. One of them even will come up and rub against her, and she loves it. I was shocked!
Another thing she loves is tearing all the stuffing out of toys, and then trying to eat it. I have even tried buying the "indestructible" ones, but she still finds a way. All in all, she really is a great dog, I do not see why she has not been adopted after being there so long. We are working on the jumping up issue, but its like she just wants to give everyone hugs!
Hadley is heartworm positive. She is currently on heartworm prevention which not only prevents more heartworms, but it also sterilizes the adult heartworms and kills the baby heartworms, so the cycle is broken. The leading recommendation from the cardiologist at NC State's Veterinary Hospital is to keep a heartworm positive dog on heartworm prevention for one year and then re-test. If the dog tests positive again, you can decide with your veterinarian if treating the heartworms is appropriate. You can read more about heartworms here: http://www.aspca.org/pet-care/dog-care/dog-care-heartworm.aspx http://pets.webmd.com/dogs/guide/heartworms-in-dogs-facts-and-myths
All dogs with the Humane Society of Eastern Carolina are evaluated for temperament, spayed/neutered, up to date on vaccines, dewormed, on heartworm and flea prevention and tested for heartworms if one year or older. Their adoption comes with a bag of Hill's Science Diet and one month free trial of pet health insurance from ShelterCare. All dogs four months or older must leave with a collar with their rabies tag as a form of identification. You can either bring your own collar or purchase a collar (priced $2-$10) from HSEC.
Help an animal in need with just a click!!! Click here to visit the Animal Resuce Site. There is no cost associated with this site. With each "click" corporate and retail sponsors donate food to help needy animals across the country. This can be done one time per day per visitor - so bookmark this page and make it a part of your daily online routine!

Enroll your pet in a Shelter Care insurance program and help the Humane Society raise money for the homeless animals of Pitt County. Pet insurance can help make those hard decisions easier when it comes to your pet's health and well being. The cost is very reasonable and could make a big difference in yours and your pet's life. Click here to enroll your pet today!
Online Shopping Earns $$ for the Humane Society
Support the Humane Society of Eastern just by shopping online for brand-name stuff at over 421 well-known online stores. Get free deals and coupons just by being an iGive.com member. If you join iGive.com and make a purchase within 45 days, iGive.com will donate $5 FREE to your favorite worthy cause!
Join to Support Humane Society of Pitt County. It's FREE, private, & easy. Shop the Mall at iGive.com. You'll see familiar stores like Amazon.com, the Gap, L.L.Bean, Barnes & Noble.com, and CDNow to mention just a few.

Watch the $$ roll in for Humane Society of Pitt County!Up to 26% of EACH purchase gets donated!

Get involved with Six Degrees of Donation. Raise $1 for each new shopper you refer!

Remember, shop within 45 days of joining, and get an extra $5 donation, FREE. (This is a limited time offer!)

GREAT STORES AT THE MALL And just in case you're thinking, oh yeah, who wants to buy something from Never-heard-of-it.com, here are just a few of iGive.com's 421+ stores: Amazon.com, CDNow, Gap, J.Crew, PETsMART, Barnes&Noble, L.L.Bean, Lands' End, Eddie Bauer, JCPenney, Office Depot, Dell, dELiA*s, Spiegel, Drugstore.com, Orvis, Hallmark, Handspring, Chadwick's, and more! JOIN NOW!

Use this link to JOIN FOR FREE and begin supporting Humane Society of Eastern Carolina.
Adopting a Friend from the Humane Society:
Small Breed Puppies and Dogs $160.00

Medium and Large Breed Puppies $120.00

Medium and Large Breed Dogs $100.00

Purebred Dogs and Puppies $160.00

Purebred Cats or Kittens $130.00

Kittens $90.00

Declawed Cats or Kittens $90.00

Cats $70.00
The fee includes worming, heartworm testing/treatment (for dogs), a 4 pound bag of Hill's Science Diet and the spay/neuter. At the time of adoption the animal will be up to date with vaccinations (as age appropriate) and all our animals are spayed or neutered prior to the time of adoption. Vaccinations do vary with the age of the animal. Some vaccinations may be required after adoption which are not included in the adoption fee. For comparison, local vets usually charge between $90-$100 to spay a female cat - so these adoption fees are a real bargin! At the current time we are also offering 1 free month of pet insurance at the time of adoption. The Humane Society also has rabbits for adoption. Fees for rabbits and other less common pets are negotiable at the time of adoption.
Adopting a Friend at PetSmart:
The Humane Society of Eastern Carolina makes adoptions of animals through the Luv-A-Pet Center at PETsMART in Greenville, North Carolina. PETsMART allows our organization to use the space as a part of PETsMART Charities. With every adoption made through the Luv-A-Pet Center, PETsMART gives a free book of cupons to the happy new pet owner. PETsMART stores do not sell dogs or cats because of our nationwide pet-overpopulation problem. All adoptions made through the Luv-A-Pet center will adhere to the same criteria for adoption, adoption contract, fees, and health regulations as those made in the Humane Society of Eastern Carolina shelter. The Humane Society will be at PetSmart from February 11 - 24, 2013. Regular pet adoption hours at the Luv-A-Pet Centernare Monday through Friday weeknights from 5:30 - 8:00 pm, Saturdays from 11:00 am - 5:00 pm, and Sundays from 2:00 - 5:00 pm.
Volunteering - It is so rewarding to be a volunteer and takes so little time.
Orientation for new volunteers is usually held on the second Saturday of the month at 1 pm and the third Wednesday of the month at 3:30 pm. Please call the shelter at 252-413-7247 during working hours to let us know that you are interested in volunteering your time to help the homeless pets of Eastern Carolina.


(1) We are currently in need of volunteers who would be willing to foster abandoned or orphaned bottle fed kittens. Training, food, supplies and medical support for foster kittens is provided by the Humane Society of Eastern Carolina. If you are interested in volunteering your time as a foster parent for abandoned or orphaned kittens, please contact the Humane Society at 252-413-7247.
(2) The Humane Society is also in need of volunteers to help take care of the loving kitties in the Cat Palace on site at the Humane Society. Duties would include cleaning cages, feeding the cats and just giving them love. If you are interested in volunteering your time in this capacity, please call 252-413-7247. Leave a voice mail message with your personal information and someone will get back with you ASAP.
The Humane Society is always looking for capable, dependable volunteers for many other areas. If you are interested in volunteering some time at the Humane Society, please call 252-413-7247. Leave a voice mail message with your personal information and someone will return your call.

Donations
Donations of any amout help these unfortunate and lonely animals find happy homes. Donations should be made to Humane Society of Eastern Carollina. All donations are tax deductable.

Come Visit Us!
We are located in Greenville, North Carolina on Tupper Drive just off of Hwy. 264 East towards Washington (right behind Greenville Marina).
OPERATING HOURS Effective January 1, 2012 - Closed Monday through Thursday, Friday through Sunday 2:00 - 5:00 pm