Paws Rescue


***Please visit our rescue's website at www.pawsrescuepets.org!***
You may donate directly to the Paws Rescue account by clicking this button.
---
Our Featured Dog...Phillip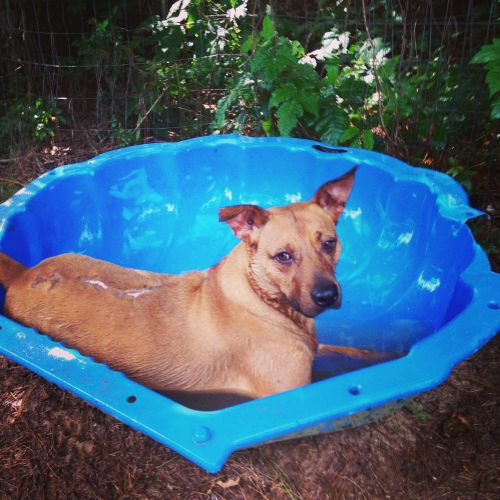 Phillip is an incredible dog with a sad beginning but who has shown remarkable resiliency, love and grace to make a brand new, happy life for himself! Phillip was named after the man who found him at a gas station. Phillip was seriously injured with a severe burn down his back and was simply begging anyone to help him. Our gentleman hero, Phillip, gave him some food but after he left, he just couldn't stop thinking of this poor guy and went back for him and called Paws Rescue for help. Although we never could determine exactly how Phillip came to have the injuries he did, all that really matters is that he was rescued, treated for his injuries and received lots of care, love and attention. He has healed physically and emotionally and is ready for a loving forever home of his very own. Paws Rescue also treated Phillip for heartworms and ensured he was vaccinated and neutered. If you'd like to give Phillip a second chance at love and happiness by providing him with a permanent home, contact Paws Rescue for information about adoption. You may email us at Leigh@pawsrescuepets.org or call 601-529-1535. Phillip's adoption fee is $100 and Paws Rescue conducts veterinarian reference checks and home visits prior to finalizing all adoptions.
Our Featured Cat..Shy
Shy is approximately five months old and she is looking for a forever home!. She loves to play and is beautiful and happy. If you are looking for a new addition to your family, please visit PetSense in Vicksburg to meet Shy and all of our other adorable adoptable felines. Shy has been vaccinated and will be spayed prior to adoption. With an approved application, the adoption fee for Shy is only $25. For more information or an adoption application, contact leigh@pawsrescuepets.org, 601-529-1535 or visit PetSense in Vicksburg.
Upcoming Events
Paws Rescue is celebrating National Feral Cat Day (Oct 16) all month long by offering free and low-cost feline spay-neuter options for those individuals in Vicksburg-Warren County Mississippi who are caring for stray, feral or community cats! If you are taking care of outdoor cats that haven't been fixed, please email us at Leigh@pawsrescuepets.org or call 601-529-1535 for more information!
Save the Date! Paws Rescue's 8th Annual Spooky Pooch Costume Contest is Saturday, Oct. 25! More information coming soon!
Paws Rescue will have its annual garage sale Saturday, Nov 1. If you have items to donate (no clothing, please), give us a call at 601-529-1535 to arrange pick-up!
Paws Rescue's Lifesaving Progress
Paws Rescue is committed to saving as many animal lives as possible by promoting life-long adoptions, maintaining an active volunteer foster program and by implementing strong community spay and neuter programs. Paws Rescue's annual 2014 goals are to spay or neuter 464 cats, 198 dogs and to facilitate at least 121 adoptions. The goals reflect a 10 percent increase over 2013 accomplishments. As of Sept. 30, Paws Rescue spayed or neutered and vaccinated 329 cats and 167 dogs. We are happy to report 108 pets have been adopted, 14 dogs have been treated for heartworms and eight dogs treated for mange. Paws Rescue is a 501c3 non-profit and an accredited Better Business Bureau Charity.
Thanks and Appreciation
Paws Rescue is providing high-quality, free spay/neuter services for homeless cats and kittens living in Vicksburg-Warren County, Mississippi. To humanely manage feral cat populations in the community, Paws Rescue will provide free spay/neuter surgeries and rabies vaccinations for 300 feral and stray felines over the next year, thanks to a grant from PetSmart Charities (www.petsmartcharities.org/). We're on our way to making Vicksburg-Warren County a place where no more unwanted kittens are born and ultimately euthanized. Call us today at 601-529-1535 or email Leigh@pawsrescupets.org to make an appointment to get the stray and feral cats you are feeding and caring for fixed.
Thanks to a generous grant from the the Mississippi "I Care for Animals" Car Tag program, Paws Rescue is continuing its Community Canine Neuter program by providing reduced spay/neuter services for dogs owned by Vicksburg-Warren County residents who are senior citizens, disabled or on a fixed income. If you have a dog that needs to be fixed, call us today at 601-529-1535 or email Leigh@pawsrescupets.org to make an appointment to get your dog spayed or neutered. Do the right thing and have your pet fixed -- it saves lives!
Paws Rescue depends upon its volunteers, foster homes, feral colony caretakers and financial donors to continue its mission of rescuing, providing medical care and finding forever homes for our communities homeless animals. Thanks to all of the wonderful individuals and business who contribute each month with financial or food donations!
Homes Urgently Needed for Barn Cats!
A feral cat will keep your barn rodent free for the price of daily cat food, and you'll be helping to save a life! We have several beautiful, healthy, neutered and vaccinated feral cats that are looking for outdoor homes with a barn, shed, or other shelter. If you would like to adopt a barn cat (or several) e-mail us at pawsrescuepets@gmail.com or call 601-529-1535.
News
Paws Rescue asks you to help stop Mississippi's pet overpopulation by purchasing an "I Care for Animals" license plate. A portion of the fee from this this specialty plate will be sent to rescue's and shelters throughout Mississippi to help spay, neuter and care for homeless animals.
Opt to Adopt! -- Please adopt a rescued dog or cat from a rescue, shelter or pound instead of purchasing an animal from a pet store. You save the life of a homeless animal while at the same time sending a strong message to the the horrible puppy mills that you do NOT support their actions!
Keep your pets safe! Be sure all pets are wearing current identification tags and consider microchipping your pet for easy and permanent identification.
According to a recent study conducted by the Humane Society of the United States, in Mississippi more than 109,000 homeless animals enter shelters each year and of these 73,000 are killed because of a lack of adoptive homes. Please keep your pets from contributing to the problem! If you need to spay or neuter your pet cat or dog, contact Mississippi SPay and Neuter (MS SPAN) toll free to learn about its voucher program and its Big Fix Clinic located at 2104 Old Brandon Road, Pearl, MS. MS SPAN offers low-cost spay or neuter service for both dogs and cats. Please phone 1-866-901-7729 to make an appointment to have your pet fixed. Clinic hours are 7:30 a.m. until 6 p.m. Wednesday through Saturday. Have a heart and do your part to stop animal over population in Mississippi! Have your dogs and cats spayed or neutered today!
Paws Rescue is a network of volunteer foster homes, not a shelter. The more volunteer foster homes, the more animals we can save. If you live in the Vicksburg area and are interested in fostering a dog or cat, please contact Paws Rescue at 601-529-1535 for more information.
Paws Rescue is committed to assisting any dog or cat in need and does not concentrate on rescuing any one particular animal breed. There are always many wonderful mixed-breed dogs of all sizes and personalities and both long-hair and short-hair adorable cats of all colors available for adoption through Paws Rescue. All pets are spayed or neutered, vaccinated and treated for any illnesses or injuries before placed into their forever homes.
If you live in Vicksburg or Warren County and are feeding stray or feral cats that need to be spayed or neutered, contact Paws Rescue for assistance at Leigh@pawsrescuepets.org Additionally, if you can support Paws Rescue's efforts to humanely care for feral and stray cats by providing a bag of cat food each month, please contact Leigh at 601-529-1535.
Our Needs
Dry Cat Food
Volunteers to help socialize rescued pets
Volunteers to help with fundraising events
Volunteers to assist with pet transportation
Foster Homes for Dogs, Cats and Kittens!
Heartguard or Interceptor for all sizes of dogs
Frontline Flea and Tick medication (all sizes)
Cat carriers and humane live traps for TNR program