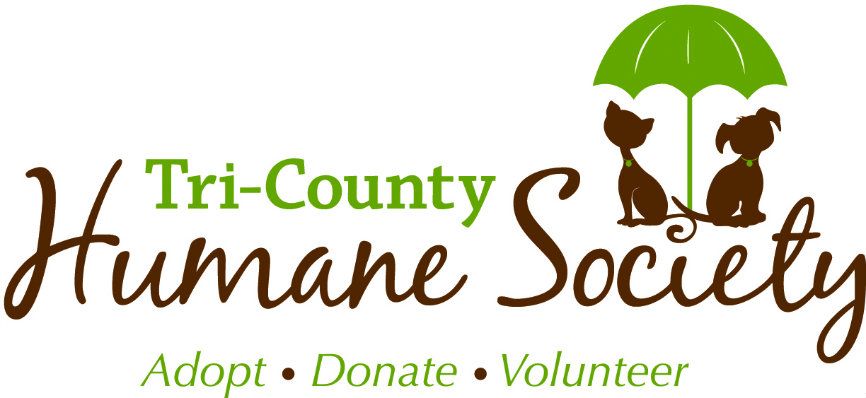 Our Adoptable Pet List
Tri-County Humane Society website.
Wine, Kibbles & Bids
April 25, 2014

Flower orders and payment must be received by April 14th.
Call the number above to order by phone or print an order form from the link to the right and mail payment to:

TRI-COUNTY HUMANE SOCIETY
P.O. BOX 701 ST CLOUD, MN 56302

*Limited delivery to places of business only in St. Cloud, Sartell, Sauk Rapids, Waite Park and St. Joseph. Feel free to send flowers to family, friends or loved ones on this day as well co-workers!

Click HERE to purchase Wine, Kibbles & Bids tickets or call
(320) 252-0896.

SILENT AUCTION ITEMS NEEDED!


We are looking for a variety of items for our silent auction, such as:

Handmade Quilts, Jewelry, Art, Pottery, Framed Prints, Photography Packages,

Season Tickets to Sports Games, Weekend Resort Packages, Theater Tickets, Fun Themed Baskets,

Wine Baskets, Beer Baskets, Dog/Cat Baskets, Etc…

CLICK HERE FOR SILENT AUCTION DONATION FORM. HELP US SPREAD THE WORD!

Invite guests by sharing this event on

Facebook! ************************* FLOWER DELIVERY FUNDRAISER FOR ANIMALS FOR ADMINISTRATIVE PROFESSIONAL'S DAY - APRIL 23
CLICK HERE FOR A FLOWER ORDER FORM.

Back by popular demand (and because it makes our shelter smell so good for one blissful day every year!), we will be offering a flower delivery service to benefit the animals in our care! For only $15, show someone in the work place you appreciate them by ordering a decorated vase with two roses and greens to be delivered the morning of April 23rd.
CURRENT NEEDS:
Cat Litter

Canned Dog/Cat Food

Dry Cat/Kitten/Dog/Puppy Food

Laundry, Dish & Hand Soap

Newspaper
*We are also in need of volunteers at the shelter and our For Pets' Sake Thrift Store.
For more information, Click Here.

Who We Are:
The Tri-County Humane Society is an independent, nonprofit animal shelter in Central Minnesota, offering adoption and surrender services as well as humane education programs.

Current Adoption Promotions:
Cats 6 months and up: Name Your Own Price!
Cats 2 years and up: FREE to seniors, veterans, and military personnel!

Come Visit Us!
Shelter Hours:
Monday - Thursday 12-6pm
Friday 12-8pm
Saturday 11-5pm
Sunday 12-5pm

Shelter Location:
735 8th St NE
St. Cloud, MN 56304

Directions:
The Tri-County Humane Society is located in St. Cloud, MN on the corner of 8th Street NE and Franklin Avenue, which is a service road that runs parallel to Hiqhway 10. Access to Franklin Avenue can be made at the intersection of Highway 10 and East St. Germain Street. Turn behind the BP gas station and follow Franklin Avenue for about half a mile. We are located on the left hand side of the road.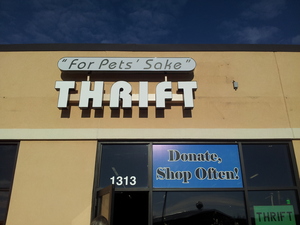 For Pet's Sake Thrift Store:
The Tri-County Humane Society now has a thrift store to help generate revenue for homeless animals! We know it may be difficult to contribute money on a regular basis. Now your gently used items are another way to help the animals! We will happily accept the donations of new or gently used merchandise, and all donations are tax deductible. Donations must be in clean and reusable condition. If you wouldn't give it to a friend, please do not give it to us.


Acceptable Donations Include:
Accessories, Antiques, Books, Clothing, Collectibles, Crafts, Footwear, Furniture (small), Jewelry, Knickknacks, Linens, Media, Seasonal Merchandise, Toys

We Do Not Accept:
Appliances, Baby Equipment, Bed Pillows, Broken Items, Electronics, Excersize Equipment, Items with Smoke Odor or Mold, Mattresses, Opened Lotions/Soaps/Cosmetics, Rusty or Dangerous Items, Stained Clothing
Thrift Store Location:
1313 2nd Street S
Waite Park, MN 56387
(Next to the MN School of Business)

Thrift Store Phone:
(320) 253-5458

Thrift Store Hours:
Monday - Saturday 10-6pm
Sundays 12-5pm

*Volunteers needed at our thrift store! Contact Kim at (320) 252-0896 if you are interested in helping out!