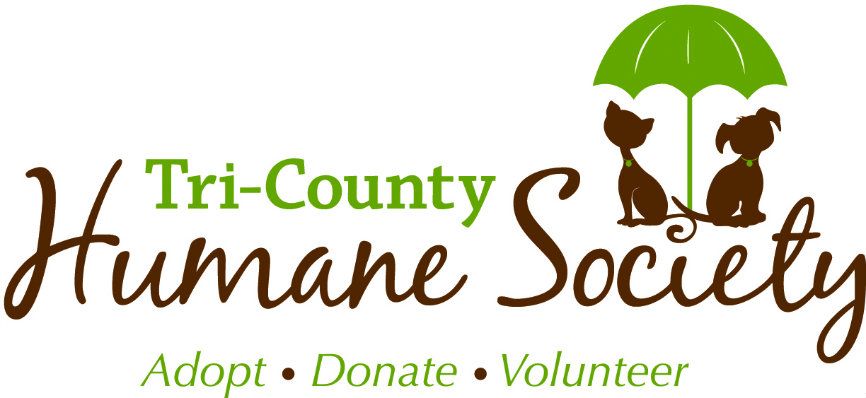 Our Adoptable Pet List
Tri-County Humane Society website.
Tri-County Humane Society - St. Cloud, MN

26th Annual Woofstock Companion Walk a Success!


Thank you to all who contributed and/or participated in our 5k Companion Walk for animals on September 13th! Over 525 people and around 260 pets joined us on this beautiful, cool Fall day - perfect dog walking weather, but perhaps a little chilly for those who braved the dunk tank! The costume contest and the annual hot dog eating contest made for some GREAT entertainment! There were also tons of prizes, freebies and entertainment, thanks to the following event sponsors and/or exhibitors: About A Dog Photography, Advanced Care Pet Hospital, Affiliated Emergency Veterinary Services, Banfield Pet Hospital, Beste & Associates, Canine Agility of Central MN, Companions Animal Hospital, Country Gallery Photography, Geyer Rental, Granite City Pet Hospital, Knotty Paws Grooming, Mix 94.9, MN Voters For Animal Protection, Pine Cone Pet Hospital, Pine Grove Zoo, Rasmussen College, STCLOUDDJ.COM, Subway, and The Pet Nanny of St. Cloud.

Thanks to donations from Super America, Bernatello's Pizza, Coborn's, Apperts, Daddio's BBQ & Catering, SpartanNash, Finken Water, and Alexandra Hoese, there was plenty of food and drink for all. Also, special thanks to the 97 volunteers who put in a total of 462 hours setting up and working the event.

We raised a record grand total of

$53,864

for the animals! Great job everyone, and

THANK YOU!





Kittens under 6 months: Adopt 2 for the Price of 1

Cats 6 months and up: Name Your Own Price

Cats 2 years and up: FREE to Senior Citizens, Veterans, & Active Duty Military Personnel

CURRENT NEEDS:




FOR PETS' SAKE THRIFT STORE IS CLOSING ON OCTOBER 15!

After much deliberation, we have decided to close our thrift store. It is simply not adding to our revenue to further help our mission for animals as we had hoped it would. Help us go out with a bang (and a bark!) Keep donating and shop often until we close!

For Pets' Sake Thrift Store is located at 1313 2nd Street South, Waite Park, MN 56387 (Next to the Minnesota School of Business.)


THRIFT STORE CLOSING SALES:

October 8-15:

75% OFF

ENTIRE PURCHASE!

Online Auction for Store Fixtures:

We will be selling all of our fixtures, book cases and clothing racks in an online auction via our Facebook page. If you are interested in any items and have access to Facebook, visit: https://www.facebook.com/ForPetsSakeThriftStore?ref=hl. Photos of each item will be posted by this Friday, October 3rd. The online auction will close at 4pm on Friday, October 17th, in which the person with the highest bid will have until Wednesday, October 22nd to purchase and pick up the items. If you do not have access to Facebook or have any questions, contact: Marit Ortega, (320) 252-0896 ext. 14.
CURRENT NEEDS:
Cat Litter

Canned Dog/Cat Food

Dry Cat/Kitten/Dog/Puppy Food

Laundry, Dish & Hand Soap

Newspaper
*We are also in need of volunteers at the shelter and our For Pets' Sake Thrift Store.
For more information, Click Here.

Who We Are:
The Tri-County Humane Society is an independent, nonprofit animal shelter in Central Minnesota, offering adoption and surrender services as well as humane education programs.

Current Adoption Promotions:
Cats 6 months and up: Name Your Own Price!
Cats 2 years and up: FREE to seniors, veterans, and military personnel!

Come Visit Us!
Shelter Hours:
Monday - Thursday 12-6pm
Friday 12-8pm
Saturday 11-5pm
Sunday 12-5pm

Shelter Location:
735 8th St NE
St. Cloud, MN 56304

Directions:
The Tri-County Humane Society is located in St. Cloud, MN on the corner of 8th Street NE and Franklin Avenue, which is a service road that runs parallel to Hiqhway 10. Access to Franklin Avenue can be made at the intersection of Highway 10 and East St. Germain Street. Turn behind the BP gas station and follow Franklin Avenue for about half a mile. We are located on the left hand side of the road.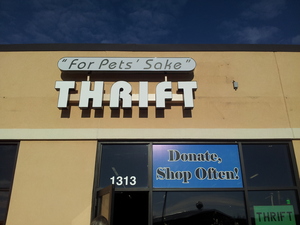 For Pet's Sake Thrift Store:
The Tri-County Humane Society now has a thrift store to help generate revenue for homeless animals! We know it may be difficult to contribute money on a regular basis. Now your gently used items are another way to help the animals! We will happily accept the donations of new or gently used merchandise, and all donations are tax deductible. Donations must be in clean and reusable condition. If you wouldn't give it to a friend, please do not give it to us.


Acceptable Donations Include:
Accessories, Antiques, Books, Clothing, Collectibles, Crafts, Footwear, Furniture (small), Jewelry, Knickknacks, Linens, Media, Seasonal Merchandise, Toys

We Do Not Accept:
Appliances, Baby Equipment, Bed Pillows, Broken Items, Electronics, Excersize Equipment, Items with Smoke Odor or Mold, Mattresses, Opened Lotions/Soaps/Cosmetics, Rusty or Dangerous Items, Stained Clothing
Thrift Store Location:
1313 2nd Street S
Waite Park, MN 56387
(Next to the MN School of Business)

Thrift Store Phone:
(320) 253-5458

Thrift Store Hours:
Monday - Saturday 10-6pm
Sundays 12-5pm

*Volunteers needed at our thrift store! Contact Kim at (320) 252-0896 if you are interested in helping out!