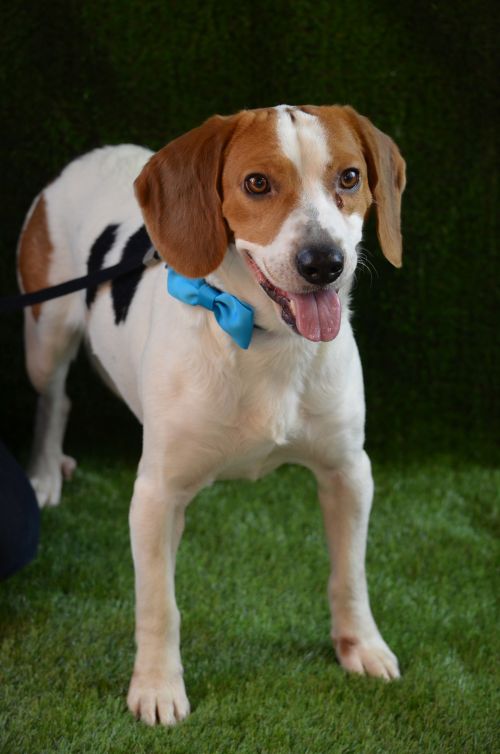 Asher is a shy, but sweet, silly hound/beagle mix. This boy is all about the snuggling. Asher is a tremendously soft and pettable pooch who is approximately two years old and 35 pounds. While Asher is overall a very mellow dog that needs a gentle hand, he can also be quite playful and enjoys spending a good deal of time outdoors. He does very well in a fenced-in yard, but does need to be leashed when out and about, otherwise his exploratory nature gets the best of him. Asher is fully housebroken and is not destructive in any way. He can be trusted when alone and does not need to be crated during the day or at night. He loves to snuggle up in bed and sleeps very well all night long. Given Asher's nature, he will do best in a home without young children as loud noises and sudden movements do tend to scare him. However, he will make a warm and tender companion in the right home. He lives and plays well with other dogs, but would also do fine as a solo pet.
If you are interested in meeting Asher please fill out the pre-adoption application on our website at www.safehandsrescue.org under Adopt and we will get back to you to arrange a meeting in the foster home.
The Adopt A Pet Shop
1115 Vicksburg Lane North #8
Plymouth,
SUNDAY September 21st, 2014 from 12-2pm
Fetch Delivers Warehouse
783 Harding Ave NE
Minneapolis, MN 55413
Who We Are
Safe Hands Animal Rescue is dedicated to saving lives and finding forever homes for stray, abandoned and surrendered dogs in high kill shelters. We are now incorporated and are preparing our 501(c)3 application. Of great importance to us is to reduce the stray population and need for healthy animal euthanasia through spay/neuter programs, education, and promotion of respect for the furry creatures that share our lives

We are a small, no-kill, volunteer run organization. All of our dogs listed are in foster homes waiting to be adopted and because of this, we get to know the dogs' personalities very well and use this information to match them to an appropriate home. We do not have a physical shelter. This rescue is not funded by public funds nor does it receive many donations so it is dependent on adoption fees to keep operating. We have a great need for foster homes. If you are interested in providing foster care, and live within an hour of the Twin Cities, please e-mail us

Donations ALWAYS needed are: dog toys, (especially Kongs and Nylabones of all sizes) puppy pee pads, Nutrisource brand puppy and dog food, Lysol disinfecting wipes, paper towels, large clean towels, dog crates, leashes, collars, especially very small puppy collars and gas cards to help with our transports.
Adopting a friend
We only adopt out animals to homes within 60 miles of the Twin Cities. Our adoption process begins with the return of our pre-adoption form, available upon request or on our website. After reviewing your application a meeting is scheduled between you and the pup, sometimes in the fosters home, a neutral dog friendly place or at our Meet & Greet events held twice a month. If any resident dogs are in your home, it is recommended that the pups meet at this time. After the meeting a home visit is scheduled and if everything goes well with the visit the adoption is finalized at that time. A home visit by one of Safe Hands representitives is REQUIRED prior to finalizing any adoption and we must meet all members of the household where the pup will be living sometime during the adoption process. We reserve the right to refuse any applicant for any reason

Adoption fees vary and cover the cost of vetting for the animal. The fee includes vet exam(s) , spay/neuter, de-wormings, Revolution, Capstar and up-to-date vaccinations. We feel strongly that spay and neuter is the only answer to stopping animal overpopulation, therefore, no adoptions are finalized until after the spay or neuter. NO exceptions.
Come Visit Us!
If you're interested in one of our great pups please fill out our online pre-adoption application on our website at www.SafeHandsRescue.org We also have adoption events twice a month at various locations in the Twin Cities.
---
Safe Hands Animal Rescue

P.O. Box 19623
Minneapolis, MN 55419-0623

Email: safehandsapp@gmail.com

Click here for a list of pets in this rescue
---

[Home] [Information] [Shelters] [Search]