Heaven Can Wait Animal Haven
Contact information: P.O. Box 23 Ferrysburg, MI 49409
Phone: 231-737-5644
Email: heavencanwaitmuskegon@gmail.com
Saving lives through spay and neuter!!

ADOPTION DAYS
Visit us at Petco (5239 Harvey St.) Friday, Saturday and Sunday from 12-5 to find the furry love of your life. We offer a special price when adopting two cats instead of one. "Two kitties for $125" is a terrific deal. If you have room in your home for one, that's great... and if you have room for two, that's even better. Please come and see our wonderful cats and kittens!
Friend us on Facebook to keep track of what's new and exciting at HCW. Plus view a steady stream of adorable photos and hear about our animal updates!
Facebook!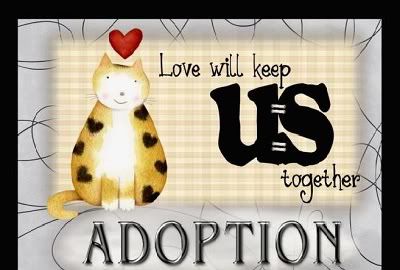 "All You Need Is Love."
VOLUNTEER OPPORTUNITIES
Heaven Can Wait is in need of volunteers to answer phones, help with adoption events, organize fundraisers, et cetera. If you are interested in making a difference in the welfare of cats and dogs, please call us at 231-737-5644 ext 4 and leave a message or visit Our Website and click on the volunteering tab to fill out our volunteer form online. We will happily get back to you. Remember, the rewards of helping care for animals are tremendous!
"Take a sad song and make it better..."
As you may or may not know, "kitten season" is here. Kitten season is the time of year when cats give birth; flooding shelters across the country with homeless litters. It starts in the spring, peaking in late spring and summer, and concludes in fall. Many will have no option but to deliver their kittens outside, in the blowing cold and snow, in the drenching rain, or in a fire pit or brush pile. While the perfect solution to this problem would have been to previously gotten them spayed, the fact is that it HAS happened and now we must help them.
The phone calls are coming in EVERY DAY from people desperate for an alternative to taking these animals to a shelter. Tragically, shelters often have no choice but to euthanize moms and their babies right on the spot due to overcrowding. At present, our best solution is to find a proper foster home to provide a warm and safe place to allow the mama to nurse her little ones until adoption time. We believe in pre-adoption spay and neuter (as young as 10 to 12 weeks old), so this never happens again.
Thus, we are looking for loving foster homes……. temporary shelter for a mama and her babies. If you simply cannot take on this responsibility right now, please consider sponsoring the spay/neuter of one homeless cat. The cost is $35.00 for a male and $45.00 for a female. The benefits of one spay/neuter has a lifelong, lasting effect-- preventing that cat from producing a litter that would go on to multiply and multiply and multiply. This also prevents tragic euthanasia. Please contact us at 231-737-5644 to sponsor or just to learn more
IF DREAMS CAME TRUE...
If dreams really did come true, this would be our dream. We stumbled across this shelter called The Cat House on the Kings while voting in a "best shelter contest." This place was getting the number one vote in the state of California and likely fifth in the nation. It had such a unique and interesting sounding name, we just had to find out more about it. Upon visiting their website and finding this YouTube video, we were introduced to the coolest place on earth for cats!! Check it out!!! Screenwriter and director, Jack Perez, produced an amazing video about the operator of the shelter, Lynea Lattanzio. What do you think?
Click on this link http://www.youtube.com/watch?v=vwM6f0liHpo and enjoy.
Adoption