Humane Society of Branch County
---
Our Featured Pet...
| | |
| --- | --- |
| | My name is Jasmen and I live here at the Humane Society of Branch County. The food's good here and I have plenty of friends to talk to but it's just not the same as having a forever home with a loving family. I've been here for a while and have seen other dogs come and go. Someday it'll be my turn. I'm looking forward to going for walks, going on trips or just laying around and watching TV with my future human pets. Please drop by and get to know me. I've been waiting all my life for that one special visit.--------- Seriously folks, Jasmen is a great animal. For the life of me I just can't figure out why she hasn't found a family yet. It might be because the frosting on her muzzle makes her look older than she really is. Jasmen is a good dog who deserves a fair shake.UPDATE----Jasmen has been adopted out to a loving family!!!! What great news. Please consider making one of our other pets just as lucky as Jasmen. They'd love you forever for doing it. |
One of Our Success Stories...
| | |
| --- | --- |
| | I met Shennah when she was first brought to the shelter. You could tell she was a well kept pet who was really missing her owner. Being on the mature side--11 years old-- I knew she would most probably have a hard time finding a home. Then one day a lady from the Detroit area called about her. She had found out about Shennah on the PetFinder website by doing a search for Norwegian Elkhounds. Shennah is now a happy member of this woman's family. She has a loving and caring home in which to live out her remaining years. |
News----Please contact the shelter for dates and times of events if not listed


Camden Car Club Supports Shelter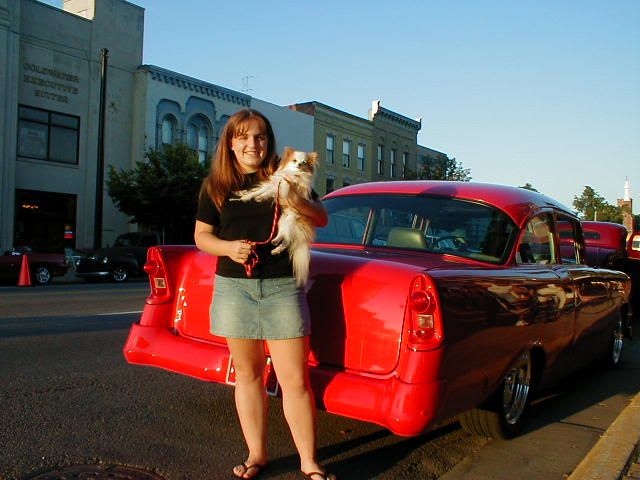 On the 1st Tuesday of the month, May through October 12, you could find beautiful classic cars rolling into Camden. Directed by Jim and Meg Hefner, it is like taking a ride back in time.
The members and their guests enjoy a night of fun and conversation. The car cruise also made a trip to the shelter again this year with 28 cars in attendance. The club generates money from games such as the fan belt toss and the washer toss. $471 was generated on that night alone at the shelter.
On October 15 at the Camden Park a check was presented to Jack Fyfe for an additional $1200.
We are so grateful to the car club for their generosity and support of the shelter.
Big Boy Cruise-In Coldwater MI
Every Monday 6-8 PM
Proceeds to benefit the Humane Society of Branch County
Who We Are
It is our mission to provide humane care and treatment for all animals needing protection in Branch County, to promote enforcement of laws enacted for the protection of all animals, to educate the public regarding animal safety issues, and promote the importance of spaying and neutering to control the unwanted pet population.
The Humane Society of Branch County was organized in 1973 by Debbie Brooks. It was incorporated as a non profit organization in 1974. In 1976, a temporary shelter was set up at Coldwater Lake. That winter the Society sold Christmas trees to raise money for a Mobile Animal Rescue Unit. A donation from George Jewel aided the group's financial goal for a pole building. It opened at the current location in spring 1979. The land was donated by Oral (Bud) & Ida Mae Stetler. As recently as March 2001, the shelter was in danger of closing.
We are a no-kill, non-profit organization. We do not receive any city, county, or state funding. Our facility is run thanks to donations, bequests, grants, fund raising projects and a group of fine dedicated, caring volunteers. Plans are underway for additional building construction to better meet the need for pet housing.
Adopting a friend
Adult Dogs: $150. Spayed/neutered, heartworm tested, booster shots, wormed and flea meds.
Puppies: $200 That comes with an agreement between the family and the shelter that the family will have the puppy spay/neutered when they are old enough to have this done. We have worked out a deal with one of our local vets so the procedure will be paid for by the shelter. So, that is included in the cost of the puppy.
Adult Cats: $30.00. This includes spay/neuter and aids/leukemia test.
Kittens: $55 That comes with an agreement between the family and the shelter that the family will have the kitten spay/neutered when they are old enough to have this done. We have worked out a deal with one of our local vets so the procedure will be paid for by the shelter. So, that is included in the cost of the kitten.
Adoption Questionnaire
The questionnaire has fields that can be clicked on and typed in. Or if opened with Adobe Reader can also be emailed using the "Click Here to Email" box.
Click here to view, print or download.

Volunteer
We are looking for people to come to walk the dogs and play with them in the fenced in yard. This type of interaction goes a long way to provide happiness and contentment------for both the dog and volunteer.
Our Wish List
While there are many things we need, the list below covers those things we can always use, and those that are the most pressing needs.
blankets, rugs and towels - used ones are just fine
dog/cat crates for showing the animals at adopt a pet sites
dog/cat canned and dry food is always needed
leashes and collars - used are fine, all sizes, dogs and cats
newspapers
bleach
Pine Sol
cat litter
gas cards
Sam's Club gift certificates
The Humane Society of Branch County exists solely on donations and volunteers. Donations are always welcome and may be tax deductible too.
Expansion of the facility is a goal that we are trying to attain. More room means more pets that we can give a second chance to. As always nothing is cheap and we need all the help we can get to pay for this.
Come Visit Us!
The Humane Society of Branch County is located approximately two miles south of US-12 in Quincy Michigan. Click here for directions

HOURS
Sunday--Wednesday: 9am to 12pm
Thursday: 9am to 5pm
Friday: 9am to 6pm
Saturday: 9am to 4pm
Branch County Animal Control
Please give thought to also checking out the Branch County Animal Control for some great pets. Click here for a listing of their adoptable pets.

---
Humane Society of Branch County
969 Wildwood Rd

Quincy, MI 49082
Phone: 517-639-4426

Email: hsbc@frontier.com
Click here for a list of pets at this shelter

---

[Home] [Information] [Shelters] [Search]