GreytHounds Of Eastern Michigan
---
Our Featured Pet--Bridget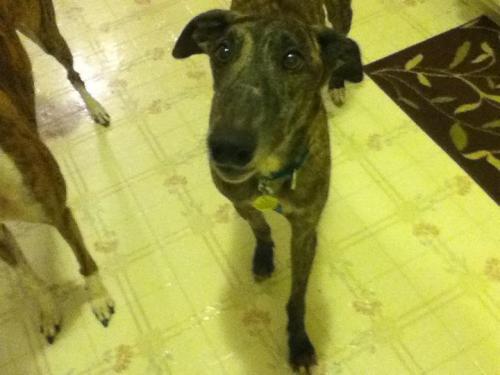 Bridget is a silly loving 5 year old dark brindle girl. She will follow you around the house and just wants to see everything you are doing. She is a very affectionate dog who will take all the pets she can give and show her appreciation with lots of kisses. Her tongue likes to hang out when she is relaxing and she always makes us laugh. She is a very strong dog and is very sound oriented. She loves her stuffies and anything that makes squeaking noises. She is an energetic dog who loves to play. Bridget crates while during the day while we are working and sleeps the whole night through next to our bed. Bridget is very food motivated and when the alarm goes off each morning she makes sure we get out of bed to feed her....she gets so excited all we can do is laugh. Bridget is going to make a wonderful addition to any family....without cats or small dogs that is. She LOVES children of all ages and will smother them with kisses. If you are looking for a dog that will love you bunches and make you laugh, Bridget is the one for you!

If you are interested in Bridget, click on her picture and go to our website to fill out the online application.
Adopting a friend
Adopting a friend has never been easier!
All of our greyhounds are either spayed or neutered, are current on all shots, have had a dental, received pre-surgery blood work, and are heartworm tested.
When you find a dog that you are interested in, go to our web site at www.gemgreyhounds.net and fill out the online application so someone can contact you.

GreytHounds of Eastern Michigan is always looking for places to show off our dogs. If you know of a place that might let us participate (i.e., local festivals, parades, school events, Scouting events, etc.), please email us at jaheater3@wowway.com and give us all the details including the contact person's name.

We thank you and the dogs thank you! ROOOOO!

Who We Are
We are a non-profit neutral greyhound adoption group. We place retired racing greyhounds into loving homes. We do not have a shelter or kennel. All of our dogs are in foster homes enjoying their retirement.

OUR MISSION STATEMENT: GreytHounds of Eastern MI, or GEM is a non-profit volunteer organization whose mission is fourfold:
· Educate the public and raise awareness about the availability and suitability of retired racing Greyhounds as pets.
· Find loving and qualified homes for the Greyhounds entrusted to our care.
· Provide ongoing support to those who adopt Greyhounds from GEM or any other group, and
· Promote harmony and cooperation between ALL segments of the worldwide Greyhound community.

Visit our web site to learn more about retired racing greyhounds. www.gemgreyhounds.net GreytHounds Of Eastern Michigan
P.O. Box 194
Wayne, MI 48184
Email: jaheater3@wowway.com
Click here for a list of pets at this shelter

---

[Home] [Information] [Shelters] [Search]