P.O. Box 80376 Lansing, MI 48908
517.853.8239
---

ARNI provides humane services that enhance the relationship between people and animals through education, placement, and spay/neuter information for the community. Please check out our available cats and dogs. ARNI Financial Report are available. Please contact ARNI via email, phone, or by sending a request to our PO box address.

JACOB!
Howdy. I am about 4 years old (est BD Jun 2009) and weigh a whopping 23 pounds. My foster mom and I are working on my weight problem. My previous owners were away from home 12 to 15 hours a day and during that time I was either crated or put out in the fenced in yard. Spending those long hours alone outside I started escaping and neighbors would find me sitting in the road waiting for my family. My foster home has other dogs to keep me company and my foster mom (FM) is home most of the time. I am finding out what it feels like to be involved with a family and I really like it! I follow my FM around the house and either sit at her feet or on her chair with my head in her lap. I LOVE belly and ear rubs. My activity level is moderate to low - frankly I am pretty much a coach potato. If you are looking for a quiet companion that is craving a loving home please fill out an adoption application or email my FM for more information. I promise to make your home a happier place.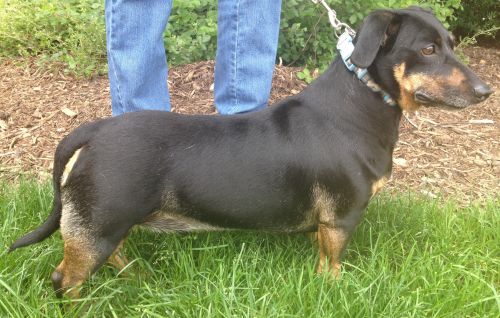 Won't you find it in your heart to take these two into your heart and your home. You may find more information on Andy or Jacob on our Web site. If you are interested in adopting fill out our adoption application
Just the DOGS!
Just the CATS!

Small & Furry Pets! Rabbits!
Back to the Top
Happy Tails shows all of the ARNI pets that have found their forever homes!
Click here to see our Happy Tails!
---
Animal Resource Network Inc. is always in need of loving foster homes for dogs, puppies, cats and kittens that come to us from private owners and/or local shelters for adoption. The more foster homes we have, the more animals we can save and place for adoption. There are so many dogs and cats that are euthanized due to overpopulation and lack of space, and there are not enough foster homes. Also, ARNI is always looking for volunteers who are interested in helping with various fund-raising projects already in progress and in the future.
If you are interested in fostering or volunteering for ARNI, please review our foster/volunteer agreement and submit our application. Once we receive and review your application, we will contact you to further discuss the opportunities available with ARNI.
We also have volunteer opportunities available for children. If you have children that would be interested in volunteering, please review our youth agreement and submit the ARNI youth volunteer application.
Volunteer Application
Youth Volunteer Application
To learn more, please contact us by telephone (517-853-8239) or e-mail (arnilansing@yahoo.com).
Back to Top
Home made Cookies for your furr friends
Show your precious furball that you really care by making these special homemade cat treats Cat Cookies
We cannot forgot our dog friends Dog Cookies Pets1st.com - Resources for you and your pet.

Back to Top






Animal Resource Network Incorporated Inc. (ARNI) is a 501c(3) non-profit, non-shelter, animal welfare organization. Most of the pets placed by ARNI are released by private owners or shelters/animal control facilities that do not want a pet to be euthanized. ARNI was incorporated in 1997 and has placed more than 1,200 pets The pets ARNI accepts for placement are housed and cared in foster homes until a new permanent home is found for the animal.

Animal Resource Network, Inc. is also a United Way partner and can receive donations through the Capitol Area United Way campaign.


ARNI is made up of dedicated animal lovers whose mission is to help people and their pets who are in need of new homes. ARNI supports itself through adoption fees, donations from the general public and fund-raising.
Back to Top

ARNI's adoption contract requires that all pets be spayed/neutered, if this was not done prior to the adoption. If an animal is not spayed or neutered at the time of adoption, $25 of the adoption fee will be refunded when we receive proof that the pet has been altered.


To better serve the animals and our foster homes, and as a convenience to you, please fill out our online application, in its entirety.




Adoption Application

Pet adoptions are held at pet supply stores in the Lansing, Mich., area on the 1st, 2nd & 3rd Saturday of the month. Please call pet store to confirm that our rescue group will be there for our scheduled Saturday. Adoptions are not held on major holiday weekends.

For more information, see our schedule and locations below.
ARNI PET RALLIES!!!
11:00 a.m. to 3:00 p.m.
1st Saturday of the Month at Lansing Soldan's, 5206 W. Saginaw

2nd Saturday of the month at Pet Supplies Plus, 2100 W Grand River in Okemos.




3rd Saturday of the month at PETsMART at 5135 Times Square in Okemos.



ARNI is looking for a centrally located site in which to hold adoptions. If you know of a site for rent or of someone who will donate space please e-mail us.
Please make a donation to help ARNI purchase the necessary supplies needed for our foster animals. You may use your pay pal account or credit card. Please remember that pay pal deducts 3%-4% from your donation as a processing fee. Thank you in advance for your generosity.
Dog/puppy food (as we only feed quality food for the health of our animals, ARNI requests that food donations be any of the following: Iams, Eukenuba, Sensible Choice, California Natural, Nutro, Natural Balance, Solid Gold, Nature's Recipe, Wysong, Wellness, Innova: puppy, adult, maintenance, and/or senior)

Cat/kitten food (as we only feed quality food for the health of our animals, ARNI requests that food donations be any of the following: , Iams, Eukenuba, Sensible Choice, California Natural, Nutro, Natural Balance, Solid Gold, Nature's Recipe, Wysong, Wellness, Innova kitten, adult, maintenance, and/or senior)

KMR (powder)for kittens (we have many bottle babies that rely on this food when they can not feed from their mother)

Cat litter

Litter scoops

Collars (cats/kitten/dog/puppy)

Leashes

Toys (cats/kittens/dogs/puppies)

Food and water bowls

Heartworm preventative

Flea and tick control medications (e.g., Frontline, Advantage)

Paper for contracts, applications, etc (8 1/2 x 11)

Gift cards/certificates to Soldan's, Pet Supplies Plus, Miller Animal Clinic, Cedar Street Animal Hospital, Petco and PetsMart (for online purchases -- we can purchase much-needed vaccines and other medications from these places)
A receipt can be issued for tax deduction purposes. THANK YOU!!!!!!
Back to Top
---


Animal Resource Network Incorporated
P.O. Box 80376
Lansing, MI 48908
Phone: 517-853-8239
Email: arnilansing@yahoo.com


---

[Home] [Information] [Shelters] [Search]