Lucky Pup Rescue
---
---
---
Our Featured Pet: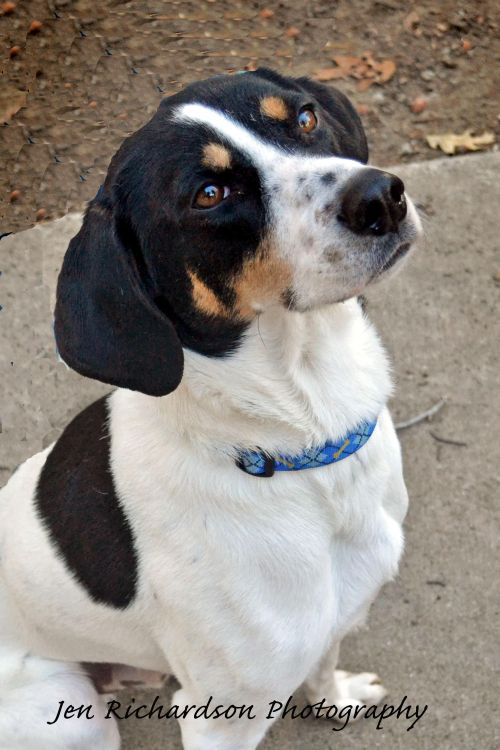 Nixon
"Nixon is a fun loving pointer hound mix who plays like a pointer and sleeps like a hound. He is an active curious guy who walks well on his easy walk harness. He enjoys chewing on his bones, playing tug and squeaking his squeaky toys. Nixon is fully housebroken and an all around sweet guy who likes to please. His long legs and lean body will make him an excellent running partner."
Lucky Pup News
We are working with very crowded shelters that desperately need help finding homes for their dogs. We also have a steady stream of local surrenders who need help! We are always looking for good foster homes so that we can save more lives. If you are interested in becoming a foster parent to one of our dogs please email us. You provide the love and the safe home, and we provide everything else! Foster homes allow dogs to become more adoptable by giving them a head start on house training, manners and socialization. Some of our dogs have come from homes to shelter life and just need a refresher on house training.
****PLEASE READ!!!!****
If you are interested in one of our dogs please note the following: all dogs are currently in our partner shelters in South UNLESS they are marked "- in New England", "- in Maine", etc. which means they are in a foster home locally. We can make arrangements for you to meet a dog if he or she is here in foster care with a completed application. Please email us (luckypuprescue@yahoo.com) if you'd like to fill one out.
Our Wish List
Loving, temporary foster homes. You provide the love and safety, we provide everything else!
Gas cards or gift certificates to pet stores
Used or new: crates, leashes, bowls, other pet supplies
Financial sponsorship for vetting, spay and neuter, transport
Office supplies such as copy paper, printer cartridges, etc.
Used blankets and towels (no feathers)
Front Line and Heart Guard medications
Veterinary services
Training and grooming services and consultation
Mini-van or cargo van to transport dogs and supplies
Who We Are
We are a small, family run rescue based in Southern Maine. Janet, the founder and president of Lucky Pup rescue, has 4 rescued dogs herself and wanted to help other dogs find loving homes here in the Northeast. We believe that all dogs deserve a safe happy home regardless of where they are from and we work to re-home both local dogs in need and Southern dogs from our overcrowded partner shelters.
We do not have a physical shelter.
We are happy to answer any questions and inquiries into our dogs, but prefer email. We sometimes are busy running children and dogs to various events, so please be patient and we will get back to you as soon as possible! Thank you for wanting to rescue a dog!
Adopting a friend
We do require reference checks, a home visit and phone interview before approving an application. Once your application is approved, a dog can be placed in your home. Dogs here in foster care can be placed immediately and dogs in our partner shelters generally take 2-3 weeks to arrive North. All dogs come with a health certificate, up to date vaccines and they ride a USDA approved transport North. We strictly follow Maine laws for dog rescue. Our fee is $300 ($250 for seniors over 7) which covers the transport, health certificate and spay or neuter if the dog is 6 months or older. If the dog is too young to be altered before being brought into our rescue, we are required by Maine state law to collect an additional $100.00 deposit until the owner demonstrates proof of the spay or neuter surgery at the appropriate age for each dog.
Please email us for an application (luckypuprescue@yahoo.com).
Why can't I just stop by and visit the dogs?
We do not have a physical shelter. All our dogs are in foster care or Southern shelters and rescues. We believe that the dogs should settle into homes with families where they can learn manners, socialization, and learn what it's like to live in an indoor/outdoor environment rather than behind bars!
---
Lucky Pup Rescue
Kennebunkport, ME 04046

Email: luckypuprescue@yahoo.com
Click here for a list of pets at this shelter

---

[Home] [Information] [Shelters] [Search]