Save Our Strays

We are in need of foster homes right now. If you have the time to foster, please get in touch with us.
---
Our Featured Pet...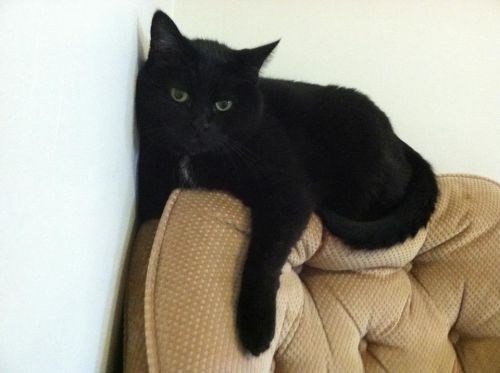 BIG BOY and BABY GIRL
Seeking a forever home for two beautiful black cats. They are healthy 15 year-old siblings that were adopted this past summer. The male is named Big Boy, and the female is Baby Girl. They have been together their whole lives and must go to the same home. As you can see from the pictures, they absolutely LOVE each other! When they aren't lying side-by-side in the sun, they like to hang out at the top of the stairs and alternate grooming one another with rubbing up against and in between the railing/banister. Big Boy is a major snuggler. Baby Girl just likes to be wherever you are. They are talkative and friendly cats who have done well around kids and dogs. Unfortunately, their mom just lost one of her dogs very suddenly and unexpectedly and can no longer care for the cats, financially or emotionally.
---
News
We have a Nail Trim Clinic every month at Tractor Supply in Waterville from 10-12 and at Tractor Supply in Augusta from 2-5. Check our website for the dates. If your pet's nails need trimming, please bring them by. The cost is $5 per pet and all money goes towards our spay/neuter fund. Thank you for your support! If you shop online, please go to igive.com and select Save Our Strays as the non-profit you want to support. When you shop through igive.com, they will donate a certain percentage of the sales to Save our Strays.

If you would like to be on our newsletter mailing list, please email us at info@saveourstraysinmaine.org or call 1-888-772-3162. Just leave your name and address that you would like the newsletter sent to. Thank you!
Who We Are
Save Our Strays is an non-profit volunteer companion animal rescue group located in Central Maine. All monies raised are spent to benefit local animals. Save Our Strays pays no wages. We are strictly volunteer. If you would be interested in volunteering, you can call our hotline at 888-772-3162, or email info@saveourstraysinmaine.org.
Adopting a friend
We require that you fill out an adoption application for the pet you are interested in. Animals are not adopted on a first come, first serve basis. We try to find the best match for each animal and potential adopter. There is an adoption fee of $65 - $100 depending on age, which goes to helping more animals.
Come Visit Us!
You can visit our website at www.saveourstraysinmaine.org to learn more about us.
---
Save Our Strays
P.O. Box 445

Fairfield, ME 04937
Phone: 888-772-3162

Email: info@saveourstraysinmaine.org
Click here for a list of pets at this shelter


---

[Home] [Information] [Shelters] [Search]