Purrfect Pets Inc.
Please visit us Monday thru Thursday 12-6 and Friday thru Sunday 12-5 at the Metcalf South Shopping Center, in Overland Park, Kansas.
---
Our Featured Pet...Bittersweet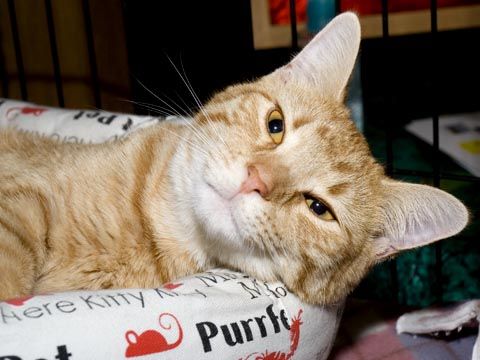 News
KITTENS, KITTENS, KITTENS!!! We have so many adorable kittens: males, females, long-haired, short-haired, and in many different colors. Come in and play with them in one of our visiting rooms!!
Did you know that having two cats or kittens makes for more well-adjusted and less destructive pets? Studies have shown that most kitties want a member of their own species for companionship...don't we all!
If you need more information or help, please call our message and information line, 913-652-6677, or e-mail us at purrfectpetskc@yahoo.com. Please remember that we are a volunteer shelter, so it will take us 48 hours or so to return phone calls and answer e-mails. Thanks for your understanding!
Purrfect Pets has a sponsorship program for our cats and kittens. You can sponsor a cat or kitten in your name or a loved one's name for a $25.00 donation. We will put the cat or kitten's name and your name (or loved one's name) on a card to go on the kitty's cage. We can also send a card to your loved one. Current donations are not enough to take care of the kitties we have currently in rescue and to pay all of their expenses; your sponsorship helps to pay for food, litter, toys, crates, vet care and cleaning supplies for them.
Who We Are
Purrfect Pets' mission is to find adoptive homes for orphaned, unwanted and relinquished companion cats and kittens. We are a no-kill, non-profit, all-volunteer organization committed to educating the public about the humane treatment of animals. Purrfect Pets is dedicated to helping cats in need. Rescued cats are placed in foster homes to await the right person to give them a forever home.
Adopting a friend
All cats in the Purrfect Pets organization are spayed or neutered, vaccinated, wormed and tested for feline leukemia. Adoptions fees vary from $60.00 to $200.00. Persons wanting to adopt a cat or kitten fill out an application and visit with one of the shelter volunteers about the many animals available.
Come Visit Us!
Purrfect Pets Adoption Center,
Metcalf South Shopping Center, middle level, near Macy's at 95th & Metcalf, Overland Park, Kansas

Monday - Thursday Noon. to 6:00 P.M.

Friday - Sunday Noon to 5:00 P.M.

Purrfect Pets message and information line: 913-652-6677, or e-mail us, at : purrfectpetkc@yahoo.com. We will answer within 48 hours.
---
Purrfect Pets Inc.
P.O. Box 3813
Shawnee Mission, KS 66203
Phone: 913-652-6677, or email purrfectpetkc@yahoo.com

Email: Elaine Doran
Click here for a list of pets at this shelter

---

[Home] [Information] [Shelters] [Search]