Robin's Nest of Indy
Pregnant Cat and Abandoned Litter Rescue
Meet Available Cats, Kittens, Dogs and Puppies!
at "For the Love of Rescue" 10625 Deme Dr., Suite A Indianapolis, IN 46236; they have lots of great supplies you can purchase for your pets!
To schedule a time to meet the available pets email "Chelsea" at chelseadowdell@gmail.com!
We currently have several animals available for adoption! Call for more information. Robin (317) 919-2587, Chelsea chelseadowdell@gmail.com (will respond within 24 hours), or Marcia (317) 383-7557.
Remember! Adopting rather than purchasing saves lives!
---
WE'VE GOT MANY CATS AND KITTENS AVAILABLE FOR ADOPTION AT OUR PARTNER PET STORES, TOO!
Come see us!
Cats and kittens are available during our scheduled adoption events at:
Speck's Pet Supply, 11701 Fox Road, Indianapolis
(317) 823-1414


Cats and kittens can be seen in-store during regular store hours at:
Petco (Indianapolis South), 7565 US 31 South, Indianapolis
(317) 881-4021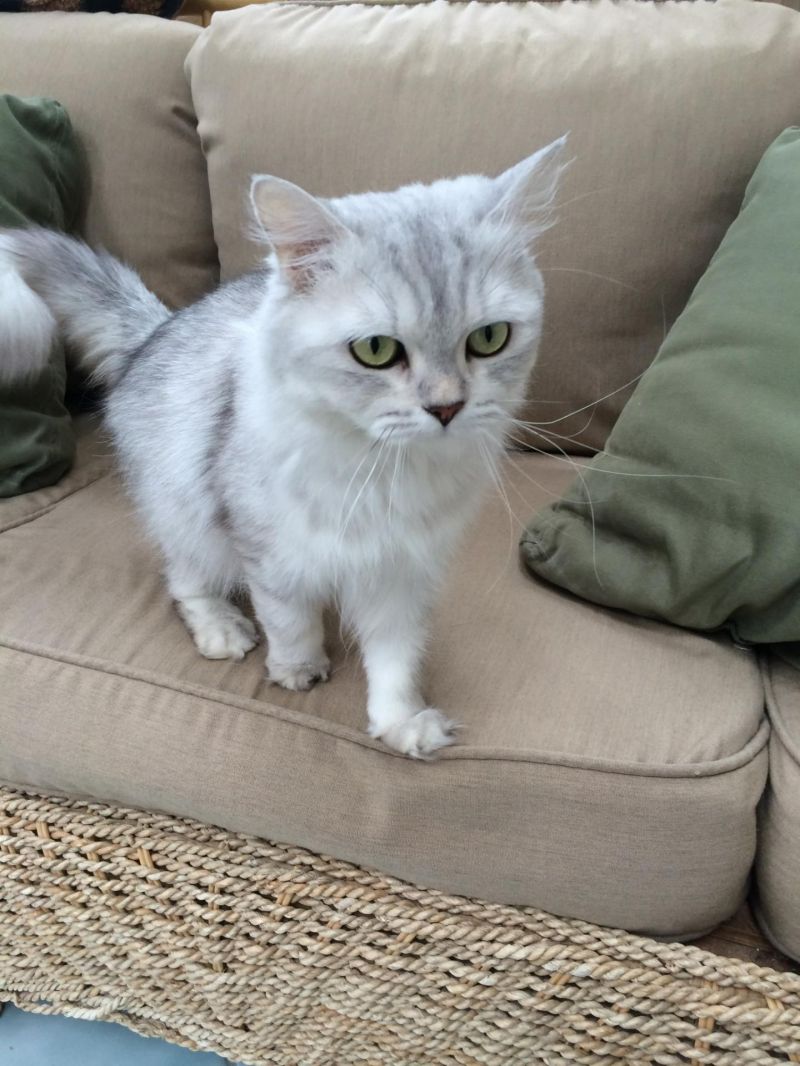 "Paris" is our featured cat of the week. Gorgeous Silver Persian young female...all personality! Declawed all.
Also, we are running a very successful Cat Companions Program for Seniors!

Through our Cat Companions Program we place adult cats with individual seniors at Westminster Village Retirement Community. We assume the ongoing vetting and care of the cat while they are being cared for by the residents of Westminster. We also take the cat back into our rescue for re-assignment anytime the arrangement is no longer working.

These cats are usually mom cats who raised their litters at our rescue and are now fully vetted and needing lots of love and companionship. There is no adoption fee or hidden cost for these cats. We just appreciate the seniors giving our mommas a nice place to live.

If you or a loved one is interested in this program, please contact Robin by e-mail at beckers2@comcast.net and we will set up a time for you to meet our mommas available for the program.

-- Robin's Nest of Indy, Inc.

This ad was placed 3/3/14.
Please help us save these felines one or two at a time.
---
About Our Rescue
Robins Nest of Indy is a cat and kitten rescue located in the Geist area (northeast) Indianapolis. Our focus is on unwanted or stray pregnant cats and litters of kittens. We provide a safe and loving environment for our rescued cats and give our Mom cats the prenatal care and nutrition needed to deliver healthy kittens. We make available comfortable and quiet settings where they can give birth to their kittens and post-natal care so that they can nurse wholesome kittens. Post-natal care includes vaccinations and spaying once the kittens are weaned. Our kittens are provided vet examinations, vaccinations and adopted into loving and committed families.
Mom cats stay at our home where they get regular interaction with family and other animals until we can find them a suitable forever family.
Our hope is that families looking to add a cat or kitten to their pet family will choose an adoption option, whether it is through our rescue or another adoption resource. Please browse through our listings. You never know when you will find the perfect cat or kitten who will be a forever companion to you and your family.
How you can Help
During this time of the year, we are the very busiest. Below is a list of supplies we use the most. Any donation is always hugely appreciated!
- OUR GREATEST NEED RIGHT NOW IS LACTATED RINGERS!
- Dry Cat and Kitten Food
- Canned Cat and Kitten Food
- KMR (Kitten Milk Replacement)
- Disinfectant Wipes
- Clorox
- Paper Plates (small) or Bowls
- Disposable Medical Gloves
- Cotton Balls and Q-tips
- Advantage Cat/Kitten Flea & Pest Control
- Capstar
- Gift Card to Walgreens or CVS (we often need prescriptions to treat our cats and kittens).
Where to Visit our Kittens/Cats
Kittens and Cats available for adoption can also be seen at Petco (Indianapolis - South), 7565 US 31 South, Indianapolis, Indiana 46227, (317) 881-4021.
You can also visit our website to learn more about us: www.robinsnestindy.org
---
Robin's Nest of Indy
Pregnant Cat and Abandoned Litter Rescue
Indianapolis, IN
Phone: (317) 919-2587

Email: beckers2@comcast.net
Click here for information about some of the available pets at this shelter

---

[Home] [Information] [Shelters] [Search]