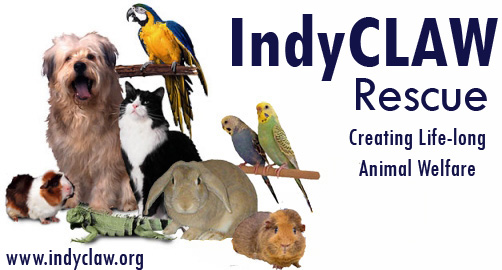 IndyCLAW Rescue
---
Your Help is Needed
Who We Are
Creating Life-long Animal Welfare
We are an animal rescue group in Indianapolis, Indiana as of February 2009. What began as a loose association of like minded individuals from several animal related industries came together to form IndyCLAW Rescue. Our organizers have all been associated with other animal rescue groups and have learned from their successes and failures. The core group are all professionals and include a full time pet sitter, a dog trainer, a dog groomer, a part time pet sitter, animal control volunteer, and a former pet tech stay at home mom, along with huge support from our clients, friends, and family.
Our original intent was to focus on exotic pets and work primarily on the southside of Indy. We inherited a large group of exotic pets when we separated from another rescue group. These domestic rabbits, guinea pigs, and some small farm animals, i.e. chickens and ducks are posted on Petfinder. However, our earliest success as a new group was a dog lost in the system in the kennels at Indianapolis Animal Control that had broken bones and had been shot, Laila is an incredible story. Then there were a couple of abandoned lab mix siblings, Ace & Romeo, who were intentionally dumped during the dead of winter on a desolate country road Their heartwarming success stories and more will be posted to the www.indyclaw.org website.


For any further information please contact us at:
Adopting a friend
IndyCLAW Rescue has an adoption process which starts with an application followed by a scheduled meet & greet at our shelter if approved. From there we would schedule a home visit and bring your chosen pet to you. Our motto, Creating Life-long Animal Welfare, is also our mission statement. We have made a commitment to the pets in our care to insure the home they are going to is best for them and the adopters are committed to making it life-long. If the home visit goes well, the pet would be left in your care for a 'sleepover' trial period to make sure it is going to work for both you and the pet. If problems arise such as allergies or conflicts, return it without cost or obligation. If all goes well, we would finalize the adoption contract. The contract contains clauses for veterinary care as well as, should circumstances change and you can no longer keep the pet, contact us first.
While our process takes a couple of weeks to complete, it has time built in to help make sure you are ready for a life-long commitment to the chosen pet. Some pets live only a few years while others, such as exotic birds, can live up to 70 years in which case you would be encouraged to have a plan for its care at your end of life. The built in time also allows you time to make sure it's not a spur of the moment purchase which you will soon regret.
---
IndyCLAW Rescue>

Indianapolis, IN 46217


Email: adopt@indyclaw.org
Click here for a list of pets at this shelter

---

[Home] [Information] [Shelters] [Search]