Lucky Dogs
---
Lucky Dogs' Featured Pet...

Meet Thunder!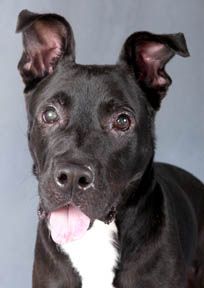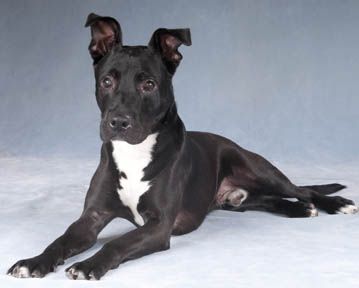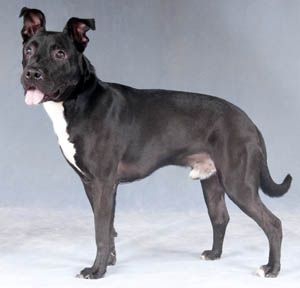 Thunder is a mellow, snugly sweet, five-year-old, 60-pound, male, glossy black and white Lab/Am Staff-mix looking for a loving guardian. Thunder was rescued from the pound in Gary, Indiana. He has a bump on his head, and an injury to one of his rear legs. Its guessed that he was hit by a car. Thunder also cant see that well. He has 15% vision in one eye and 6% vision in the other. Since hes almost blind, its not surprising that he gets easily startled by someone sneaking up on him. But he still loves to play fetch. He will listen for the ball to bounce and go in that direction. Hes also quite the lap dog and loves to cuddle. He is full of tail wags and kisses for the people he loves. He knows the command sit and does so automatically when he smells a treat or hears the crinkle of a treat bag. He is very food-motivated and takes treats gently. He also enjoys the company of most other dogs, unless they are over-zealous in their play style. Hes looking for a quiet home where someone can keep him on a solid routine. He is good on leash and rides well in the cat. He is crate-trained and housebroken when kept on schedule. Thunder is neutered, up-to-date on vaccines, micro-chipped, heartworm-tested and on preventative. His adoption fee of $200 benefits rescued dogs. To meet and possibly foster or adopt him, please contact Melia at melia88@comcast.net or 708-224-1900. He is currently living in a vets office in Chicago.
Who We Are
Lucky Dogs is a community of independent rescuers who cannot accept that loving, adoptable companion animals are euthanized every day due to lack of space in shelters and pounds. We pull "death row" dogs from overcrowded shelters, bring them to Chicago for vetting and fostering, and do our best to find them the wonderful home that each of these dogs deserves. Most of our dogs are bully breeds, because public perception has made these dogs the most difficult to adopt out. The upside to these dogs staying with us longer than most Labradors or Cockapoos is that we get to know each of these pets extremely well, and we can recommend the best dog for your lifestyle and living situation.

Each Lucky Dog posted in our Petfinder list has proven himself or herself to be a "good dog" not only to us but to the transferring shelter. Although no shelter or rescue can guarantee an animal's future behavior, all Lucky Dogs have demonstrated terrific temperaments and a love of people and/or other dogs in multiple environments -- so much so that they could easily be called "Lovey Dogs" as well.
Lucky Dogs Needs Foster Homes!
Want to help save a life? Fostering is the most direct way you can have an impact. Lucky Dogs assumes all expenses; foster parents provide in-home care and TLC.

Many people ask, "How can you foster a dog and give her up?" We answer, "How can we let more die?" Thousands of pets in rural shelters are euthanized due to shelter space and budget constraints. Lucky Dogs works with these kill shelters to select, transport, and provide veterinary care to as many of these adoptable pets as we can support through our foster volunteers. Since Lucky Dogs does not maintain a shelter building, our rescue efforts are only as large as as our foster network. As a tribute to our own dogs, current and past, we rescue as many as we can.

What's required of a foster home?
While Lucky Dogs provides the medical care, food, and other supplies required, the foster home provides its foster dog with love, time, and guidance for as long as the dog is in its care. A dog may be with its foster family for a few weeks to a few months, and our foster families help to screen potential adopters to make sure the new home will be a good fit for the dog they've come to know so well.

All our foster homes receive training and 24-hour support. .
Adopting a Lucky Dog
Like other reputable rescues, Lucky Dogs requires that potential adopters complete an adoption application (with references) and allow a home visit. All members of the household (including children and pets) should be present when first meeting the Lucky Dog. Every dollar of each Lucky Dogs adoption fee is used to care for rescued pets.

Because Lucky Dogs seeks to ensure the best possible outcome for each of its pets, Lucky Dogs reserves the right to refuse adoption when the dog's needs and the adopter's lifestyle are not compatible.
Top 5 Lucky Dogs!
Loki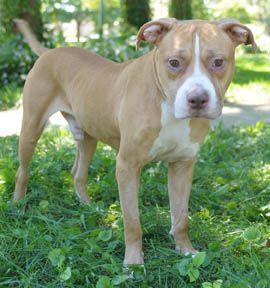 Cookie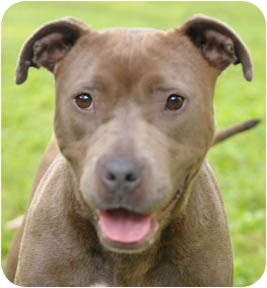 Gypsy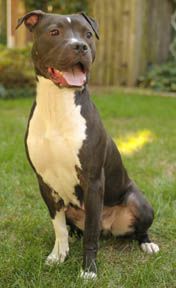 Dane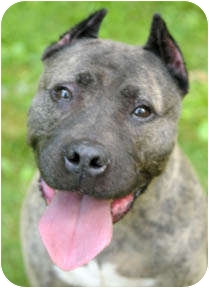 Spike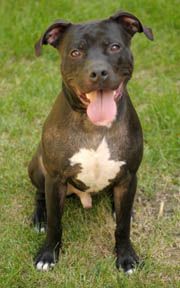 Find Your Own Lucky Dog
Finding a Lucky Dog companion is as easy as 1-2-3.

1. Check out our Adoptable Pet List.

2. Contact the foster home listed in the pet's description to request an application.

3. Complete the application, and make an appointment to meet your new best friend!


---
Lucky Dogs

Chicago, IL 60631
Phone: 773 631 8999
Email: Click here for a list of pets at this shelter

---

[Home] [Information] [Shelters] [Search]