Animal Shelter of Wood River Valley
---
Our Featured Pet...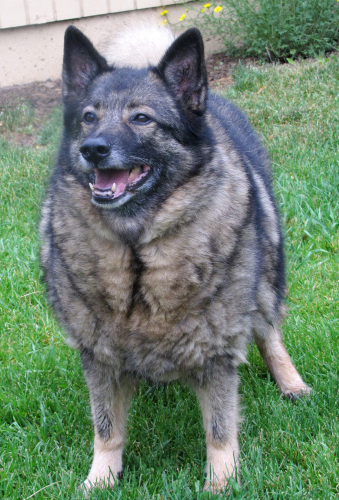 Kasha is a sweet, older Norweign Elkhound who is looking for a forever home to retire in. She is housebroken, very friendly and knows all her basic manners. To adopt Kasha, or for more information, please contact the Animal Shelter at (208) 788-4351
News
All dogs are temperament tested prior to adoption. This evaluation gives us insight into what dog would be right for you. We take pride in getting to know our residents well and want to make a match that will last a lifetime. Please do not hesitate to contact us at: info@animalshelterwrv.org if you would like more information about any of our residents.
Adopting a friend
Any visitor to the shelter interested in adopting one of the animals, is asked to fill out an adoption application. In conjunction with the application, we interview all potential adopters with the goal of matching the right animal with the right family and lifestyle. This is of prime importance - we endeavor to make this new home the animal's residence for life.

All of our animals must be spayed or neutered as part of our adoption contract. The adoption fees include spay / neuter costs as well as any vaccinations administered at the shelter. We also require the purchase of a dog license for all of our Blaine County residents.

Adoption Costs

Dog adoptions: $ 100.00

Cat adoptions: Free for any cat over 1 year old!! Kitten Adoptions: $65.00


Come Visit Us!
We are located in Idaho's Blaine County, approximately 1 ˝ miles west of Hailey in Croy Creek Canyon. From downtown Hailey, turn west on Bullion Street, continue past the Wood River crossing and find us on the right side of the road.

100 Croy Creek Road
P.O. Box 1496
Hailey ID 83333
Telephone: 208-788-4351 FAX: 788-3601
Email: info@animalshelterwrv.org

---
Click here for a list of pets at this shelter
---

[Home] [Information] [Shelters] [Search]