Red Top Rescue
---
Our Featured Pet...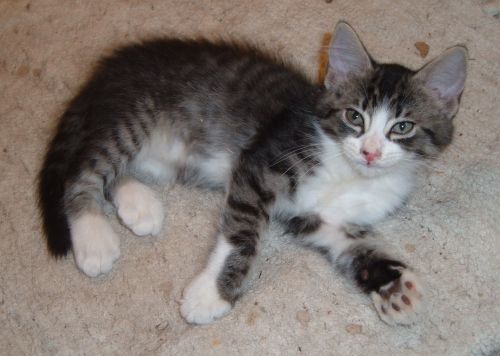 This is just ONE of our lovely kittens available for adoption. See our adoptable pet list for recent additions.
News
Our most recent ADOPTIONS INCLUDE PIXIE, COTTON and FURRY FACE.. They have all been adopted into fantastic families and have wonderful lives ahead of them. PLEASE CLICK ON OUR ADOPTABLE ANIMALS LINK AT THE TOP OF THIS PAGE. We also have some GORGEOUS flashy tabbies in cinnamon, red, blue and brown and six "splotched" tabbies with flashy wide markings like Bengals. Please contact us if you want photos and more information before we get them listed.


Who We Are
Red Top Rescue consists of a small group of individuals with overly soft hearts. When we see an animal in trouble, we feel obliged to rescue it. Since we do not want to become hoarders and appear on Animal Planet, after these rescued animals are cleaned up, healed, vaccinated and neutered or spayed (at our own expense), we actively seek new forever families for them. We do not have an animal shelter, and all our rescued animals are fostered in our own homes. We also foster animals for other local rescue groups when we have room. If you are someone who rescues animals from time to time, we will be glad to help you find good homes by posting your adoptable animals on this web site, but please do not ask us to take your animals! We do not have the space or resources to do that.
Adopting a Friend
We try to match each animal to the adopting family and have had great success with our adoptions. If the new pet is not a good fit, however, we request the animal be returned to us. All visitation arrangements are made between the adopting family and the foster home, and adoption fees may vary depending on whether the animal is being fostered for one of the local humane societies or whether it is a private adoption. Our webmaster and the group mailing address are in Acworth, but our adoptable animals may be in several different counties around the metro Atlanta area, so read the ad to find out where the animal is located.
Visit Us!
We do not have a shelter, and we do not have a space in PetSmart or any other store. All our animals are living in foster homes, so visitation is arranged between the foster family and the potential adopter. We do have Adoption fees, but they vary according to the foster situation, so be sure to ask the foster family about what vet work has been done, what is still required, and the adoption fees involved. Any donations made to Red Top Rescue will be used to pay for veterinary care and expenses for the animals we rescue. None of our members breed or sell animals of any kind.
---
Red Top Rescue
P. O. Box 1142
Acworth, GA 30101
Email us and we will reply just as soon as we pick up your email. If you would like to speak with a live person, include your phone number and tell us what would be a good time for us to call you.
Email: felines1944@gmail.com
Click here for a list of pets at this shelter

---

[Home] [Information] [Shelters] [Search]