---
Our Featured Pet...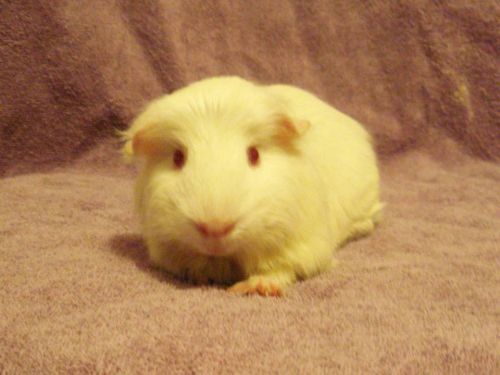 Haida!
---
News


Atlanta Metro Guinea Pig Rescue would prefer to only adopt to those within a one hour radius of the rescue. Exceptions will be made on a case by case basis.

We realize the number of rescues in the southeast are few and far between and are sorry for any inconvenience, however it was necessary to implement this policy because we simply do not have the manpower to do home checks any further away than the one hour radius. If you are outside this area, please check with your local shelters.

We would greatly appreciate donations of the following:
Monetary donations to help feed and vet the pigs. Checks made payable to Lisa Sharp
Hay and Timothy Pellets from kleenmama's hayloft
Fleece in one yard batches
Distilled White Vinegar
Fresh Vegetables or Grocery Store Gift Cards are welcome!
Who We Are
Atlanta Metro Guinea Pig Rescue is dedicated to the health and welfare of guinea pigs and to educating the people who care for them. We are a small rescue, founded in 2008, with no more than 4-5 guinea pigs at a time in house. We encourage those wishing to rehome their pets to surrender and foster them while a new home is found. During this period a listing will be posted with their pictures and any information you'd like to share. Screened adopters will be put in touch with you.
Adopting A Friend
Guinea pigs, like all other animals, are a life to be valued. The home you give should be it's forever home. These are not toys to be discarded when the children outgrow them. Instead, take this opportunity to teach the kids the value of responsibility and follow through. As parents it is our job to teach this lesson to our children. You don't rehome your kids when they become "inconvenient." Why should you rehome your animals? When downsizing, you make sure you have room for all of your family members in the new home. Please make sure you have room for the furry family members too.

Please do the research on how much time, effort and space these animals take. They are not easy "starter pets" as many seem to think.

Adoption fees are:
$35 for a single guinea pig (to a waiting cage mate only)
$50 for a pair (more if neutered male is part of the pair)
$75 for neutered male

Cage must be approved before adoption can take place. See Guinea Pig Cages for size requirements.
Please provide picture with application.

For much more information on care, nutrition and housing please visit Guinea Lynx.

Recommended Sites:
Guinea Lynx
Guinea Pig Cages
Cavy Spirit
AMGPR


---
Atlanta Metro Guinea Pig Rescue
PO Box 72301
Marietta, GA 30007


Email: lisa@amgpr.org
Click here for a list of pets at this shelter

---

[Home] [Information] [Shelters] [Search]